Learn the fundamentals of knife-making with Pete Mattila. Forge a series of small blades at this intensive weekend course in Hobart.
About this event
Learn the fundamentals of knife-making with Pete Mattila.
At this intensive weekend course students will forge and heat-treat a series of small blades.
Working over the anvil, learn hand skills via hammer and tongs.
This course covers basic blacksmithing techniques specific to knife-making along with explanations of simple metallurgy.
It takes place at the picturesque waterfront slip yards of Battery Point in Hobart, Tasmania.
Each class allows only four students per session. This ensures quality in teaching and safe working practice.
Classes will be held in the front shed at Mattila Studio over the weekend of 19th & 20th Feb 2022, from 1.30 pm to 9 pm each day.
Responsibility to teach and share with others in my community and abroad is a part of my arts and trade practice. This fits in with the ethos of self-empowerment through skills. Mattila Studio is a safe space where creativity thrives and ideas are realized.
PLEASE NOTE
Students are to provide their PPE (safety gear) including:
Eye protection
Ear protection
Work boots – steel-toe-capped
Leather gloves
Cotton clothes – nothing synthetic
Please also bring a water bottle with you.
Students must be in a fit working condition. If you have any health-related issues that could inhibit your ability to work, please discuss with Pete before proceeding with the order.
FAQs
How can I contact the organiser with any questions?
To get in touch, please visit https://www.petemattila.com/contact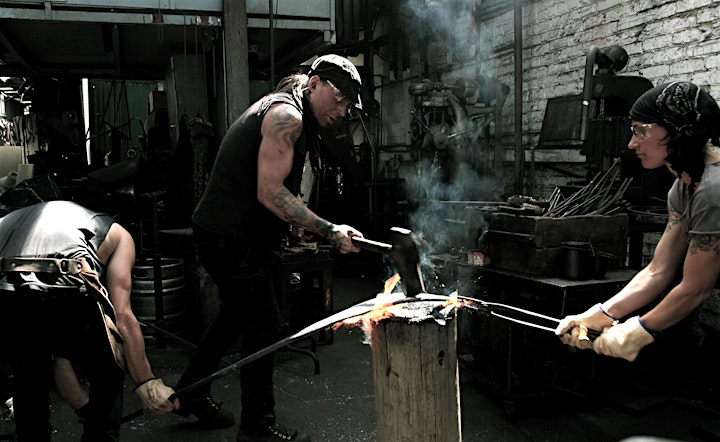 Organiser of The Blacksmith's Blades: Introduction into Knife-Making — Feb 2022
Pete Mattila is a fine artist and sculptor. Trained as a blacksmith and welder, with a Masters Degree in Fine Arts from the University of Tasmania, his works have been acquired by collections all over the world. He has been featured in a variety of publications, and has taught his craft in both the United States and Australia.