Explore more fire-welding and the forging of larger blades. Take this course after completing Introduction to Knife-Making with Pete Mattila
About this event
Learn more about knife-making with Pete Mattila.
In this intensive weekend course students explore more fire-welding and the forging of larger blades. Delivering the same high energy as the first 'blacksmiths blades' course, this one begins to teach more controlled hand-forging procedures and heat-treatment processes. Students will forge 2 blades, one being a tomahawk and the other a 8"–10" knife. Handled and sharp!
Classes will be held in the front shed at Mattila Studio over the weekend of 5th & 6th Feb 2022, from 1.30 pm to 9 pm each day.
Responsibility to teach and share with others in my community and abroad is a part of my arts and trade practice. This fits in with the ethos of self-empowerment through skills. Mattila Studio is a safe space where creativity thrives and ideas are realized.
PLEASE NOTE
Students are to provide their PPE (safety gear) including:
Eye protection
Ear protection
Work boots – steel-toe-capped
Leather gloves
Cotton clothes – nothing synthetic
Please also bring a water bottle with you.
Students must be in a fit working condition. If you have any health-related issues that could inhibit your ability to work, please discuss with Pete before proceeding with the order.
FAQs
How can I contact the organiser with any questions?
To get in touch, please visit https://www.petemattila.com/contact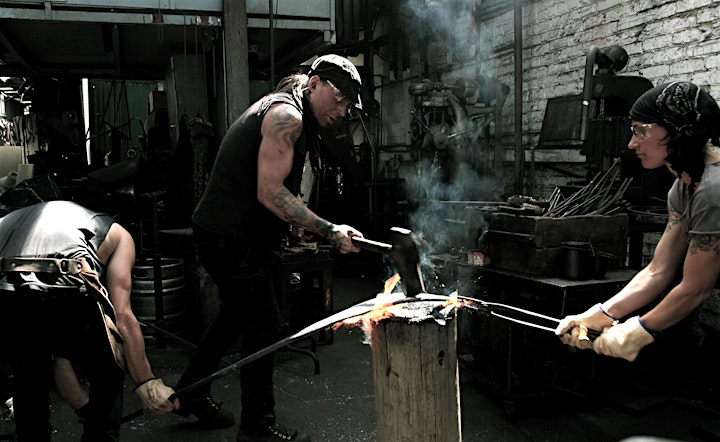 Organiser of The Blacksmith's Blades II — Feb 2022
Pete Mattila is a fine artist and sculptor. Trained as a blacksmith and welder, with a Masters Degree in Fine Arts from the University of Tasmania, his works have been acquired by collections all over the world. He has been featured in a variety of publications, and has taught his craft in both the United States and Australia.