The Best of Times, the Worst Times - Perinatal and Infant Mental Health
Sales Have Ended
Ticket sales have ended
Thank you for your interest in the Helen Mayo House 2021 Annual Conference. Ticket sales have now closed.
Sales Have Ended
Ticket sales have ended
Thank you for your interest in the Helen Mayo House 2021 Annual Conference. Ticket sales have now closed.
2 Day Conference Expert insights into perinatal and infant mental health.
About this event
Invitation
Niinna Marni? ('How are you?' in Kaurna). Welcome to the 2021 Helen Mayo House Perinatal and Infant Mental Health Annual Conference! We could not be more delighted to meet with you on Kaurna land in November this year, at the Adelaide Convention Centre, on the beautiful Karrawirra Pari/River Torrens waterfront. It has been a long and hard pandemic, and so there is more reason than ever to take the time for education, networking and peer support.
Our conference theme, "The Best of Times, the Worst of Times" aims to capture the spirit of perinatal and infant mental health in 2021. The families we serve have been experiencing some of the best and worst times of their lives, while in our work we have seen similar contrasts, between the worst examples of fear and uncertainty, to the best examples of innovation and united effort. Let's share the best and talk through the worst, together.
New Livestream Option: We hope and expect to be able to gather in person, while also offering a livestream option for those who cannot do so. Please note, the livestream will take place only from the main Plenary room, so only one break-out session option will be available to livestream participants in the morning and afternoon sessions – information about which break-out session will be livestreamed will be available closer to the date of the Conference. On Day 2 both workshops will be livestreamed from the main plenary room. Recordings of the conference proceedings will be available to all registrants after the conference.
COVID-19 Disruptions: In the event of COVID-19 -related changes to the program, we will advise you of the options as soon as possible, including refunds if you prefer not to take part in a virtual conference.
Introduction to the Program: Thank you to those who submitted abstracts in our first-ever open call. We are glad to welcome these speakers to our break-out session program. Our international keynote speakers, Dana Shai and Rose Spencer will join us live via video link from the Anne Freud Centre in London. Their foundational work on Parental Embodied Mentalising leads us in new directions for infant-parent therapy. Other plenary keynote speakers include: Psychiatrist Jackie Amos who brings us her therapeutic perspective on working with families in the child protection space, which she will expand on in her afternoon Workshop on day 2; Fertility Psychologist Michelle Stuckey, who will speak on the challenges of fertility treatment for couples, and Adelaide Psychologist Angie Willcocks, who will report on her fascinating research into the links between diet and mental health in pregnancy.
Our homegrown Mother-Infant DBT (MI-DBT) program, which has been presented and published internationally, will, by popular demand, form the subject of the morning workshop on Day 2, presented by Chris Yelland and colleagues. You can also expect numerous thought-provoking break-out sessions from local colleagues and some artistic elements throughout the first day, all while reconnecting with colleagues from around South Australia.
The flexible program provides a number of different ways to experience the conference – you may choose to attend one or both days, and the workshop day may be taken as a whole, or you may choose to attend just one workshop. And of course, if distance or COVID-19 prevent you from joining us in person, then you may select the livestream option for day 1 and/or day 2.
We look forward to seeing you there.
Dr Rebecca Hill
On behalf of the conference organising committee
Scroll down to view the program and book into a morning breakout session and an afternoon breakout session if you are attending in person.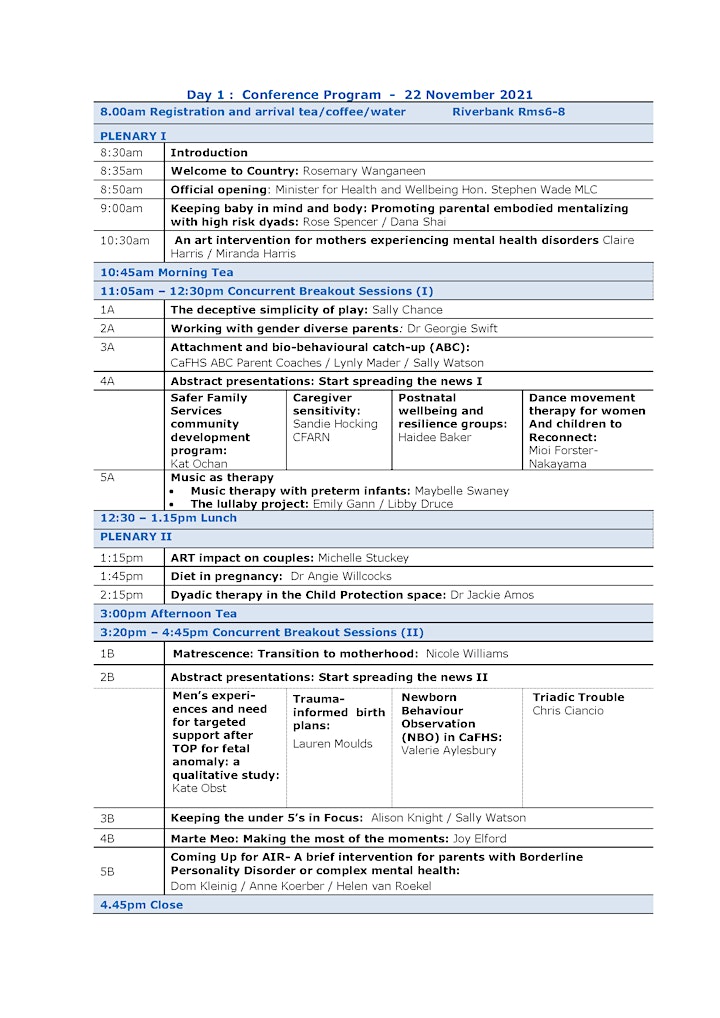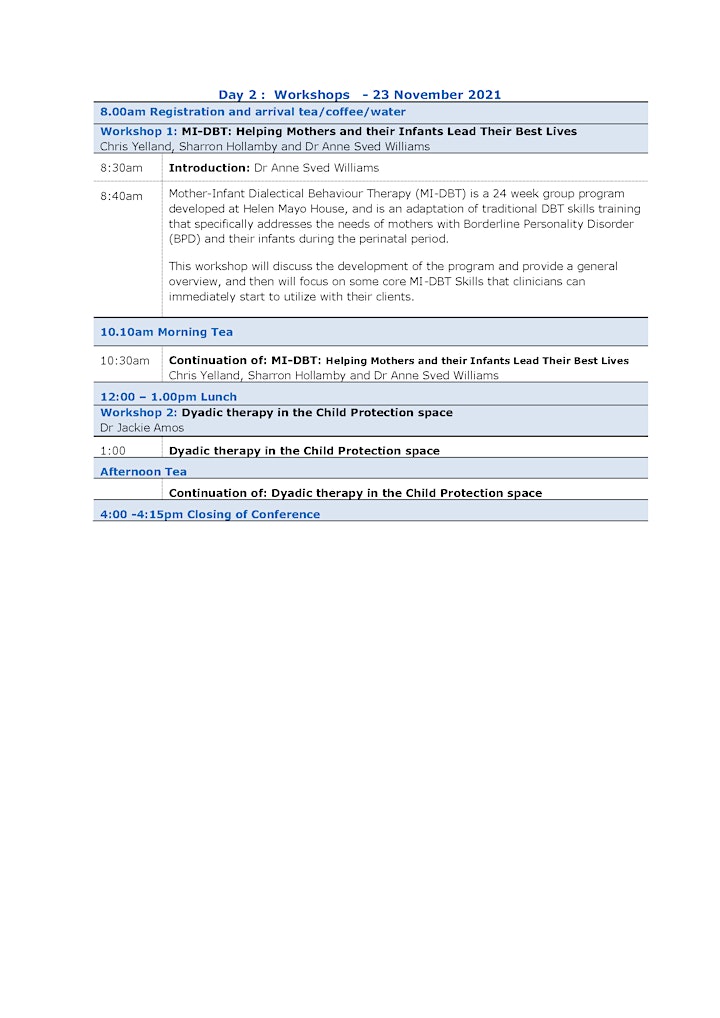 Organiser of The Best of Times, the Worst Times - Perinatal and Infant Mental Health