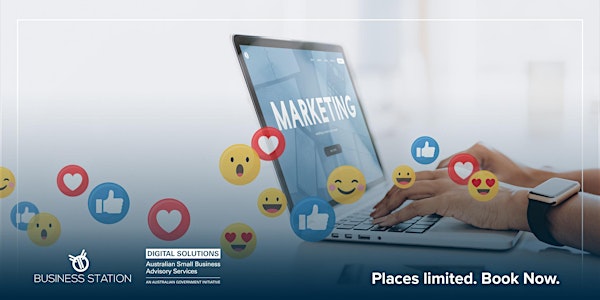 The Basics of Facebook and Instagram advertising by Renee [2OW]
Sales Have Ended
Registrations are closed
Thank you for your registration to our ASBAS Digital Solutions Event.
Boosting, leads, conversions, retargeting... What's the difference and how can you harness the power of Facebook ads to grow your business?
About this event
PLEASE NOTE: To register for this event you must be a business (0-19 employees)  and provide your ABN. 
This session will be recorded and sent to everyone who has registered. Register now!
Level : Intermediate
Date/Time:
Wednesday, 25 May 2022
WA: 08:00 AM to 10:00 AM (AWST)
NT: 09:30 AM to 11:30 AM (ACST)
QLD:10:00 AM to 12:00 PM (AEST)
This workshop will teach you how to get set up with Facebook ads.
We'll cover:
1. The difference between adverts and boosting
2. Setting up an account
3. What are the different objectives?
4. Selecting the correct objective
5. Who can you / should you target?
6. Creating a pixel (don't worry, I will explain what this is and how it is used)
7. Setting a budget - there is no clear cut answer but I can help you decide
8. Selecting the right visual and words to go with your advert
This workshop is brought to you by Business Station and AusIndustry under the Digital Solutions Program.
ABOUT PRESENTER
Social Butterfly Marketing founder Renee Dembowski is an innovative trailblazer in the exciting world of social media. With fresh ideas and a penchant for predicting the next big thing, Renee has successfully transformed a flair for social media strategy into an award-winning enterprise. In 2017, Renee was the first person in Australia to be awarded the Diploma of Social Media Marketing and is now an industry-recognised trainer. In addition to delivering the Diploma, Renee is the Queensland Ambassador for the Social Media Marketing Institute Australasia.
#facebookadvertising #facebookads #instagramadvertising
About Digital Solutions - Australian Small Business Advisory Services
Digital Solutions is one of the most generously supported digital transformation programs for small business by the Commonwealth Government. This iteration of the program has been run by Business Station in QLD, WA and NT for three years and has had a significant positive impact on the small business community.
Important – Participating businesses must be aware that this information will be provided to the Commonwealth Department of Industry, Science, Energy and Resources for program evaluation and reporting purposes; and businesses may be approached by a representative from the Department to complete a survey on the services provided.