The ASPA launch of the Australian Journal of Social Issues special issue
The ASPA launch of the Australian Journal of Social Issues special issue on Big Data and Social Policy in Australia
About this event
Agenda
1. Announcement of the Peter Saunders' prize winners for the Australian Journal of Social Issues in 2019 and 2020
To commemorate the 50th anniversary of the Australian Journal of Social Issues, the Australian Social Policy Association established the Peter Saunders Prize. It is named in honour of the first President of the Australian Social Policy Association. The prize recognises outstanding research and is open to all papers published in AJSI in a given calendar year. Papers are shortlisted by the Editors-in-Chief, and a judging panel comprised of the Editors-in-Chief and two members of the Australian Social Policy Association executive assess the papers according to two criteria: academic merit and contribution to Australian social policy.
2. Big data and poverty governance under Australia and Aotearoa/New Zealand's "social investment" policies
Speakers: Dr Zoe Staines and Dr Charlotte Moore
Zoe Staines is a Research Fellow with the School of Social Science, University of Queensland. She previously held research and policy positions in the Queensland public sector and, most recently, in the not-for-profit sector, as a Senior Policy Officer and Manager of Research. Since completing her PhD in criminology, she has published in the areas of policing, social policy, welfare conditionality, and rural/remote crime and governance. She was recently awarded an Australian Research Council Discovery Early Career Researcher Award (DECRA) (2020–2023) to further her work into remote community experiences of social policy and crime, and is also an Associate Editor of the Australian Journal of Social Issues.
Dr Charlotte Moore (Rangitāne o Wairau) is the Kaiwhakahaere (Manager) of the New Zealand Family Violence Clearinghouse, based at the School of Population Health, University of Auckland. Her recently completed PhD theorised how initiatives introduced by the National-led government (2008-2017), including their 'social investment approach', changed how social services were provided, funded and regulated in Aotearoa New Zealand. Her research interests include the relationship between states and community and voluntary sector organisations and state policy making in relation to indigenous peoples.
3. Discussant: Professor Janeen Baxter
Janeen Baxter is Director of the Australian Research Council Centre of Excellence for Children and Families over the Life Course in the Institute for Social Science Research. Janeen has research interests in social disadvantage, gender inequality, family dynamics, life course and longitudinal studies and has published widely in these areas, as well as supervising the research of numerous higher degree students and research fellows. Janeen has served on several editorial boards for national and international journals and has been a member and Chair of the College of Experts for the Australian Research Council. Janeen is an elected fellow of the Academy of Social Sciences in Australia and a former member of its executive committee. She is currently a member of several government advisory committees and research advisory boards, including the Expert Advisory Board for the Singapore Longitudinal Early Development Study and 100 Families WA. Janeen is also a member of the CEDA Council on Economic Policy.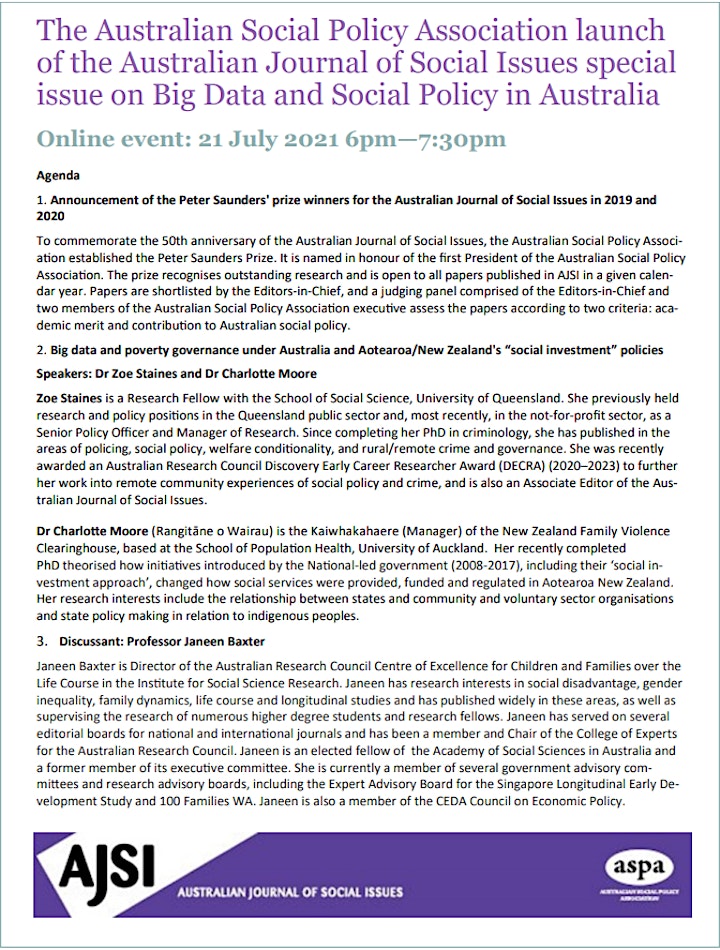 Organiser of The ASPA launch of the Australian Journal of Social Issues special issue