Description
Join our community of women realising their highest potential, without compromising their health, their family or their feminine

If you want to be a powerful leader inspiring change, you need to learn how to be an unwavering presence, sustain vibrant health, free yourself from the grip of your fears and be able to maintain forward momentum in realising your highest potential, even when things get tough!

If you are anything like I was, until then you may be experiencing at least one of the following:

*A yearning to be seen, heard and make a bigger impact and a growing discontent in not achieving it.
*Frustration with self doubt and lack of clarity sabotaging you every time you make a little headway.
*A fear that your efforts and/or your success may upset your relationship/family dynamic.
*A struggle with energy or stress levels and worried you'll get overwhelmed if you step up more.

I know because that was me 12 years ago, I was fed up with a lack lustre life, in chronic pain, my self worth was at a low point and I was caught up in my own perfectionist limitations.

I knew I had more to offer the world (I was a reluctant leader), but didn't know how to create the change or make the impact!

Thankfully my journey taught me how and now I help 100's of other women to reclaim the power of the feminine, their purpose and their passion through my unique programmes.

PLUS I am the healthiest and have the most energy I have ever had, my relationship of 27 years is in great shape and my 2 teenage boys are…well teenage boys!

Does that sound good?
YES? Then I can show you how to get there too.

This empowering event is for you if you want to:
· Hold an unwavering presence amidst the chaos of life
· Gain freedom from your doubts, your fears and your past
· Sustain forward momentum in realising your highest potential
· Become calm, clear and confident in the co-creation of your life
· Be seen and heard the way you want
· Inspire change in others without denying a part of yourself
· Maintain vibrant health and energy levels
· Feel a sense of joyful purpose

THIS IS NOT for you if you don't want to take responsibility for your life and aren't ready to commit to you in order to step into the fullest expression of your highest self.

Are you ready to create change?
Do you dare to walk a different path out of the comfort of familiarity?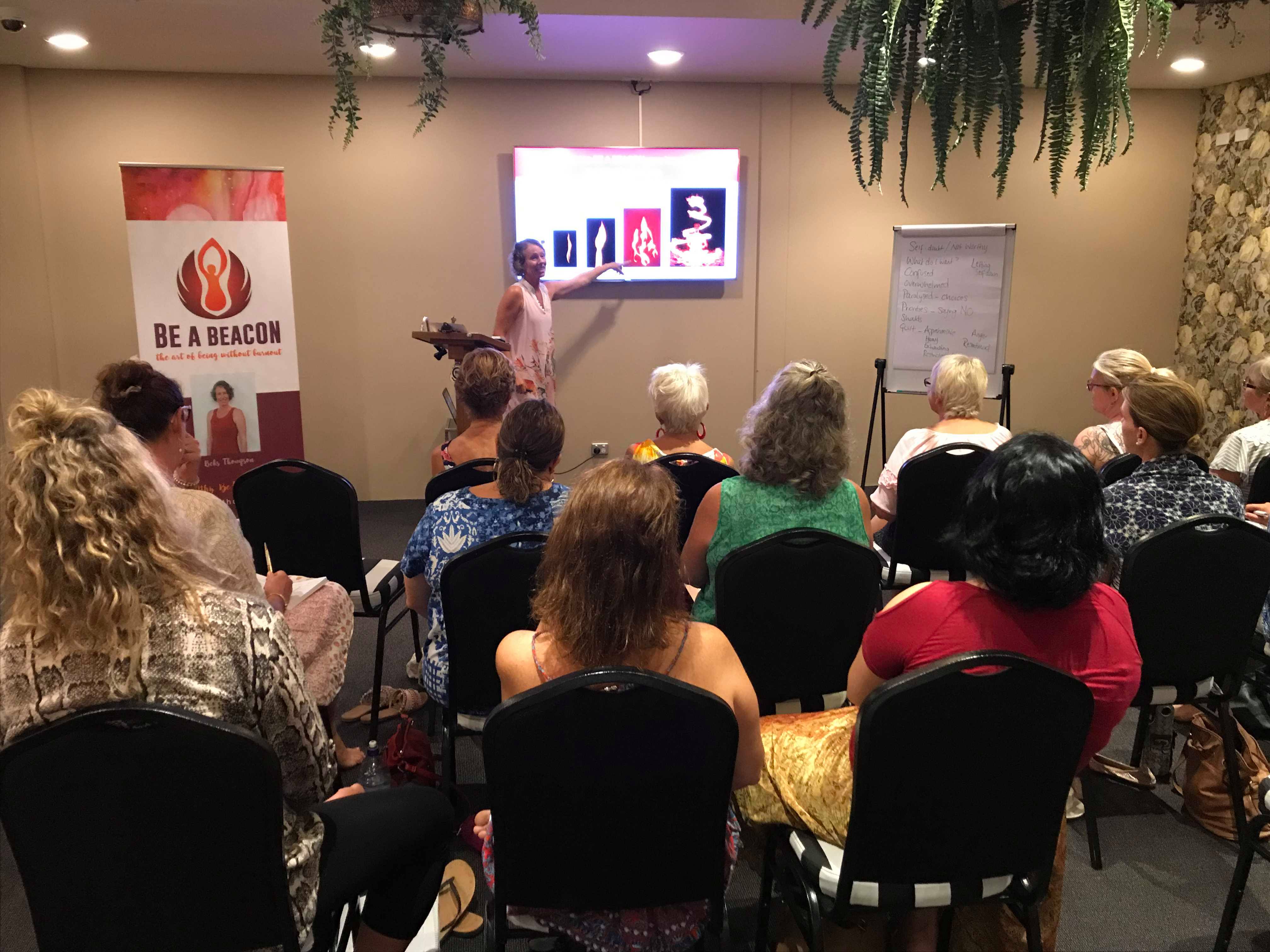 The book in for one of our upcoming events, I'd love to meet you!
ONLY $47 PLUS you get to bring a friend for FREE!!

You will discover:
1. The 6 keys to brilliance without burnout and the 1 key that unleashes the power of them all!
2. My unique cycle of transformation, especially for women that is essential for continuous personal growth and radiance personally and professionally.
3. Your number one blind-spot that is standing in the way of you and your dreams.

You will also go away with hands on tools to:
*Have more energy and impact, with less stress.
*Be seen, heard and valued the way you want personally and professionally.
*Gently deal with your doubts and fears so that they don't keep sabotaging you.
*Be powerfully feminine and intuitive creating a clear path ahead
.....and so much MORE!!

This is TANGIBLE, EMBODIED, PRACTICAL SPIRITUALITY, a clear path for powerful female leadership with vibrant health and radiant relationships.

RAVES
"Before working with Beks I felt confused, emotionally unstable, unfulfilled in my business and disconnected from family and friends.

Now I feel uplifted, confident, empowered and connected and am effortlessly attracting new clients for my business. I can't express how powerful Beks work is and how everyone needs to invest in themselves to find out who they truly are." Tanay Smith

"For years I had been operating on auto pilot having no real direction in life or enjoyment in my work and nothing I tried seemed to change anything. NOW from working with Beks, everything has changed!!

I finally feel worthy and have become the boss in my workplace and able to re-structure to support everyone more.
I feel rejuvenated instead of depleted with more joy, energy & less stress. My relationships have improved beyond measure.
The changes in my life are priceless! " Kelli Carr


MEET BEKS
Beks Thompson (aka The Beacon) is an integrated health and personal development specialist and sought-after inspirational speaker.

With 25 years under her belt as a physio, yoga, presence teacher and coach, Beks now runs successful events, intensive retreats and programmes.

She is creator of holistic kinetics and BE A BEACON and is highly regarded as a leader in her industry.

Through her own journey back from burnout as a physio, perfectionist and mother, Beks has forged a unique and truly holistic way of working with awakening women who want to realise their highest potential.