Description
Every moment of every day your primary focus as an Appreciative Leader is on fully appreciating and getting the best out of yourself and other people.
The outcomes are more people leading and being accountable, greater discretion to do what really matters to you, and better business results at less personal cost.
This candid and convivial conversation, while enjoying some local wine and food, will help you immeasurably.
We'll be exploring the contents of my workbook Remarkable Is The New Normal which you can download here.
This unique seminar will help you to inspire, remind, and persuade people that they're remarkable. Most people don't know this or they've forgotten it.
Imagine the difference it will make to your personal and business life when more people believe they're remarkable and act accordingly!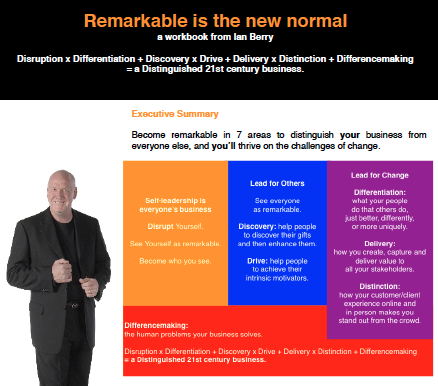 Be remarkable.
Ian
I engaged Ian Berry to talk to my team and challenge them to bring their very best to the office every single day as we commenced the new financial year. I recommend Ian as a value-add to any business leader or staff member and feel confident each participant will walk away inspired with a greater understanding of themselves and equipped with additional ideas and techniques of how to achieve their very best performance each and every day.
Luke Rieniets – Senior Business Banking Manager, Bendigo Adelaide Bank Ltd
We spoke about your presentation afterwards and the overwhelming view is that it was the best presentation, in terms of style and content, that we have ever had for our group.
Craig Walden, CEO, Australian Public Service Benevolent Society Ltd and Member The CEO Institute