The Act of Leadership by Dan Haesler | Online Book Launch | Tues Afternoon
Join us to mark the release of Dan Haesler's book, The Act of Leadership
About this event
To mark the release of The Act of Leadership through Wiley Publishing, you're invited to join us online in August for the official book launch!
You have the option of registering for the Tuesday afternoon session, or the Wednesday evening (Sydney Time).
Hear from Dan Haesler as he shares what you will gain from reading The Act of Leadership, both on a professional and personal level, whether you're a leader, parent, partner, colleague or friend.
Receive a PDF of the Introduction via email upon registration.
Get a VIP Discount of 30% of RRP for any purchases made on the night.
Have the exclusive opportunity to join Dan and others for the inaugural Act of Leadership Book Club (coming September 2021) to explore how you can apply the ideas in the book to your own context.
Get the chance (for people who purchase copies for each member of their team) to engage Dan for 1hr either face to face (when COVID restrictions allow) or anytime over Zoom to help embed the learning within your team or wider organisation.
Have a bit of fun too!
Of course, there will also be opportunities for Q&A and to 'mingle' :)
Please note that the launch will not be recorded so you need to be there or be square (as they say!)
Also, if you find this interesting, there is a fair chance that people you know will also find it interesting.
And a friend of yours is a friend of ours, so please share this far & wide in your organisations and networks.
We look forward to seeing you at the Launch!
Praise for The Act of Leadership
A practical guide to personal and professional high performance. This book will change your life. Read it".
James Kerr - Best Selling Author of Legacy, What the All Blacks Can Teach Us About the Business of Life
"Sometimes it takes someone to simplify the chaos, to not just open one's eyes, but open one's mind as well. In a world ever changing, and ever challenging, Dan Haesler not only inspires you to be the best version of yourself, but provides the space and steps to become that for yourself and your team - especially if you think you're at the top of your game!"
Anna Meares OAM - Dual Olympic Champion.
"A no-nonsense, plain talking guide to modern leadership that draws from the best and most current sources in psychology and management sciences. This is a book that both managers and leadership coaches will deeply appreciate."
Richard Ryan - Co-Founder of Self Determination Theory and one of the world's foremost behavioural scientists.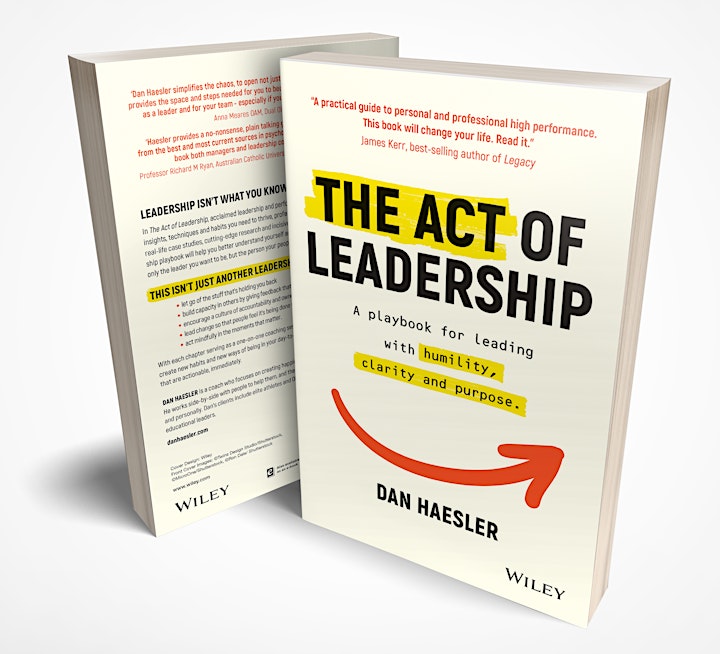 Organizer of The Act of Leadership by Dan Haesler | Online Book Launch | Tues Afternoon