THE ACCLAIMED SALES EXPLOSION PROGRAM BY BLAIR SINGER
Description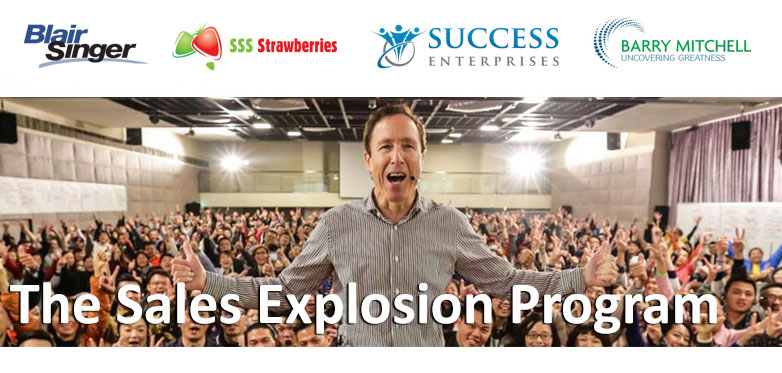 This Transformational 3-Day Event Will Change Your Business Forever


The Sales Explosion Program is a proven, "battle-tested" system of sales success that will change your business forever…
It's been specifically designed to:
Help business owners and entrepreneurs MAXIMIZE the return on the time and energy they invest into their business


Teach you how to handle ANY objection, and turn "No's" into "YES!"


Systematize the sales process to eliminate ALL weak links and team breakdowns


Establish real accountability across your entire sales team to keep them laser-focused on one thing: CLOSING SALES!


Give you the power to instantly supercharge your ability to sell and enjoy RECORD-SETTING sales year after year after year


Free you from the heavy burden of carrying your ENTIRE sales team on your back


Create the massive amount of INCOME and FREEDOM you deserve as a business owner or sales professional



And MORE!
Discover the secrets that allow thousands of individuals and businesses to

create EXPLOSIVE INCOME RESULTS

through sales and team development with the

Sales Explosion Program…
But I want you to be prepared for a little surprise…
Because you may have a hard time believing just how many sales

you've been leaving on the table

up until now…
And once you've infused your business with the inherent power of the sales and persuasion techniques you'll learn over the course of this amazing 3-day live event…
You might just find that

you can NOW sell more in 15 minutes

than you previously sold in a month

…
What Others Say About Barry Mitchell And The Sales Explosion Program?
BOOK YOUR SEAT NOW AND
SAVE OVER 50% ON YOUR INVESTMENT
MASTER THE STRATEGIES AND CORE SKILLS OF HIGH PERFORMANCE SALES
The first part of the
Sales Explosion Program
will immerse you in the core selling techniques and strategies of high performance sales…
You'll gain mastery over:
How to command ANY sales conversation and steer it to the outcome YOU desire


How to handle any objection anytime, anyplace and turn "No thanks" into "Yes Please!" AND teach it to others


The proven 6-Step Sales Process that you can deploy within your business TODAY and start picking up sales that are already sitting on the table in front of you


How to give your sales a massive BOOST by changing one sneaky number


Accountability and performance-tracking tools to hold your team accountable to their performance and keep them focused on SALES



And more

Part 2 will provide you with an up-close look at the intangible skills that separate a MASTER salesman from an amateur…
It's the "secret sauce" that companies like

JPMorgan,

Deutsche Bank

,

and IBM

have paid top dollar to learn so that they can implement it within their massive and global businesses…
The

Sales Explosion Program

is the ONLY program of it's kind…
Geared towards giving you EVERYTHING you need to transform what you do AND the life you lead…
It will allow you to finally make good on the promise and potential that every thriving and successful business holds…
The potential to give you the time, freedom, and rock-solid financial stability you've always dreamed of…
To permanently eliminate stress, hassle, and headaches…
And provide a means for you and your family to live the life YOU deserve.
It will unlock a brand NEW top gear in your own personal performance and allow you to reach

sales numbers you never thought possible…
AND you'll learn exactly how to get your sales team to replicate those exact same results…
What Others Say About The Program?
BOOK YOUR SEAT NOW AND
SAVE OVER 50% ON YOUR INVESTMENT



SPEAKER





Barry Mitchell started his Sales Career in 1993 after dropping out of University. How did he get into Sales? Like most people who end up in Sales, he needed something to do, and he needed to make some money.
Barry got a Sales job selling cars. 25 years later, he still calls himself a Sales rep, and he is proud to be associated with one of the most important functions in business and in life.
Over the years he has managed, built, run, broken, fixed, and maintained many Sales teams and Sales programs for his own companies and other corporates throughout Africa.
Barry is one of 4 certified trainers globally who teach the Sales Explosion Program, designed and taught by world-renowned Sales, Business and Team trainer, Blair Singer.
Barry has worked with hundreds of small companies, startups, established mid-size businesses, and some of the more well-known corporates in areas of training, coaching and speaking.
Some of his clients would include Novo Energy, Neotel, Standard Bank, Sage Pastel, Innscor, Unitrans, Unifreight, SafeGuard, and Edgegrowth to name a few.

Click Here to Learn more about Barry Mitchell...
PROGRAM CREATOR
Blair Singer is a world renowned speaker, master facilitator, a Rich Dad Advisor to Robert Kiyosaki and the bestselling author of Little Voice Mastery, SalesDogs and Team Code of Honor.

He has trained hundreds of thousands of people around the world on the business and personal development skills and techniques necessary to excel as a leader, speaker, facilitator, trainer, and sales person.

His training has helped multi-national organizations, entrepreneurs, and sales professionals increase their sales 15-85% in just 6 weeks.

Through a mixture of mindset, communication, and sales skills training, Blair has become a leader in helping people accelerate their personal and professional success – exceeding their goals and finding the ability to expand and pursue their greatest goals and aspirations.


"Blair Singer is a great communicator, a great teacher, and a great human being. Like he says, when it comes to winning, it's all about mastering your 'Little Voice' "
Click Here to Learn more about Blair Singer...
ORGANISER

The man behind Success Enterprises, who has built a multimillion dollar business from scratch
After discovering a tattered copy of Rich Dad Poor Dad in the car on the way back from a business seminar, Thanh's life was forever changed.
He's gone on to learn from the likes of Tony Robbins, Robert Kiyosaki, John Carlton, Frank Kern, and Blair Singer (as a member of his certification team).
His family's story of success has received widespread local media coverage and was even featured in Forbes.
When you attend this live 3-day event, you'll learn how Thanh helped establish his family's business success by learning how to sell using the Sales Explosion Program system, and how your business can do the same.

EVENT LOGISTICS



DATES:
Nov 24th - 26th


LOCATION:

Royal On The Parks, Brisbane
TIMES:
Registraion: 6pm - 7pm
Day 1: Friday, Nov 17th, 7pm - 10pm (Approx)
Day 2: Saturday, Nov 18th, 9am - 10pm (Approx)
Day 3: Sunday, Nov 19th, 9am - 8pm (Approx)

BOOK YOUR SEAT NOW AND
SAVE OVER 50% ON YOUR INVESTMENT