Event Information
Location
Goulburn Recreation Area, Veolia Arena, Grace Millsom Function Centre, Goulburn Show Grounds
45 Braidwood Road
Goulburn, NSW 2580
Australia
Refund policy
Contact the organiser to request a refund.
Eventbrite's fee is nonrefundable.
The 33rd Goulburn Rotary Swap Meet 2nd - 3rd April 2022
About this event
General Information
This Event is being held under the current COVID 19 Safe Rules, as they apply at during the period of this event. ( https://www.nsw.gov.au/covid-19)
Accordingly the following is mandatory:
All Stall Sites are only being sold through Eventbrite.
Stall Sites will NOT be sold at the gate.
As far as possible all Stall Sites will be marked out to be at least 6m x 5m with 4m between rows of sites.
Entry for Stall Holders will not be permitted without an Eventbrite ticket, NO EXCEPTIONS
All Stall Holders are limited to 2 persons to man each Stall Sites, If a Stall Holder purchases 2 Stall Sites then they will be permitted a maximum of 4 persons, 3 Stall Sites a maximum of 6 people.
Stall Holders and Public are reminded to have the Service NSW App on their phones
All Stall Holders shall provide one hand sanitiser station for public use, at each of their Stall Sites in a location accessible by the public.
All Stall Holders and Public are to make all reasonable efforts to ensure that Safe Social Distancing is maintained.
Whilst not mandatory it is recommended that face masks be worn at all times.
As site marking is to take place on Thursday March 31 and Friday April 1, there will be not access to the site areas until Saturday April 2.
Dates/Times:
Saturday 2nd April 2022 – Stall Holders Set up from 9am to 8pm
Sunday 3rd April 2022 – Stall Holders may sell from 7am to pack-up (usually about 1pm)
Venue: Goulburn Recreation Area (Showground), Braidwood Road, Goulburn, NSW
Site Types:
Undercover, Inside, Outside Grass, Outside South, Outside North & South Tack, Outside Hard Stand.
Buying Stall Holder Site Tickets
Eventbrite has been designed for entertainment events, and accordingly defaults to choosing 'seats' by next available. Accordingly it is suggested that Stall Holders should select the 'Buy on Map' option (right side of 'Tickets' page) as this will allow the Stall Holder to choose the Stall sites . Stall Holders may choose up to 10 Sites. It is also suggested that Ticket Add-ons be selected prior to buying the site tickets
General Rulings:
No food to be sold by stall holders – profits from food sales support Rotary charities and projects
No pets
As all Stall Holder Sites are marked please do NOT drive stakes into any surfaces as underground services are not marked.
Anyone responsible for leaving rubbish or materials from your stall at the venue will be penalised. Your rubbish is not our responsibility.
Cost of repair of any damage by Stall Holders to the surface of the Hard Stand area will be the responsibility of the Stall Holder.
Stall Holders must carry their own Public Liability Insurance.
Toilet blocks are on ground
Unfortunately unlike past events Rotary is unable to provide Public Liability to Stall Holders. Accordingly stall holders must provide their own Public Liability Insurance and have their Insurers Certificate for presentation on request. While the Rotary Club of Goulburn does not recommend any particular Insurance Company's product, we have identified the following companies which Stall Holders may like to consider for their Public Liability Insurance.
Local Community Insurance Services (https://www.localcommunityinsurance.com.au/quote/?appref=67558299568)
City Rural (https://cityrural.net.au/market-stall-liability-insurance/#)
Market Stallholders Insurance (https://www.netinsure.com.au/Market-Stallholders-Insurance)
Note: Stall Holders are reminded that Liability Insurers require that all electrical equipment, including electrical extension cords must be checked and tagged by an electrician prior to use at the Swap Meet. The organisers reserve the right to check the currency of the electrical tags.
On Site Camping
On Site Camping is permitted at an additional fee. Where a Stall Holder has multiple Stall Sites only one Camping Fee will be required. The Camping Fee is a requirement of, and collected on behalf of the Venue Owner.
Note
RECREATION AREA PERIMETER GATES LOCKED AT 8pm ON THE SAT. NIGHT.
UNDERCOVER Skillion Sites – $40 per site
– Excellent floor traffic. Direct walkway from car park to all other sites.
OUTSIDE Grass Sites – $25 per site
– Grass Sites - Include Grass Zone 1 and 2, North and South Track Sites, and South Sites
– Some power available from poles and bollards on grounds but not guaranteed
INDOOR Peden Pavilion – $45 per site
No vehicles permitted, except for loading and unloading
– Power available at some wall sites, but is not guaranteed.
– Camper-vans etc can stay overnight outside the building with access to toilets and showers. Power available from inside via a power cord provided by site holder.
DOORS LOCKED 8pm ON THE SAT. NIGHT
OUTSIDE Hard Stand Sites – $35 per site
– These sites are located on the recently refurbished Recreation Area Car Park between Gate Three and the Show Office.
- As the surface of the Hard Stand Sites is new, use of pegs or any other means which would damage the surface shall not be used. The Goulburn Mulwaree Council reserves the right to seek restitution from any Stall Holder who damages the surface
– Some power may be available from poles and bollards on grounds but not guaranteed
Camping
Camping is available to Stall Holders for Saturday Night 2 April at a cost of $10 as an Add-on. This will show on your ticket. If you intend to stay on site on the Saturday evening please purchase a camping ticket. This maney is paid by Rotary to the Goulburn Mulwaree Council who own the Recreational Centre
If a Stall Holder purchases two or more adjacent Sites, only one Camping ticket need be purchased.
If a Stall Holder will not be staying on site no Camping need be paid.
As Peden Pavilion Stall Holders may not camp on their sites, provision for camping will be provided next to the pavilion as per usual.
Swap Meet Flyers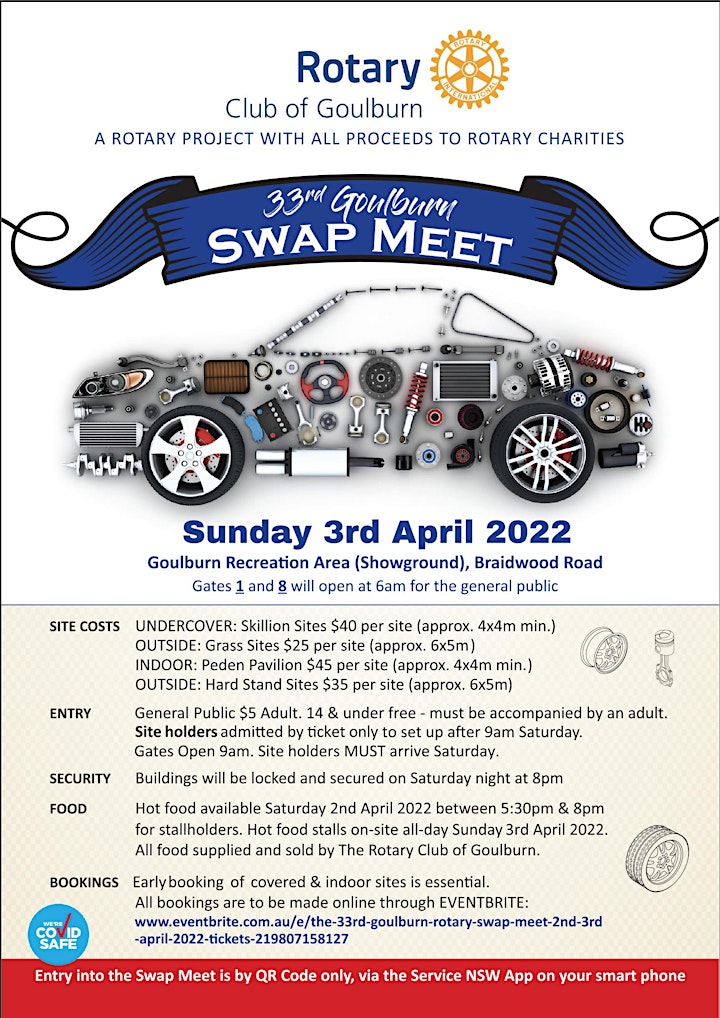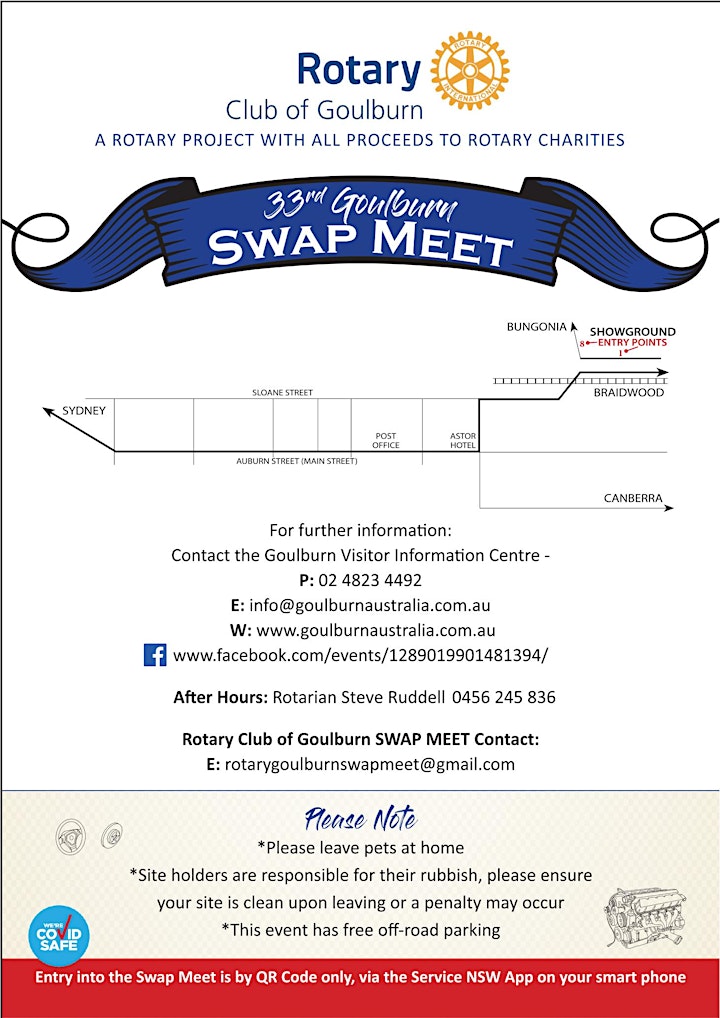 Date and time
Location
Goulburn Recreation Area, Veolia Arena, Grace Millsom Function Centre, Goulburn Show Grounds
45 Braidwood Road
Goulburn, NSW 2580
Australia
Refund policy
Contact the organiser to request a refund.
Eventbrite's fee is nonrefundable.