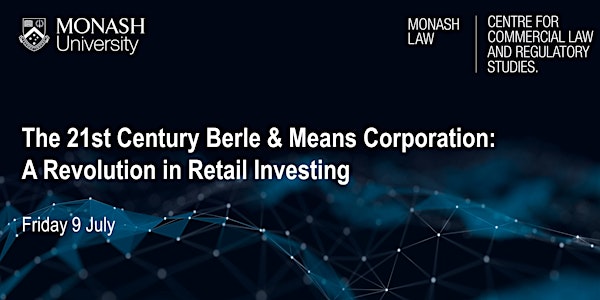 The 21st Century Berle & Means Corporation:A Revolution in Retail Investing
This panel will look at the emergence of individual retail investors as a powerful force in corporate governance
About this event
During the 20th Century, Berle & Means outlined the then predominant view of corporate governance framework that conceived of shareholders as widely diffused & disinterested.
Since that time, a number of developments in corporate investment have challenged this view of shareholders and the corporate governance implications that follow. In particular, the rise of institutional investors has caused a re-evaluation of corporate governance to accommodate a more co-ordinated and centralised form of shareholder power.
However, more recently, technological innovation and a change in generational perception in investment has facilitated the emergence of individual retail investors as a powerful force in corporate governance. This panel explores these developments from a number of different perspectives, including the recent GameStop investment rally, developments in equity crowdfunding and a general shift in investment perspective of millennials and Generation Z investors.
The panel will consider the following issues:
1) How will generational characteristics of retail investors redefine the role of retail investors in corporate governance?
2) How a shift to direct investing in the stock market will affect people's investment plans and strategies?
3) What are the main regulatory challenges and corporate governance obstacles associated with a modern approach to retail investment?
Speakers
Jill E. Fisch, Saul A. Fox Distinguished Professor of Business Law; Co-Director, Institute for Law and Economics, Penn Law
David H. Webber, Professor of Law and Associate Dean for Intellectual Life, Boston University School of Law @DHWebber1
Christina M. Sautter, Cynthia Felder Fayard, Byron R. Kantrow Professor of Law, and Vinson & Elkins Professor of Law, LSU Law School @ProfSautter
Sergio Gramitto, Lecturer, Business Law & Taxation, Monash University @sergioalberto_
Steve Kourabas, Senior Lecturer, and Deputy Director Centre for Commercial Law and Regulatory Studies, Faculty of Law, Monash University @SteveKourabas
Chair and Moderator: Professor Jennifer Hill, Bob Baxt AO Chair, Monash Law & Director of CLARS
Contact us
Name: Janice Hugo
E-Mail: janice.hugo@monash.edu
Phone: 03 9905 3327