Description
Thanksgiving Dinner at the Carrington Inn - 3 Course Feast
Thursday 23rd November | Dinner Served at 6:30pm | Pre-dinner drinks available from 5:00pm
Adults: $76 | Youth: $46 | Children $26
Youths (12 to 17yo) | Children (under 12yo) | Servings are proportional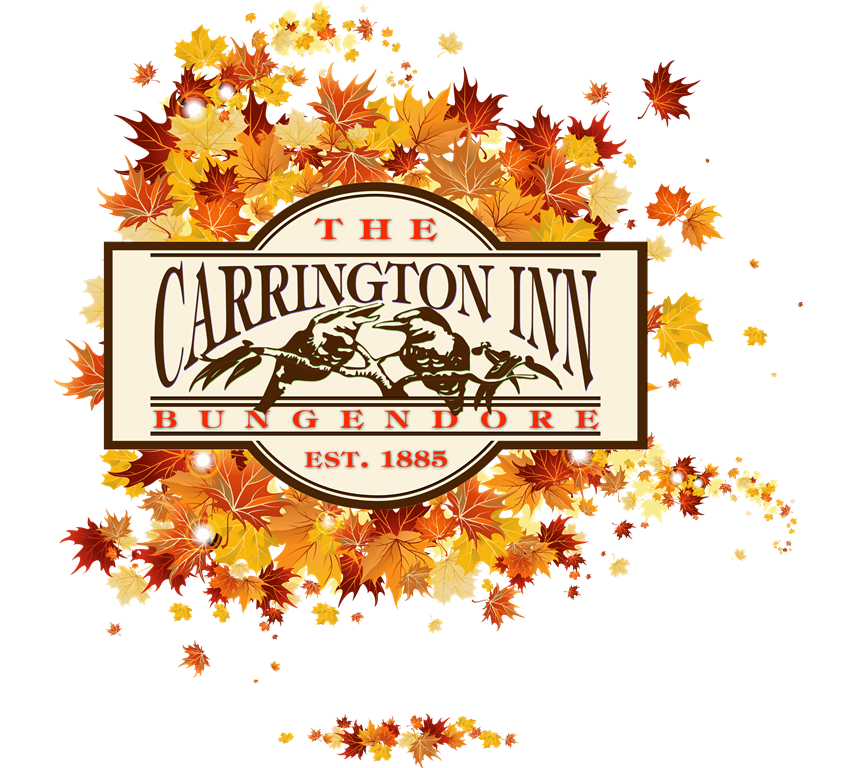 Thanksgiving is a 400-year-old North American tradition with roots in English harvest festivals. Originally an expression of humility and thankfulness for special providence, today it is a celebration that puts gratitude for the well-being of family and friends at the centre of one's thoughts. It rejoices with a food bounty to focus on these priorities.

After our successful 2016 Thanksgiving Dinner, our historic Inn is once again dedicating a day to experience the wholesome traditional foods of Thanksgiving, complete with roast turkey breast, orange honey glazed ham, cranberries compote, herb stuffing, creamy mash potatoes, Boston corn chowder, string beans & bacon, gravy, rolls & butter, and sweet spice pumpkin pie with fresh whipped cream. Most items are prepared to be gluten-free, and a savory pasta main is available for vegetarian guests. Hot coffee and tea are also included.

Dinner for each party will be served family-style and have all the favourites and trimmings. If you are American or Canadian, you will feel right at home. If you are not, you'll experience what all the commotion is about.

Seating for dinner will be both indoors and in the courtyard. We will call you before Thanksgiving Day and ask your preferred location and do our best to accommodate it.
Dinner will be served at 6:30pm. For guests who would like to make the day last a bit longer, the tavern is welcoming guests from 5:00pm for pre-dinner drinks in the tavern and garden. The tavern will also have homemade raspberry lemonade available for the young and young at heart.
Pianist, Robbie Mann, will be entertaining throughout the evening.
Book early for your family and close friends to experience this once-a-year 3-course feast. Accents welcomed but not required.
Seating is limited, so don't delay. You can book online 24/7 at Eventbrite, or telephone on 6238-1044 during office hours.