Sales Have Ended
Ticket sales have ended
Thanks for booking! Please add emilywills@live.com.au to your email account - we will be sending out information regarding preparation for our short course over the following week. Warmest, Emily
Sales Have Ended
Ticket sales have ended
Thanks for booking! Please add emilywills@live.com.au to your email account - we will be sending out information regarding preparation for our short course over the following week. Warmest, Emily
Description
Our Textile & Surface Pattern Design short course is hosted by design educator and SURFACE 1°22 founder Emily Wills. Built up over four days, across four weeks this immersive offers a comprehensive overview of textile and surface design, starting with art-making and digital skills. We'll study colour theory and colorisation techniques, as well as research and analyse trends. We'll look at the differences in design between home product and fashion textiles and how to design for a market segment.
This immersive is perfect for those wanting a holistic overview of textile and surface design practices.
Research suggests it takes 10,000 hours to master a skill. But Josh Kaurfman suggests it only takes twenty hours to learn a new skill. Our Textile & Surface Pattern Design course is a practical, hands-on learning experience. While we love online learning, sometimes it helps to have clear instruction from someone in the room to communicate with one-on-one. We welcome your questions. We will go slow when you need help or a reminder. We will share everything we can to quench that creative thirst!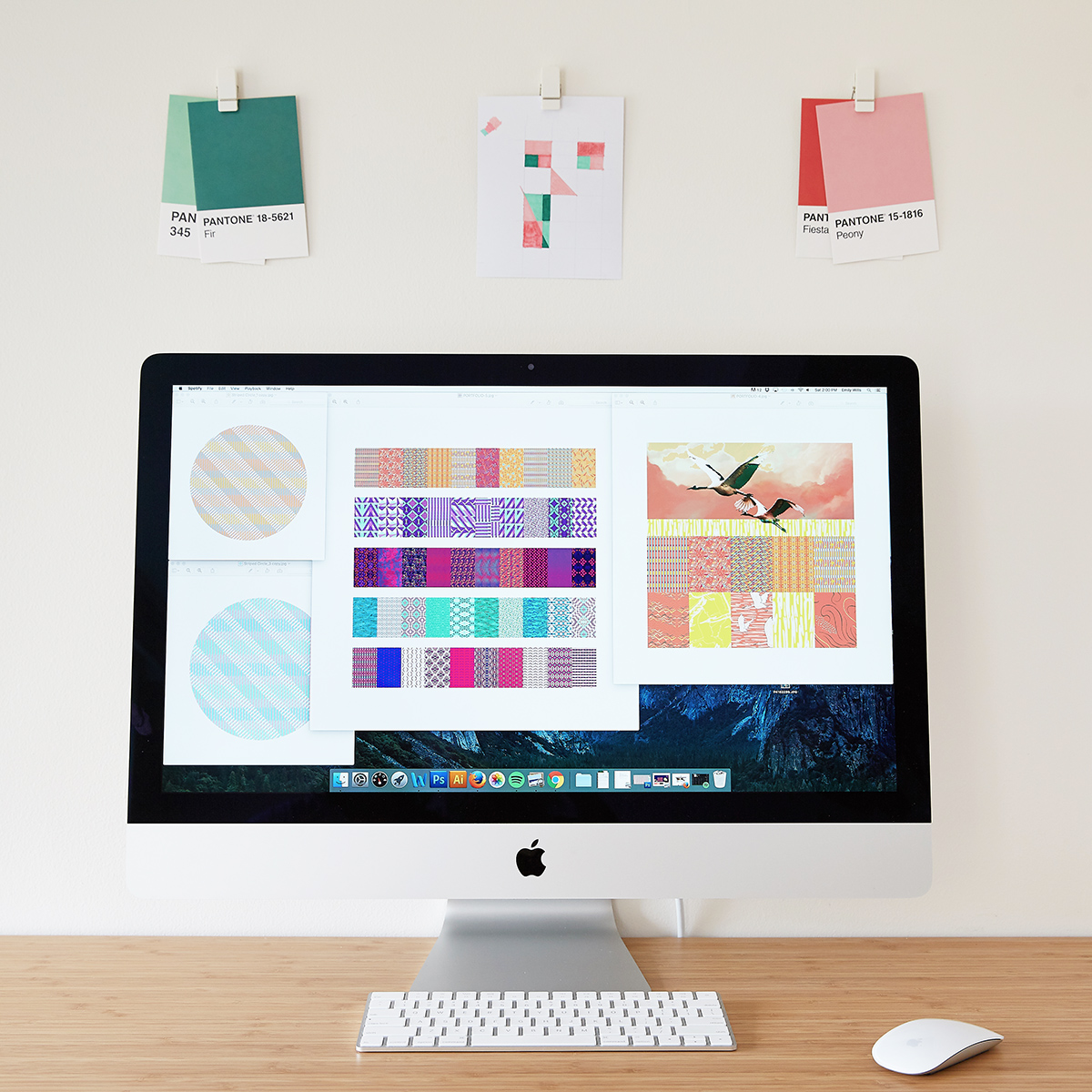 ---
What's covered?
9:30am - 4:30pm, Saturday July 22nd (Research / Art Making / Motif Design / Hand Colourisation)
9:30am - 4:30pm, Saturday July 29th (Market Segments / Colour Trends / Colour Theory)
9:30am - 4:30pm, Saturday August 5th (Digitisation / Digital Colorisation / Basic Units / Block & Mirror Repeats)
9:30am - 4:30pm, Saturday August 12th (Drop & All-over Repeats / Preparing Artwork for Digital Print)
---
What's included?
All art-making materials
Inspiration books, images and colour guides
Refreshments, tea & coffee
---
What you need to provide?
A smartphone or tablet
A laptop with Adobe CS5, CS6 or CC installed
---
Please note that our Carlton home studio is on the fourth floor and this property does not have a lift, this may not be appropriate for individuals with limited mobility.
If this workshop sounds like a hoot, but you are not available across these – please get in contact with us regarding future workshops. Alternatively, if you've got a larger or more select group – Emily can run a Private Workshop at a location of your choice, or on a day of your preference.