TEDxMelbourne: TEDCity 2.0 - Sept 22

Sunday, September 22, 2013 from 1:00 PM to 5:00 PM (AEST)
Event Details

DREAM ME. BUILD ME. MAKE ME REAL.
Join us for a re-imagining of the city.
TEDxMelbourne is one of the lucky TEDx communities worldwide who will be envisioning the cities of our future within 48 hours of the TEDCity2.0 anchor event happening in New York. Our event will feature a mix of live, local speakers alongside streamed Talks from the TEDCity 2.0 event.
Architects, anthropologists, urban planners, street performers & sustainability experts will be sharing big ideas about collaborative action and sustainable solutions, surfacing stories of urban ingenuity and interdependence from across the globe.
The themes will be diverse – art, education, food, health, housing, play, public space, safety – all elements whose presence dictates the success of our future cities. How can our future cities be more playful, more safe, more beautiful, and more healthy for everyone?
Find out more about TEDxCity 2.0.
Find out more about our local speakers
Kate Dundas 

is an urban designer interested in how we think about and use land. She's passionate about finding ways to connect people back into the food chain.

Donna Gallagher 

is senior Senior Manager Product Marketing for the digital mapping arm of Sensis Pty. Ltd. Donna truly believes that location is the new black.

Greg More

 is the founder of the Melbourne based data visualisation studio OOM Creative and is an expert in data visualisations that connect art, design and technology.
Not sure what goes down at a TEDxMelbourne event? Check out some photos from our previous events.
Get social with us!
Secure your ticket above then RSVP to the event on Facebook to connect with other attendees. If you're tweeting about this event, please use the hashtag #TEDxMelb and #TEDxCity.
__________________________________________________________________________
Event details
Date: Sunday 22nd September 2013
Time: 1.00pm for a 1.30pm start, concluding at 5.00pm
(Afternoon tea provided during break)
Venue: Swinburne University of Technology, Advanced Technologies Centre (ATC building), 
401-451 Burwood Road, Hawthorn. 
The Advanced Technologies Centre (ATC) is the first university in Australia to achieve a 5 star green rating for an education building. The 5 star green star - Education Design v1 rating from the Green Building Council of Australia, which evaluates buildings on their environmental design and performance.
 __________________________________________________________________________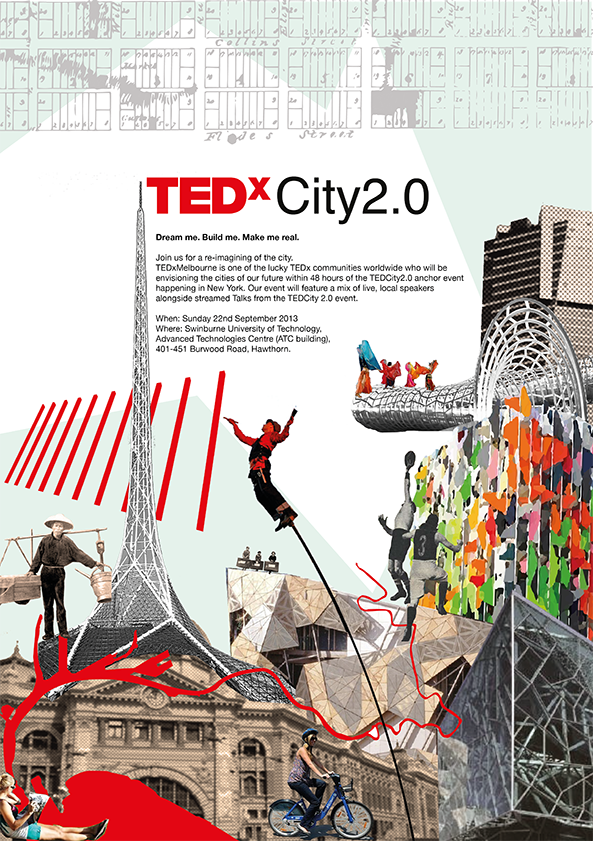 Got a question?
Why do I have to provide so many details to register?
We're not just about spreading ideas worth spreading, TEDxMelbourne is about helping to make those ideas happen. And one of the ways we do that is ensuring our audience are the kind of people who are passionate about ideas. Also, the more we know about you, the more we can tailor future events to be as relevant and engaging as possible.
Why can I only buy one ticket at a time?
Only one registration is permitted at a time to make sure we collect the information we need and the right information for your nametag. We realise this might be a bit painful if you're trying to register a group of freinds or colleagues, but it's the only way we've found that makes sure we get all the information we need. If you don't provide the full information needed for mandatory questions this may result in a rejected registration - and we don't want to do that to you!
Given your events sell out so quickly, why don't you hold them at a bigger venue so more people can attend?
We would love to hold bigger events so more people can come along but this would not only push our costs up significantly, but the size of our volunteer team simply can't handle the logistics of a larger event. Perhaps you'd like to volunteer? Find out how.
Why do the tickets cost so much?
TEDxMelbourne is a non-profit organisation run entirely by a team of volunteers. We operate on a cost recovery basis.  We need to cover the costs of the venue and catering for this event in particular. Some of the money will also go towards a range of expenses to pull other events together throughout the year including video equipment and production, venues, catering, insurance and a million other things that go into creating a TED experience for our audience.
I bought a ticket, but can't attend. Can I get a refund?
The bad news? We cannot and do not, under any circumstances, provide refunds. The good news? Tickets are fully transferable. So if for some reason you can't make it, you can give your spot to someone else - just make sure you let us know so we can greet them with a smile and  nametag when they arrive.
Do you offer press tickets or discounts for the media?
While we'd love for you to come along and promote our event, we don't give away press tickets or offer discounts for members of the press to attend. Because we're a not-for-profit event, we simply can't cover the cost. We rely on our passionate community to spread the word instead.
What do we get to eat? I have special dietary requirements.
We will do our best to cater for a range of dietary requirements during the afternoon tea break - just let us know when you register.

This independent TEDx event is operated under license from TED. In the spirit of ideas worth spreading, TED has created a program called TEDx. TEDx is a program of local, self-organized events that bring people together to share a TED-like experience. Our event is call TEDx (name), where x=independently organized TED event. At our TEDx (name) event, TEDTalks video and live speakers will combine to spark deep discussion and connection in a small group.The TED Conference provides general guidance for the TEDx program, but individual TEDx events, including ours, are self-organized.
Attendee List
Sort by:

Date

|

First Name

|

Last Name
When & Where

Swinburne University of Technology, Advanced Technologies Centre (ATC building)
401-451 Burwood Road
Hawthorn, VIC 3122
Australia

Sunday, September 22, 2013 from 1:00 PM to 5:00 PM (AEST)
Add to my calendar