TEDxMelbourne: Future Leadership

Friday, August 24, 2012 from 8:30 AM to 5:00 PM (AEST)
Event Details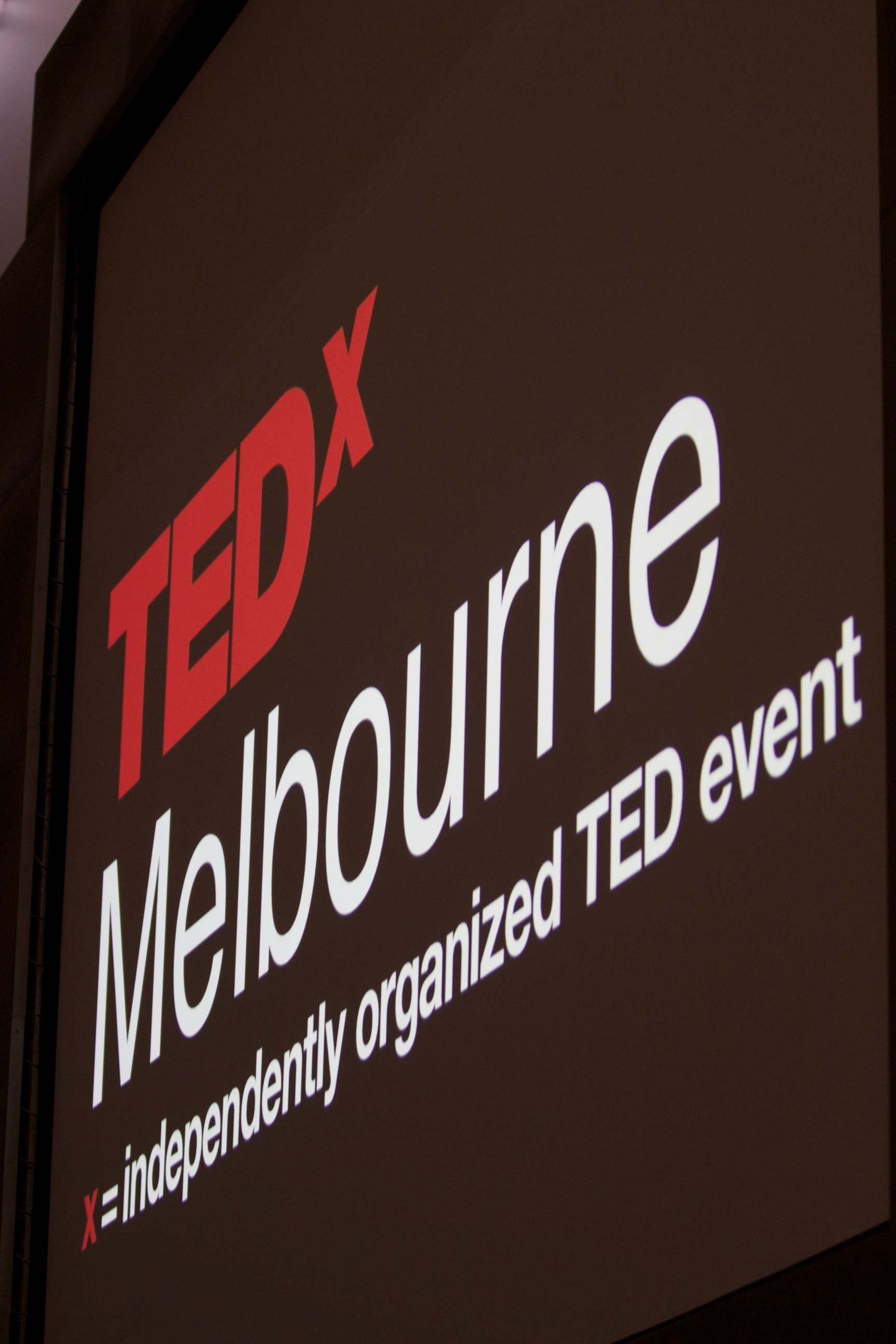 The world is changing. 
In the spirit of ideas worth spreading, TEDxMelbourne will bring together a diverse group of people to share ideas and inspiration, with a focus on 'Future Leadership'.
How will leadership shape the 21st century?
What type of leaders do we need to become? 
And what sort of thinking do we need to lead a world that previous generations couldn't possibly imagine?
We're facing a rate of change and new opinions as diverse as there are people on the planet. Who will corral these dreams, passions and energy? What kind of leaders will draw the line on where we stand as a community, nation and planet?
Join other change-makers and visionaries for this very special day of talks and videos from a wide range of industries and disciplines as we explore these ideas and themes at TEDxMelbourne 2012.
EVENT DETAILS
Starts: 8.30am registration for 9.00am start
Lunch: Provided by Melbourne Convention Centre
Concludes: Wrapping up by 5.00pm
Program: View our speaker line-up here or get the summary below...
_________________________________________________________________________
Col Cameron (our MC for the day)
Col has over 20 years of performing behind him in a variety of roles including comedian, musician, writer and producer. His style is focused on connecting with the audience and establishing a relaxed environment.
He also loves to create interactive activities for guests including custom written quizzes, fun physical challenges and energizers all with a comedy twist.
He became a founding member of Wacky Entertainment in 1996 and has clocked up thousands of corporate and festival performances all over Australia and South East Asia.
_________________________________________________________________________
Joseph D'Souza
Joseph is an Executive Coach gearing individuals and organizations for enhancing performance, learning and development to achieve, fulfil, enjoy, and take responsibility.
He works with leaders to build high performing teams for sustainable and measurable continuous performance and improvement.
Joseph is also mentor to corporate executives, professionals and small business owners.
_________________________________________________________________________
Shanaka Fernando
Shanaka is the pioneer of the Lentil as Anything pay-as-you-feel vegetarian restaurants.
Inspiring by example, he leads a simple, modest life and advocates an inclusive, ethical approach to business, and a belief in the innate goodness and generosity of fellow man.
Born in Sri Lanka, since his late teens Shanaka has travelled extensively, curious about cultures living closely with nature.
_________________________________________________________________________
Adam O'Donnell
Adam's passion for authentic leadership is either a legacy of his 15 years service in Special Forces or the reason behind it in the first place.
His career included senior leadership roles with companies like NAB, IBM and Fujitsu.
He now speaks and consults on leadership and team development – in particular on the topics of accountability, resilience and the relentless pursuit of excellence.
_________________________________________________________________________
Helen Macdonald
Helen is a Corporate Optimist, specialising in maximising opportunities in individuals & teams, creating optimal performance in organizations of all sizes.
Combining decades of experience in culture change and practical psychology based on her BA(Psych), Helen has written two book, as well as designing & delivering hundreds of conference and workplace sessions to thousands of managers and individuals around the Asia Pacific region.
_________________________________________________________________________
Rosario De Marco
Guitarist/composer, Rosario, is renowned throughout Italy for his arrangements and performances of Neapolitan and popular music.
His music captures the warmth and passion of the Southern European lands, taking elements from flamenco, jazz, classical, folk and popular music.
Rosario's ambitious and passionate desire to broaden and extend his musical inspiration brought him to the idea of the United World Music project, combining Mediterranean sounds with other musical styles.
_________________________________________________________________________
Catherine Moolenschot
Catherine is just 17 years old.
Born in Cape Town, she immigrated to Australia at four years old, and has grown up in Melbourne. At 13 years old she wrote and published a novel called A Rough Road.
She's spent the last year interviewing successful people about their lives and why they believe they're successful and is currently writing her second book inspired by these interviews.
_________________________________________________________________________
 Priiyanca Nadarajah & Jamil Diu
Imprint is an urban rejuvenation initiative that began in early 2011. It aims to empower and involve local residents in shaping their own urban environment through the creation of positive public spaces.
Priiyanca is student at The University of Melbourne, majoring in Criminology and History. She manages a team of 15 students committed to driving social change as well as managing partnerships with corporate, government and local agencies and directs the project's development.
Jamil Diu, also a student at Melbourne Uni, is Imprint's Community Engagement and Partnerships Officer, collaborating with fellow students through marketing initiatives and liaising with the community.
_________________________________________________________________________
Marcus Taylor
The winner of our Awesome Foundation competition, Marcus Taylor is a young entrepreneur from Oxford (UK) with a passion for doing things outside of his comfort zone.
In January 2012, Marcus built the World's first scientifically approved 'Comfort Zone Calculator' as a solution to track his own personal growth.
Since posting the tool online for others to use, over 10,000 people have measured their comfort zone using his tool.
_________________________________________________________________________
JOIN AN ACTION GROUP ON THE DAY
 
We're all about ideas worth spreading. But we want to make those ideas happen too.
Our action groups will aim to mobilise the passion, energy and talent of the TEDxMelbourne community (which is people like you) to actively build specific outcomes around our event themes.
If you'd like to be part of our Future Leadership Action Group (FLAG) on the day, simply let us know when you register and you'll join a unique team and facilitator during breaks to make your TEDx experience really count.

_________________________________________________________________________
GOT A QUESTION ABOUT THE EVENT?


Why do I have to provide so many details to register?
We're not just about spreading ideas worth spreading, TEDxMelbourne is about helping to make those ideas happen. And one of the ways we do that is ensuring our audience are the kind of people who are passionate about their ideas. Also, the more we know about you and our community, the more we can tailor future events to be as relevant and engaging as possible.
Why can I only buy one ticket at a time?
Only one registration is permitted at a time to make sure we collect the information we need and the right information for your nametag. We realise this might be a bit painful if you're trying to register a family or organisational group, but it's the only way we've found that makes sure we get all the information we need. If you don't provide the the full information needed for mandatory questions this may result in a rejected registration - and we don't want to do that to you!
What do we get for lunch? I have special dietary requirements.
The Melbourne Convention Centre prepares fresh, healthy lunchboxes that cater to a range of dietary requirements and their friendly staff can advise you of your options on the day.
Given your events sell out so quickly, why don't you hold them at a bigger venue so more people can attend?
We would love to hold bigger events so more people can come along but this would not only push our costs up significantly, the size of our volunteer team simply can't handle the logistics of a larger event. Perhaps you'd like to volunteer? Find out how.
Where can I find the speaker line-up?
Why do the tickets cost $94?
TEDxMelbourne is a non-profit organisation run entirely by  volunteers. We operate on a cost recovery basis.  We need to cover the costs of the venue, lunches, video equipment and a range of other expenses to pull the event together. 
Will the talks from the day be available to view online?
Yes, we will upload all talks from the day to the official TEDxTalks YouTube channel shortly after the event. For more information about this, please visit our website.
I bought a ticket, but can't attend. Can I get a refund?
The bad news? We cannot and do not, under any circumstances, provide refunds. The good news? Tickets are fully transferable. So if for some reason you can't make it, you can give your spot to someone else - just make sure you let us know so we can greet them with a smile and  nametag on the day.
Do you offer press tickets or discounts for the media?
While we'd love for you to come along and promote our event, we don't give away press tickets or offer discounts for members of the press to attend. Because we're a not-for-profit event, we simply can't cover the cost. We rely on our passionate community to spread the word instead.
Attendee List
Sort by:

Date

|

First Name

|

Last Name
When & Where

Melbourne Convention & Exhibition Centre (Entry via Clarendon St. Take an immediate left when you come in & head up the stairs)
2 Clarendon Street
South Wharf
Melbourne, Victoria 3006
Australia

Friday, August 24, 2012 from 8:30 AM to 5:00 PM (AEST)
Add to my calendar