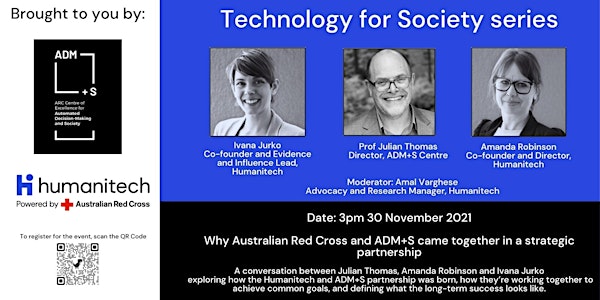 Technology for Society series: Australian Red Cross and ADM+S partnership
A conversation between Julian Thomas, Amanda Robinson and Ivana Jurko exploring the Humanitech (Australian Red Cross) and ADM+S partnership
About this event
Technology for Society series
The Technology for Society series will bring insights and perspectives of leading researchers in the humanities, social and technological sciences, as well as industry and humanitarian leaders on the critical issues emerging at the intersection of humanity and increasingly intelligent technologies.
By convening the best minds working at the intersection and social innovation, we hope to spark discussions around the development, design, use and application of technologies in society; and we hope to amplify ideas and solutions that may have great reach in the humanitarian sector, and beyond.
About this event: Why Australian Red Cross and ADM+S came together to form a strategic partnership
A conversation between Julian Thomas, Amanda Robinson and Ivana Jurko
Moderator: Amal Varghese
This is the inaugural event, kicking off the Technology for Society conversation series, co-hosted by Humanitech and the ADM+S Centre.
An online conversation co-hosted by Humanitech and the ARC Centre of Excellence for Automated Decision-Making and Society (ADM+S Centre) discussing the impetus behind the two organisations forming a strategic partnership.
Researchers usually spend their time delving deep into their chosen topic areas. They become masters of their domains. And to do so, they are often required to be introspective, plunging deep down to explore and discover new frontiers; and periodically they re-emerge to the surface - to tell the world of their discoveries.
Practitioners, on the other hand, are usually operating at a frenetic pace, jumping from one logistical hurdle to another. They are 'on-the-go' problem-solvers.
What if researchers and practitioners could learn from each other? Further, what can they leverage from each other? That was the inspiration and the driving force for Humanitech and the ADM+S Centre to create a strategic partnership. And it is delivering dividends already. Front-line service deliverers at the Australian Red Cross are sharing data and insights with the ADM+S Centre from their experience(s) on the ground. And the ADM+S Centre's researchers are sharing their cutting-edge knowledge on the development and use of technologies, to inform practitioners' ways of working.
This inaugural event will explore how the Humanitech and ADM+S partnership was born, how they're working together to achieve common goals, and defining what the long-term success looks like, for both organisations.
The panelists are Professor Julian Thomas (Director, ADM+S Centre), Amanda Robinson (Co-founder and Director, Humanitech) and Ivana Jurko (Co-founder and Evidence and Influence Lead, Humanitech). The session will be moderated by Amal Varghese (Advocacy and Research Manager, Humanitech).
Julian, Amanda and Ivana are active in both Humanitech, Australian Red Cross and RMIT University. They have seen first-hand the value of working collaboratively, across sectors, to examine and solve challenging problems at the intersection of technology and society. So it is befitting that they will share their experiences and views on how a multi-sector, collaborative approach can be beneficial, how they cultivated their strategic partnership and how they see this creating value in the future.
This conversation event is for you if you are a:
technology developer, researcher or practitioner (product developer and managers);
humanitarian or community services practitioner delivering front-line services; and
policy maker or regulator, with a particular interest in digital and emerging technologies.
Coming out of this event, you can expect:
an understanding of the challenges, and benefits of working across sectors and disciplines;
examples of how researchers and practitioners are co-solving problems; and
ideas on how to develop a holistic approach to problem-solving.
This event is co-hosted by the ADM+S Centre and Humanitech. Both organisations are working together to develop systems and frameworks to ensure responsible, ethical and inclusive design and use of frontier technologies.
Zoom login details:
https://zoom.us/j/92604327076?pwd=L0czeXJDeERYYklMRUY3WVprVTkxQT09
Meeting ID: 926 0432 7076Passcode: 895891
Find out more about Humanitech by watching the short video below.
---
Director, ARC Centre of Excellence for Automated Decision-Making and Society
Julian Thomas is Director of the ARC Centre of Excellence for Automated Decision-Making and Society, and a Distinguished Professor in the School of Media and Communication at RMIT University. Prior to the commencement of the ARC Centre, he was Director of the Swinburne Institute for Social Research (2005-2016), and then Director of RMIT's Social Change research platform. His work ranges across the contemporary histories of new communications technologies, digital inequality and inclusion, and the internet and communication policy. His latest book is Wi-Fi (Polity 2021; with Ellie Rennie and Rowan Wilken).
Recent publications include studies of automation in digital advertising, the history of mapping and navigation in autonomous vehicles, and recommendation systems in the book industry. He has led the team producing the Australian Digital Inclusion Index since 2015. His other books include Internet on the Outstation: The Digital Divide and Remote Aboriginal Communities (INC, 2016), The Informal Media Economy (Polity, 2015), and Fashioning Intellectual Property (Cambridge UP, 2012). Thomas was elected to the Australian Academy of the Humanities in 2017.
Co-founder, Humanitech, Australian Red Cross
Amanda has a keen interest in how frontier technology might help to solve complex social problems and drive humanitarian outcomes at scale.Prior to Australian Red Cross Amanda has held senior roles developing and managing online products and marketplaces for SEEK, Yahoo, Lonely Planet and Sensis. Amanda holds a Bachelor of Arts from University of Melbourne, a Masters of Marketing from Monash University and a Graduate Certificate of Social Impact from the Centre for Social Impact.
Co-founder and Evidence and Influence Lead at Humanitech, Australian Red Cross and Partner Investor, ADM+S Centre
Ivana is the Co-founder of Humanitech and the Evidence and Influence Lead at Humanitech, a strategic initiative of Australian Red Cross dedicated to exploring the opportunities and challenges at the intersection of emerging technologies and humanitarian action. Ivana is also a Partner Investigator at the ADM+S Centre, looking to connect the ADM research community with humanitarian practice. She is also a PhD candidate at RMIT University.
Ivana has over 15 years' experience in the social sector, and has previously worked at Oxfam Australia, Headspace, and Beyondblue. Ivana's areas of practice include social policy research, humanitarian futures and foresight, and design and delivery of complex social initiatives.