Opportunity to explore available opportunities in Atteris, network with representatives from the company and exchange knowledge.
About this event
Atteris, established in 1999 and with offices in Perth WA, Australia and Houston TX, USA, is an independent engineering and design consultancy for subsea, pipeline and sustainable energy systems.
Their services cover all life-cycle phases of developments including concept definition, engineering & design, construction support, operations support and decommissioning.
Allison Selman and Leon Staaden from Atteris will be sharing their experience in their entire career, opportunities available in Atteris and give us tips & advices on working in Oil and Gas industry. Don't miss this opportunity to network with them while enjoying free lunch.
Speaker bio:
1. Allison Selman (Asset life cycle Business Manager, Principal Consultant)
Presentation Topic: Pipeline Integrity Management (overall), with a focus on application of Flow Assurance data
Allison Selman is a materials engineer with over 22 years' experience in the resources and offshore energy industries. She has worked internationally and is currently a Director of Atteris and leads the Asset & Integrity Management Business Stream.
In 2016 she founded the WISE Professional Network to promote gender diversity in STEM professions. Allison contributes to the engineering profession through Engineering Standards committees, development of competency frameworks, and national research initiatives. She mentors many individuals and is passionate about developing young engineers to acquire the skills to be successful in the workplace. For her work, she was awarded the 2018 WA Medal and 2019 Professional Engineer of the Year by Engineers Australia (WA Division).
2. Leon Staaden (Engineer)
Presentation Topic: Flow Assurance for Pipelines (including software e.g. OLGA, Leaderflow, etc).
Leon Staaden has a bachelor's degree in chemical engineering and chemistry. He has 2 years experience in the oil and gas industry and 2 years experience in the mining industry.
During this time Leon has developed specific expertise in flow assurance and life cycle asset management. Leon has gained this experience working on oil and gas field projects in Australia. Leon is currently an engineer at Atteris Pty Ltd.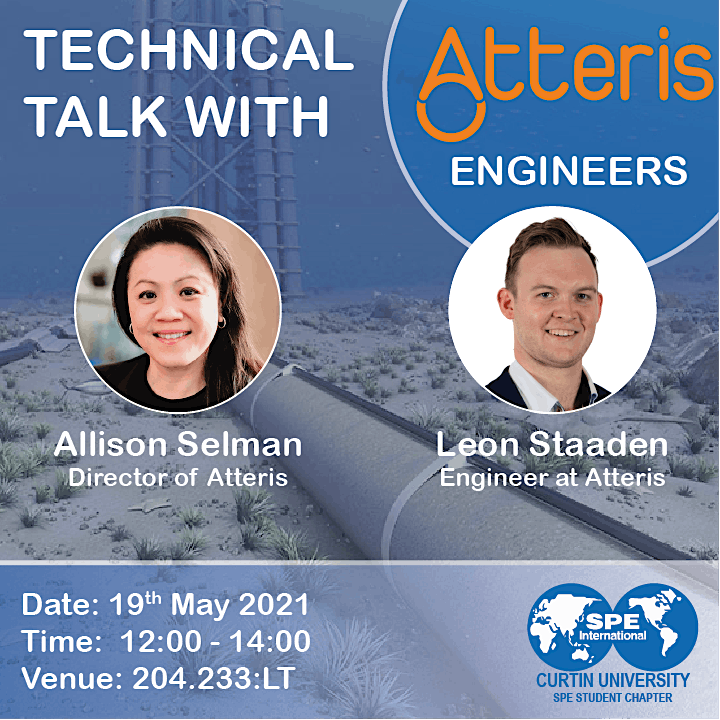 Organiser of Technical Talk with Atteris Engineers