Come along for tips on getting the most out of technology.
About this event
Tuesday, October 26, 2021 :Mastering Video Calls and Conferences
Explore some of the popular and useful platforms available to help you stay connected via video calling. This session will also explore security and privacy issues and touch on some useful messaging apps.
Tuesday, November 2, 2021 : Staying Safe With Money Online
With an increasing number of options for making payments online comes an increasing number of potential ways to make an error. Learn about and discuss different tools and tactics for making online payments and purchases that protect you and your finances.
Tuesday, November 9, 2021 : Mastering Cloud Storage
You've likely heard of the terms The Cloud and Cloud Computing and how they are tools to help us stay organised. What do these terms mean and how can they help us? This session introduces what cloud computing is and options for getting started on cloud storage, backups and archiving.
Tuesday, November 16, 2021 : Getting Started With Audio Recording
From audiobooks to podcasts, from casual listening to educational tutorials, there are diverse range of ways audio technologies both assist and entertain us. Learn about techniques and methods for recording, capturing, archiving, editing and being creative with music and digital audio technologies.
Tuesday, November 23, 2021 : Digitising Old Photographs
Sick of worrying about those piles of old pictures in shoeboxes? Digitising is a great way to store and archive important, meaningful documents and memories. In this session you will learn about the techniques and processes behind digitising old photographs and practical tips for archiving your most precious photographic memories for future generations.
Tuesday, December 7, 2021 : Getting Started With Photo Editing
Trying to remove red-eye from photographs? Want to make your own Christmas cards this year? Whatever your creative goals this session will start things off with the fundamentals. Drawing tools, layering and blending, and other tips and tricks for visual composition are covered in this introduction to photo editing.
Tuesday, December 14, 2021: New Year's Resolutions
Let's make some resolutions for the new year and help each other get started.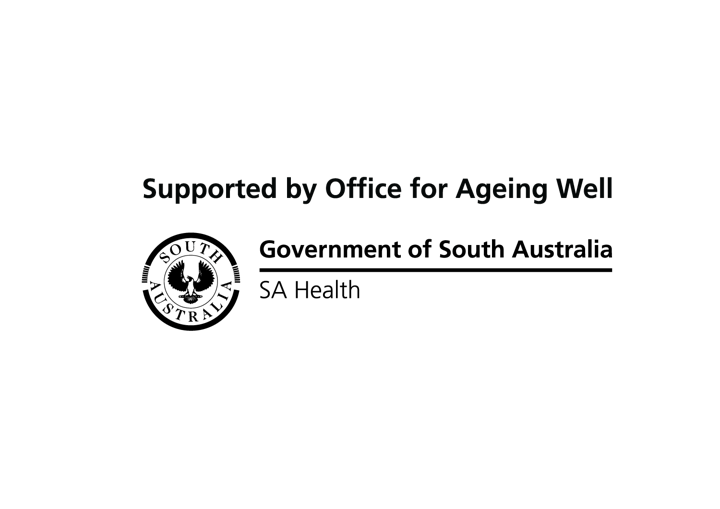 This project is supported by funding from Office for Ageing Well through the SA Ageing Grant.