A night of Burlesque brought to you by Tease-Able students and Guest Performers, presented by Empress Eyrie *DOOR TICKETS AVAILABLE*
About this event
Empress Eyrie presents
Tease-Able - Burlesque Student Showcase featuring Guest Performers!
The talented group and solo burlesque students of Tease-Able Accessible Burlesque term 1 2021 hit the stage to debut their group and solo acts! With emcee Empress Eyrie and multiple feature performers it promises to be a spectacular night of entertainment starring some unbelievable and unique disabled talent.
With disability and accessibility the forefront of Tease-Able classes this show is no different, providing auslan interpreters, wheelchair access, non-alcoholic bar, pension ticket prices and online streaming.
Featuring Best Dressed Competition and Lucky Door Raffle with great prizes from local talent!
Date: Saturday July 3rd 2021
Time: Doors 6:30pm for 7:00pm show time
Location: Belconnen Theatre Swanson st Belconnen
Accessibility: Wheelchair accessible venue, if you need a wheelchair specific seat please contact the organisers at the email below. Auslan interpreter provided for all emcee time of the show. Non alcoholic bar by donation. The show will be online streaming if you are unable to attend in person. If you have any specific requirements or questions please contact empresseyrie@gmail.com
Door Tickets available on the night
Online stream tickets on Eventbrite are only available until 5pm (AEST) if you wish to purchase a streaming pass after this time please go here https://www.empresseyrie.com/tease-able-live-stream
This is an 18+ only event
T&C: Unfortunately due to limited covid capacity refunds are not provided on this event however tickets may be sold or given away if unable to attend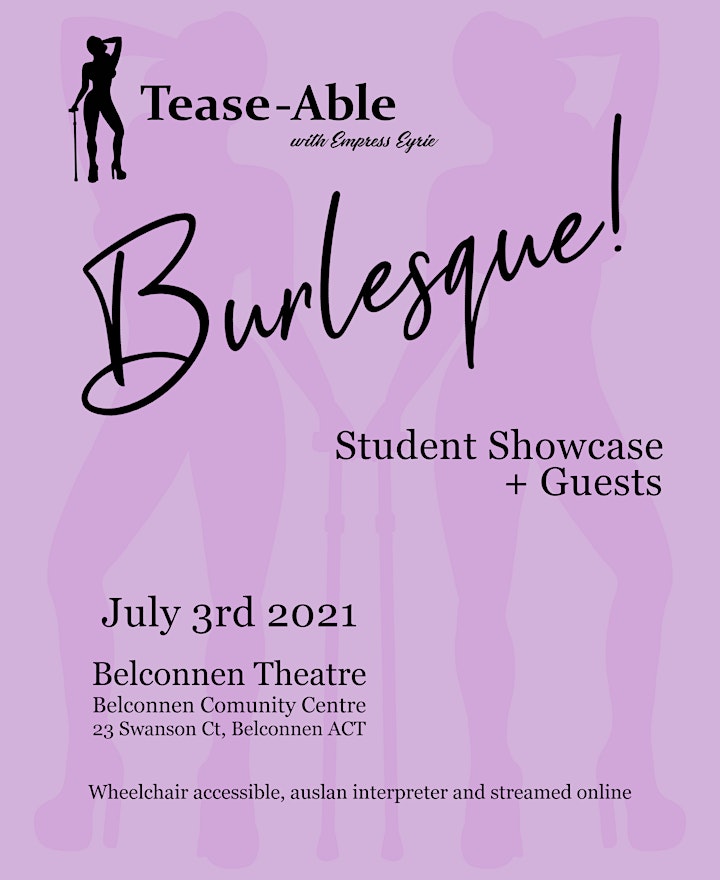 Organiser of Tease-Able Burlesque Show -*DOOR TICKETS AVAILABLE* Student Showcase+Guests