Sales Have Ended
Registrations are closed
To prepare for your tax return, you must bring the following information (where applicable) to your appointment: - your myGov user ID and password - your tax file number - your BSB and bank account details - your Medicare card or number - your private health insurance statement showing your fund details - all your statements from banks and financial institutions showing interest you received during the income year - all your PAYG payment summaries from your employers - all your payment summaries from super funds - details of all your income from Centrelink or Department of Veterans' Affairs (including details of any tax-free pensions of any tax-free pensions or benefits) - all your dividend, super and managed fund statements - all your foreign income details and pension statements or details of the amounts you recieved - all your receipts for gifts, donations and work-related expenses - your details of any child support payments made - your details of any losses on investments in shares and rental properties (net investment losses) - If you had a spouse - married or de-facto - at any time during the financial year, you also need to bring details of their taxable income, including any of their documents, to your appointment. We will need this information to complete certain labels on your income tax return. If you cannot find out your spouses's exact taxable income, you will have to make a reasonable estimate of the amounts received by your spouse. - Should the Tax Volunteer Officer need to call the ATO on your behalf, you will need to pass an identity check. A list of ID Documents: - Australian driver licence or learners permit - Australian passport - Australian birth certificate - Australian marriage certificate - Australian citizenship certificate - Overseas passport with Australian visa - Immicard - Change of name certificate - Any correspondence from the ATO - Previous tax return not more than 5 years old - Centrelink CRN - Superannuation account statement
Sales Have Ended
Registrations are closed
To prepare for your tax return, you must bring the following information (where applicable) to your appointment: - your myGov user ID and password - your tax file number - your BSB and bank account details - your Medicare card or number - your private health insurance statement showing your fund details - all your statements from banks and financial institutions showing interest you received during the income year - all your PAYG payment summaries from your employers - all your payment summaries from super funds - details of all your income from Centrelink or Department of Veterans' Affairs (including details of any tax-free pensions of any tax-free pensions or benefits) - all your dividend, super and managed fund statements - all your foreign income details and pension statements or details of the amounts you recieved - all your receipts for gifts, donations and work-related expenses - your details of any child support payments made - your details of any losses on investments in shares and rental properties (net investment losses) - If you had a spouse - married or de-facto - at any time during the financial year, you also need to bring details of their taxable income, including any of their documents, to your appointment. We will need this information to complete certain labels on your income tax return. If you cannot find out your spouses's exact taxable income, you will have to make a reasonable estimate of the amounts received by your spouse. - Should the Tax Volunteer Officer need to call the ATO on your behalf, you will need to pass an identity check. A list of ID Documents: - Australian driver licence or learners permit - Australian passport - Australian birth certificate - Australian marriage certificate - Australian citizenship certificate - Overseas passport with Australian visa - Immicard - Change of name certificate - Any correspondence from the ATO - Previous tax return not more than 5 years old - Centrelink CRN - Superannuation account statement
Need help with lodging your tax?
About this event
Do you earn around $60,000 or less?
Are your tax affairs simple?
Am I eligible for Tax Help?
You are eligible for Tax Help if your income is around $60,000 or less for the income year and you did not:
work as a contractor, for example a contract cleaner or taxi driver

run a business, including as a sole trader

have partnership or trust matters

sell shares or an investment property

own a rental property

have capital gains tax (CGT)

receive royalties

receive distributions from a trust, other than a managed fund

receive foreign income, other than a foreign pension or annuity.
What can volunteers help me with?
Volunteers can help you lodge your tax return or amendment online or claim a refund of franking credits.
If our volunteers work out that you don't need to lodge a tax return, they can help you complete a non-lodgment advice.
Book an appointment
If you're eligible for Tax Help, you will need a myGov account linked to the ATO. If necessary, our volunteers can help you create your myGov account and link to the ATO.
Remember to bring these to your appointment:
your myGov user ID and password

your bank account details (BSB and account number)

your tax file number

an original or amended notice of assessment from any one of the last five years

income statements from all sources

all your receipts for gifts, donations and work-related expenses

details of any child support payments made

details of any losses on investments in shares and rental properties (net investment losses)

If you had a spouse (married or de-facto) at any time during the financial year, you also need to bring details of their taxable income or a reasonable estimate.
Places are extremely limited.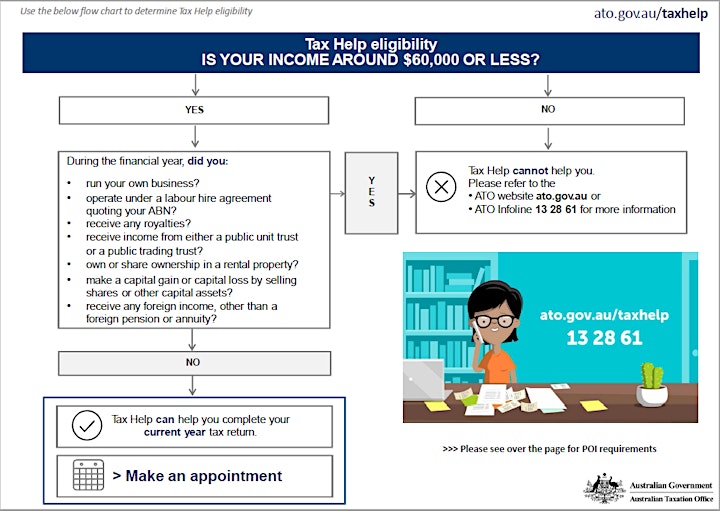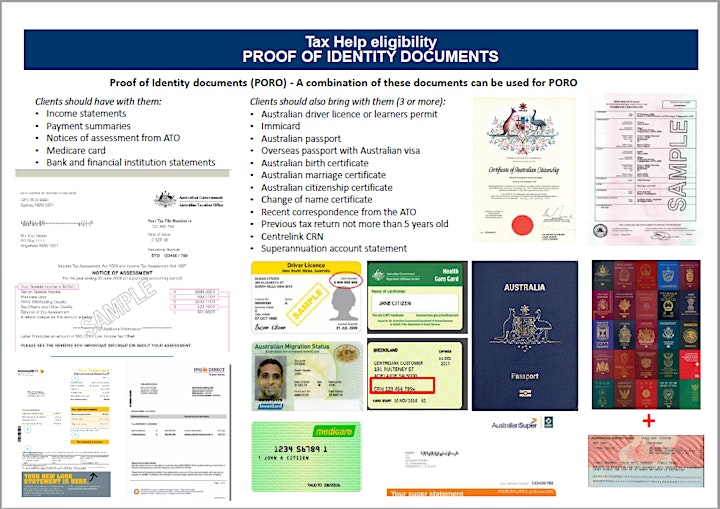 Organizer of Tax Help @ Riverton Library - Fridays