Learn tax and bookkeeping fundamentals that help you to stay on top of paperwork, tax and your business performance.
About this event
For many, financial record keeping and fulfilling tax obligations are the most dreaded tasks of running a business. The great thing is, by gaining an understanding of bookkeeping and tax fundamentals, and harnessing the right tools for your stage and size of business, you have a tremendous amount of power at your fingertips to stay on top of paperwork, improve tax efficiency and even improve profitability.
At the Tax and Small Business Bookkeeping Essentials workshop, we'll step you through what you need to know about bookkeeping and tax, and show you ways to improve record keeping efficiency and use it to your business advantage.
What you will learn at this workshop
Small business bookkeeping and tax requirements
How to stay on top of your taxes
Business structures for tax efficiency
Business registration and reporting obligations
Bookkeeping and record keeping for your stage and size of business (including paperless solutions)
Accounting software and tax apps that make your life easier
Introduction to using reports to analyse and help improve the performance of your business, including cashflow and profits
Allowable deductible expenses (including working from home)
Three opportunities you must consider before EOFY
Where to get help when you need it
This is a workshop you won't want to miss.
Book today. Seats are limited.
Please note: If language is a barrier for you getting the most out of this event and you would like to bring along your own interpreter or translator, please send an email to info@rapportleadership.com.au to find out how to arrange a ticket for them. Tickets for interpreters and translators are offered free of charge when coming along with a paying attendee but are subject to seat availability so please do contact us as soon as possible. (Interpreters and translators will not be allowed to attend without a pre-arranged ticket.)
Who this workshop is for
Business owners wanting to learn the fundamentals of tax and bookkeeping.
About the presenters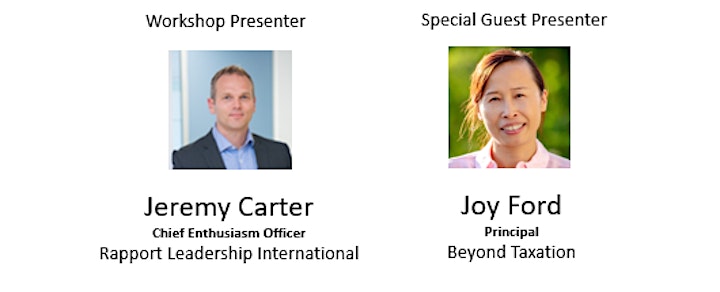 Jeremy Carter is the CEO of Rapport Leadership International in Australia. Jeremy started his career as a computer engineer and worked his way up to being the Oceania Managing Director of international technology company, National Instruments. In the subsequent two years, he increased revenue by 62% without increasing headcount.
Since leaving the corporate world, he has worked for fourteen years as a leading business and executive coach, winning numerous awards and recognition for both himself and his clients, including finalist for Outstanding Business Leader at the 2019 & 2020 Western Sydney Awards for Business Excellence.
Special guest presenter
Joy Ford is the Principal of Beyond Taxation, a CPA accounting practice based in Western Sydney that specialises in supporting SME business owners with bookkeeping, accounting and advisory services.
Other information
The Business Success Program is a series of business education workshops for small businesses and community groups in the greater Blacktown area, and is an initiative of Blacktown City Council in partnership with CGU Insurance and Rapport Leadership International.
For further information about this event, send email to: info@rapportleadership.com.au.
We look forward to meeting you and being of service.
Please note: The delivery of this workshop as an in-person event and attendance numbers are subject to any COVID-19 regulation changes.
Organiser of Tax and Small Business Bookkeeping Essentials
Blacktown City is home to over 23,000 businesses that provide over 138,500 jobs to the residents of Western Sydney. The largest proportion of this employment is in retail, followed by transport and logistics, construction, manufacturing, health and community services and then education.
Blacktown also has an increasingly skilled workforce, with relatively lower rates of unemployment than at previous times. As a home to over 366,000 residents and a strong higher education presence, Blacktown is continuing to grow and compete internationally.
Blacktown City Council Economic Development department is here to support and serve our local business community.