Event Information
Location
Nickson Room, University of Queensland.
UQ School of Music, Level 4, Zelman Cowen building (51)
Cnr Staffhouse and Jocks Rd, St Lucia.
Brisbane, Qld 4067
Australia
Description
John Bloomfield (Golandsky Institute USA) returns to Australia in 2019 for the fourth time, this time as Keynote Speaker for the Australasian Piano Pedagogy Conference. Following the conference's completion, he will be presenting a workshop Saturday July 13 at the Nickson Room, University of Queensland. Golandsky Institute Master faculty Robert Durso and Mary Moran (USA) will present online, and Therese Milanovic (Master Faculty, AUS) will also give lectures and take smaller hands-on workshops with Mr Bloomfield.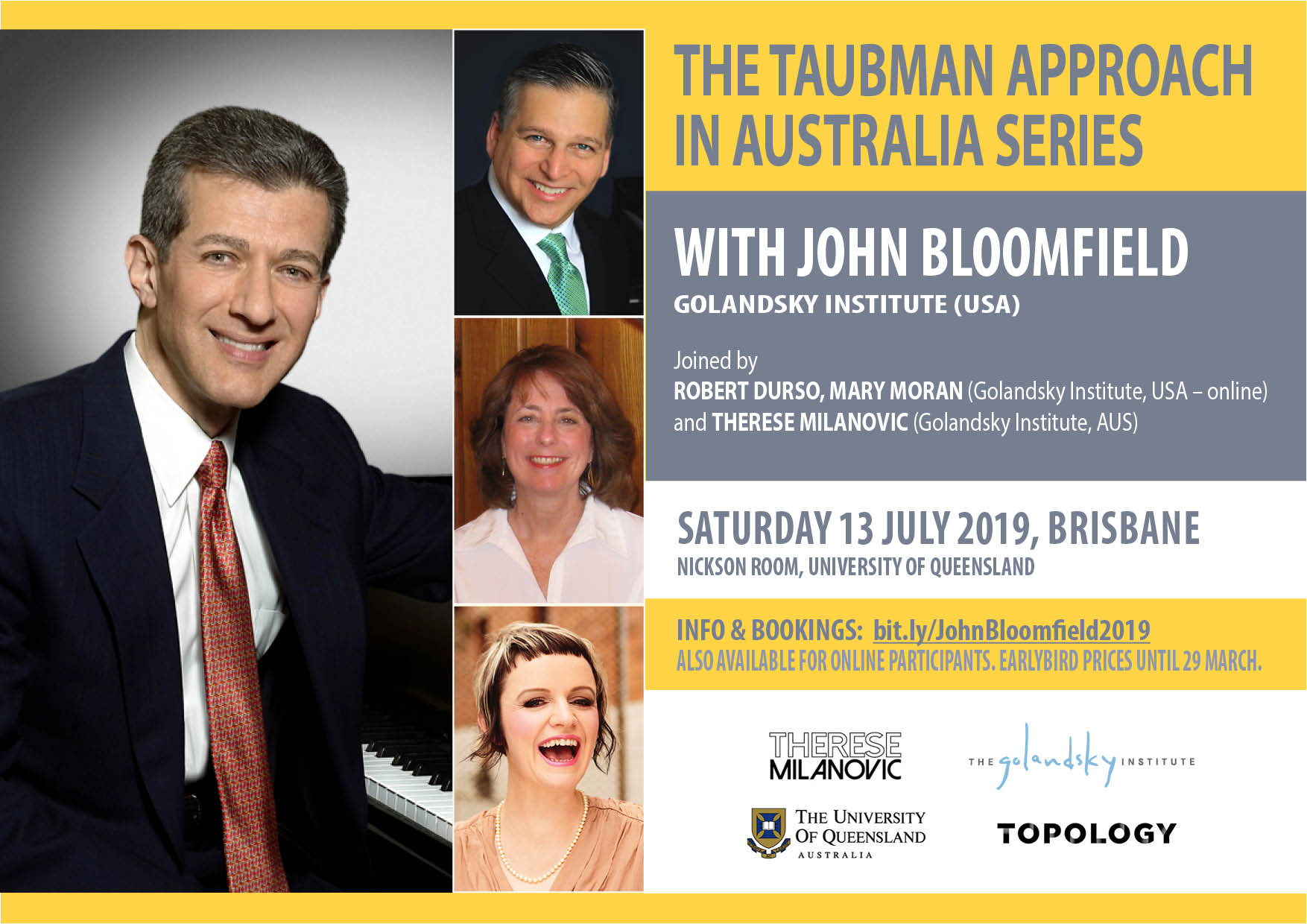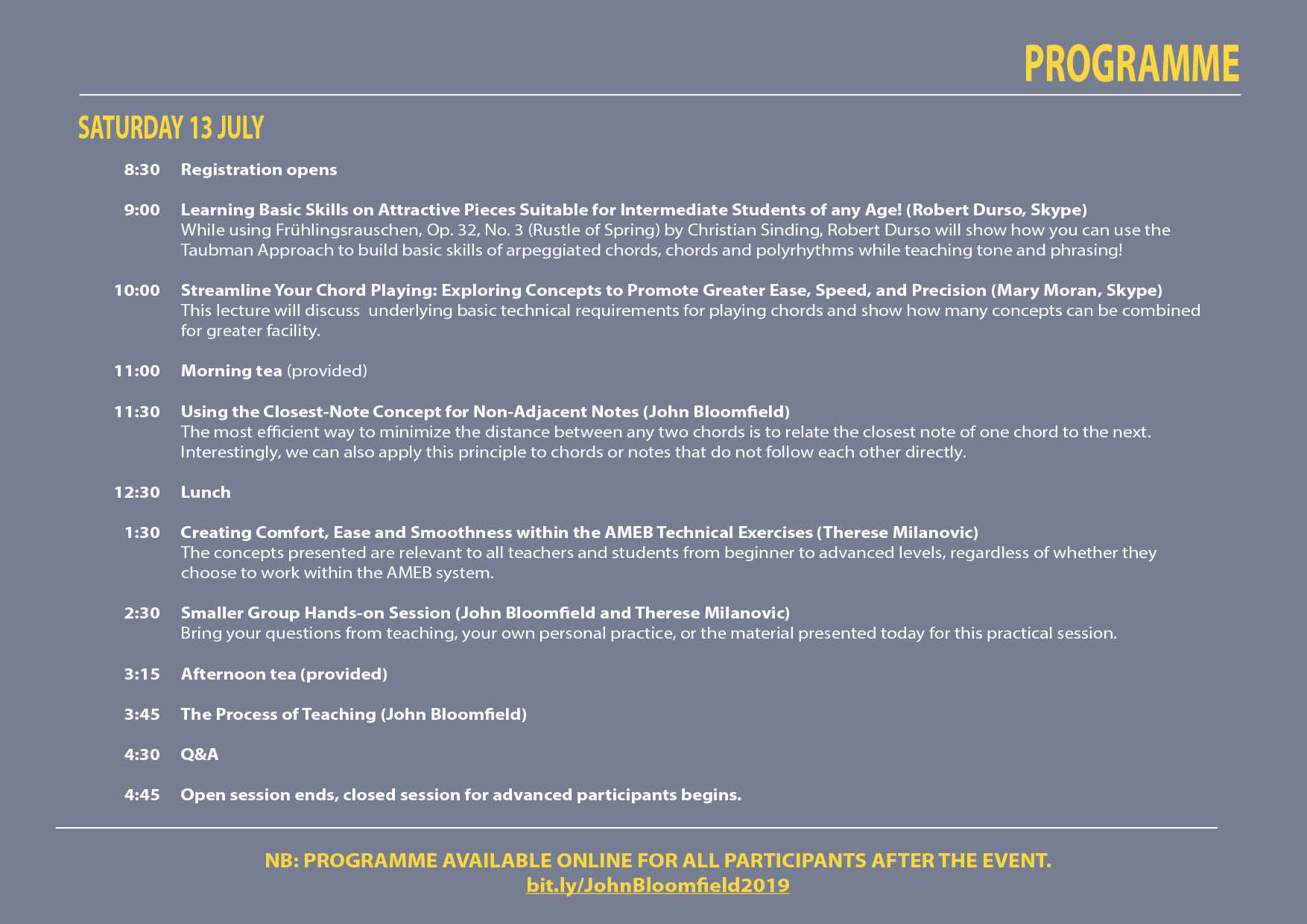 NB All participants will have unlimited access to the lectures online, which will be made available after the workshop weekend. You can watch the material as often as you need. Please read the FAQs below to have any concerns addressed.
Tickets at the door: day $150. Book online to secure your place with discounted prices.
FAQs
What is the address of the event? Please scroll up to the top of this page for a map and address.
Can I buy tickets at the door? If you choose to buy a full-price ticket on the day, you are welcome to pay cash, or to make your purchase through the Eventbrite site on one of the available iPads at the ticket desk. Tickets are cheaper when bought in advance.
How early do I need to get there? Registration begins at 830 but it's a simple process, so you don't need to come earlier. In fact, we probabl won't be ready for you if you do!
How do I get there? You can catch the CityCat or bus, park on the Dutton Park side and walk across the Green Bridge. Alternatively, you can catch a train, bus, or drive to Boggo Road station and catch a quick bus ride over to UQ. Refer to http://translink.com.au for specific schedules. There are express buses from the City, Cultural Centre Bus Stop (South Bank) and Boggo Road.
The closest park to the Nickson Room is Conifer Knoll or Staff House Road. See http://www.pf.uq.edu.au/parking/sl-casual.html Please allow sufficient time for parking and walking from your car to the venue.
IMPORTANT INFORMATION FOR THOSE TRAVELLING BY CAR Please use Fred Schonell Drive, pass the tennis courts, then go to onto Sir William MacGregor Drive, then right into College Road to park in either Connifer Knoll Carpark or Staff House Road. Parking is free on weekends, please note standard regulations of parking within marked lines, not on a yellow line, and not on the grass.
Please allow enough travel time to register (from 8:30am) and be ready for the first lecture beginning at 9am sharp.
Help us in reducing our footprint: We are trying our best to minimise waste for this event. Lecture notes will be emailed to you prior to the workshop, for you to either work from on your tablet, or for you to print out. Please bring a reusable water bottle, and keep cup or just a mug from home for your tea or coffee. There will be a small number of mugs available if you forget. A donation from the proceeds will be made to Greenfleet towards minimising the impact of carbon emissions for John's travel from the US.
What are the lunch options for the workshop? The Pizza Cafe and Wordsmiths Cafe are open, as is St Lucy's Cafe. You can also bring your own lunch to enjoy. Complimentary tea, coffee and light refreshments for the morning and afternoon tea breaks are provided. Please bring your own mug or keepcup to reduce waste.
Is there a discount for students? There is a 10% discount for high school and university students, and also a special discount for UQ students (ask your lecturer for the code). ID needs to be shown at the door for these tickets.
Can I bring a tricky passage to ask questions from? Yes, please do! If you have something on your mind, chances are many others will too. You might also have questions about typing / mouse use / phone / device use / household activities which can be addressed in the Small Group Session.
Can I video the event while I'm there? Please abstain from taking videos. You will have access to a professional video by Tangible Media after the event.
ONLINE VIEWING
When can I watch the lectures? Is it live streamed? Online viewing will be available AFTER the event for all participants. This will enable the highest possible call quality for all participants, as opposed to live streaming.
If I attend in person can I watch the lectures after as well? Yes, all participants will have access to the lectures.
Why is it the same price to be an online participant as an in-person participant? The baseline costs of the event have to be shared over all the participants attending, ie international presenter fees in USD, marketing etc, whether they are there in the room or not. Offering the possibility of online viewing after the event requires hiring professional videogrpahers, editing and post-production, which is significantly more expensive than just making it available to those who can be in Brisbane that day. These events are expensive to produce, and there is much more behind the scenes to enable online viewing, but we want to make this information as accessible as possible, even if you live far from Brisbane. Online viewing also permits Brisbane pianists who may have other commitments that day to be able to participate also. You will be able to view and review the videos indefinitely (over 6.5 hrs worth of material) along with the electronic handouts.
I'm not sure if I'll be in Brisbane but I'd like to see the workshop. What should I do? Enrol as an in-person participant to ensure you have a seat. If you are not able to attend, you can watch the videos later online.
What if I enrol as an online-participant, but then change my mind and turn up on the day? Please let Therese know ASAP for catering purposes.
What do I need to do after registering for online viewing? Nothing. We will contact you with links to the videos after the event.
Where will the videos be available? You will be emailed with instructions as to how to view the lecture videos when the videos are available.

Will there be handouts? Yes. Handouts will be emailed toyou, and also available as PDF with the online video lectures.
Are tickets refundable? Tickets are not refundable. If you are not able to attend, you are welcome to watch the online lectures. If you prefer, you may transfer your tickets to another person in the same price bracket (ie adult to adult, student to student). In this case, your own access to the online lectures will be removed. Please contact Therese to confirm this at therese.milanovic@gmail.com
Date and time
Location
Nickson Room, University of Queensland.
UQ School of Music, Level 4, Zelman Cowen building (51)
Cnr Staffhouse and Jocks Rd, St Lucia.
Brisbane, Qld 4067
Australia