Event Information
Location
Details will be shared on the confirmation email
xxx
Mullumbimby, NSW 2483
Australia
The Art of opening to money as your lover
About this event
Lots of us have heard that money is energy, but what if money was your lover? How would you relate to it?
When money is your lover you hold each other in deep love and devotion, so you know that money is here with you, for you and to serve you.
Everything drops in, like the most exquisite love making, and at the same time there is a deep sense of trust, of presence and freedom.
You consciously make space for quality experiences, giving yourself the best of what you deserve, you honour each others needs and creating healthy and sexy boundaries that support the relationship.
Opening op to your lover in your most authentic self, creating a relationship that is based on trust aliveness and eroticism.
I find lots of women having very similar conditionings, no matter how much money they have or make:
Lack of money, keeping attracting survival patterns
Anxiety around big sums of money, fears that they will finish, not knowing if they will spend them wisely etc..
Hoarding
Excessively spending
Moving between contraction and expansion and ups and downs around it, which creates lots of stress and instability
Not having the right education
Not knowing how to value yourself
Fear of asking
Big fear of failure
Holding conscious or subconscuous trauma around it.
Often these signs present with fear of stepping into our power, avoiding anything related to money (look at the bank account, not paying bills, not claiming the money we deserve) other times they present with big fears, constant worry, buying many things low quality, fear of investing in things that we desire or determine our choices because of lack money.
Some people are really good at receiving and manifest it, but can't hold it.
Others hold money really tight with fear of losing them, and often they struggle to expand their safety limit around it.
Many don't know how to increase their income and stay with their comfort, but also feel stuck.
Imagine feeling free and turned on about money, about your bank account, feeling worthy of being payed and valued for what you really deserve, feeling grounded and embodied when you ask for money.
Imagine feeling excited about paying your bills, your taxes and not having to worry when you take time for yourself, treat yourself with yummy clothes, travels, healing, education... and more.
The truth is that for women dealing with money is VERY new.
In this embodied workshop you will learn how to claim and create the most exquisite intimacy, so that money can feel safe coming in your life.
During the day we will dive into:
The Art of receiving money and create wealth
Create safety in our nervous system so money can feel safe to meet you
The deep connection of money and sexuality
How to magnetise money
Create a thriving cycle for money to come
Heal our wounded feminine and wounded masculine
From unworthiness to confidence, from failiure to success
Connect to your direction, purpose from your feminine power
How to price and value your services
The empowered feminine way of money
Creating healthy structures
and much more...
In this workshop I speak about polarity of money, the way I see it is about healing our inner polarity to integrate old woundings and to thrive.
I will do my best to respect everyone, in their identification and choices.
Women and non bianary femms are welcome to join.
__________________________
TICKETS
$180 +BF earlybird (until the 5th of May)
$250 +BF Regular entry
10% of the profit will be donated to support the community with flood recovery.
What to bring
Journal
Comforable clothing
Cushion or sheepskin
Anything you need to keep yourself comfortable and warm
Water bottle
Your own lunch (there are also many lunch options around town)
A delicious morning tea will be provided
Please don't wear any parfumes as many people are sensitive to it.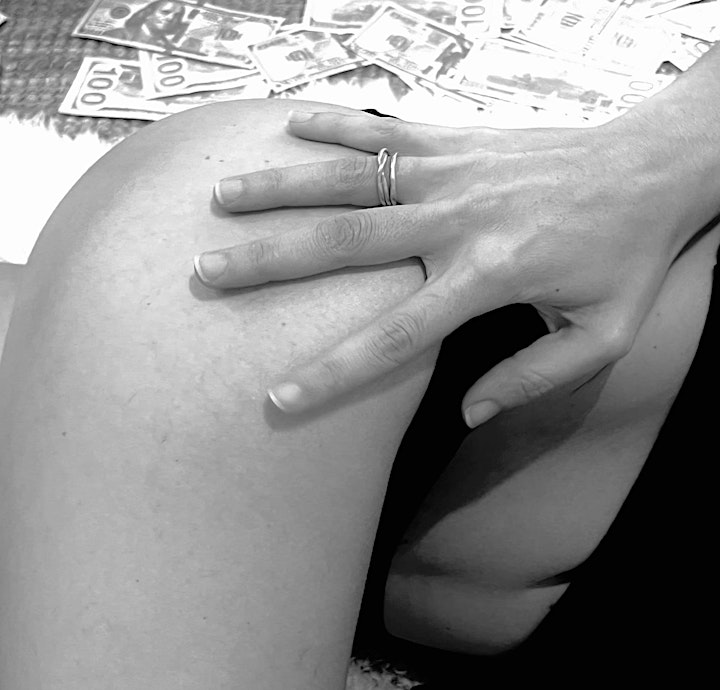 Facilitator - Isabel Lamar
Isabel is a sexuality, women'e empowerment and leadership coach, and the host of the CLAIMED podcast.
Isabel is a passionate entraprenour, with her background in somatic psychotherapy, tantra, coaching, she offers a deep embodied expertese on pleasure and eroticism as a way of creating a more fullfilled life, with ourselves and in our relationships.
My Journey with Money
My relationship to money has been all over the place, coming from very confusing beliefs, on one side we always had enough, on the other side there were never enough money, abuse of power, manipulation and secrecy, broken core family relationships and loss of love because of money have been a part of my money history.
This lead me to a long journey between having just enough keeping me in survival mode for years, to other periods of having more and yet a big underlying sense of anxiety about losing it all, or big expenses that made the money go away very quickly.
I kept holding a big unworhiness and shame for so many years around my gifts, creativity, charging my worth, asking for money and so much more.
This showed in not being able to expand, not being able to receive more that felt 'safe', not being able to hold or grow my income and savings
I was feeling stuck in my business for a long time and as I was witnessing everyone else doing well, I was subconsciously validating my deep unworthines.
For all my life I knew that it was another way of making money that didn't require pushing or doing things that were not deeply aligned and in integrity with my core essence.
One day I realised that I was relating to money in the same way I was relating intimate relationships (I see this connection with lots of my clients now)
After endless coaching sessions, workshops, courses and healing, something landed last year, and since then a grounded flow of money has been coming more and more in my life, and the experience itself is safe and deeply erotic.
My experience with money, sexuality and relationships has deeply transformed, and yet they are massive teachers in my life
I'm here to teach you everything I know, because there is nothing sexier than a woman connected to her pleasure, freedom and power, she's a true force of nature
I'm bringing the fusion of Tantra, modern psychotherapy, neuroscience and mindset work to dive deep in the transformation, in a healing that is empowering, pleasurable and juicy AF
I'm so looking forward to dive into this journey with you 🌹
Location
Details will be shared on the confirmation email
xxx
Mullumbimby, NSW 2483
Australia