Event Information
Location
Fremantle Fibonacci Centre
19 Blinco Street
Fremantle, WA 6160
Australia
Refund policy
Refunds up to 1 day before event
Eventbrite's fee is nonrefundable.
Live Tango music, Asian Fusion food, Spinal Flow Yoga, a Tango lesson, Social Tango, a Belly Dance performance, a rustic bohemian venue.
About this event
Asian Fusion Food, Argentinian Music, beautiful dancers to watch, dancing to do, a rustic, cosy, bohemian venue and wonderful guests!.
This event will of course be following the rules outlined in this document which was updated on January 27th at 6pm. This means masks are compulsory inside except when eating or drinking. Masks may be removed for strenuous exercise or talking or singing on stage outlined in paragraph 8 (g).
https://www.wa.gov.au/system/files/2022-01/COVID-Restrictions-Gatherings-and-Related-Measures-Directions-No11.pdf
5 pm doors open
530 pm spinal flow
6 pm introduction to tango
7 pm social dancing opens.
8 pm Live New Tango TrioDJ Gerard playing 'til closing of Milonga at 10pm
Doors open at 5pm. Japanese Hinata Cafe will be open and selling light summery, yummy food; fresh, cool asian fusion morsels to keep you well fed an cool through out the evening until 8pm.
At 530pm, Kirstie from Home of yoga and Heart Place will guide you through a warm up to the spine and circulation, with a 5 dimensional Spinal flow Yoga for 30 minutes . You will not get hot or sweaty, you could do this in a dress, that is; no special clothes are required, and you will not put your hands or bottom on the floor. It is easy but it will warm you up. It is best without shoes on. We have yoga mats. You could bring a spare pair of socks if you want so as to keep your toes clean.
At 6pm Sharon Waterson will lead us through a Tango class designed to include complete newbies to Tango. Introduced to tango pre 2000 in Perth, Sharon has focussed on tango since 2005 since her first trip to Buenos Aires. Having studied with different schools and teachers learning tango through the ages from canyengue, traditional to contemporary, Sharon gained a teaching certificate in tango in 2009. Since then she has taught in many states within Australia. Her approach to teaching is building on strong techniques and principles, to develop a deeply connected dance to music, culture and a little fun. You do not need to bring a partner to do the Tango class.You do not need to bring a partner to do the Tango class.
From 7pm DJ Helene will play her list of Tango Specials until 8pm
A New Tango Trio will take the stage and grace and delight the senses with the sounds and feel of live Tango music at around 8pm. They will be joined by a local Tango Dancer who will passionately sing her favorite Tangos .
And to round up and finish the evening with some spark we have DJ Gerard Aitkin playing some traditional tangos and some alternative tunes to tango on.
And surprises to come include the beautiful and talented Michelle! Michelle is an award winning belly dancer. She loves all styles of dancing and regularly teaches belly dance, bollywood and Persian dance. She performs Belly Dance and Bollywood frequently around Perth especially at hens nights and private parties. She hopes you'll enjoy the performance and get up and give it a try towards the end.
Our mission is to bring communities together such as Yoga people, Art people, Tango people, people who like to move to or listen to live Tango music and people who like to try something different. Just people. Come! Watch! Feel! Dance! Hear and smell Tango music!. It's fun!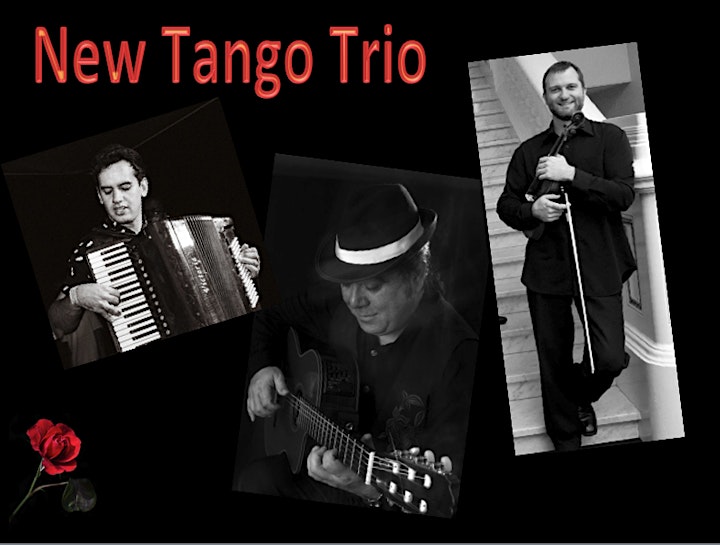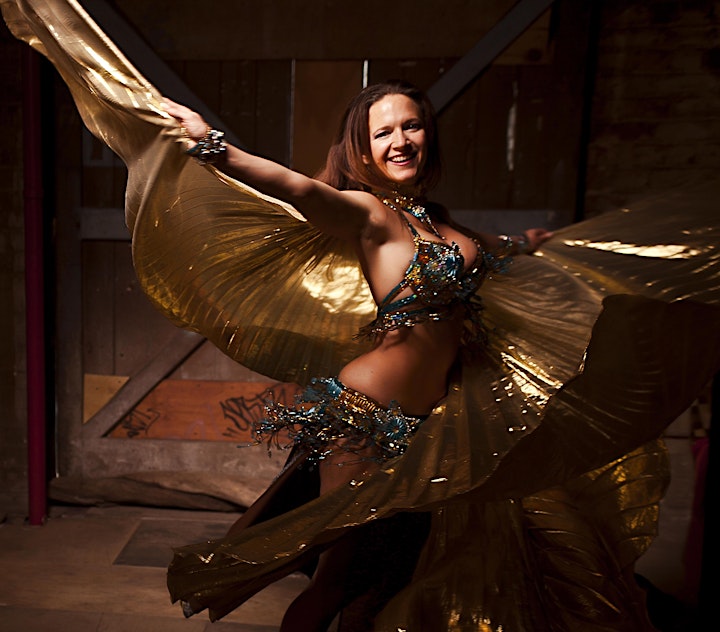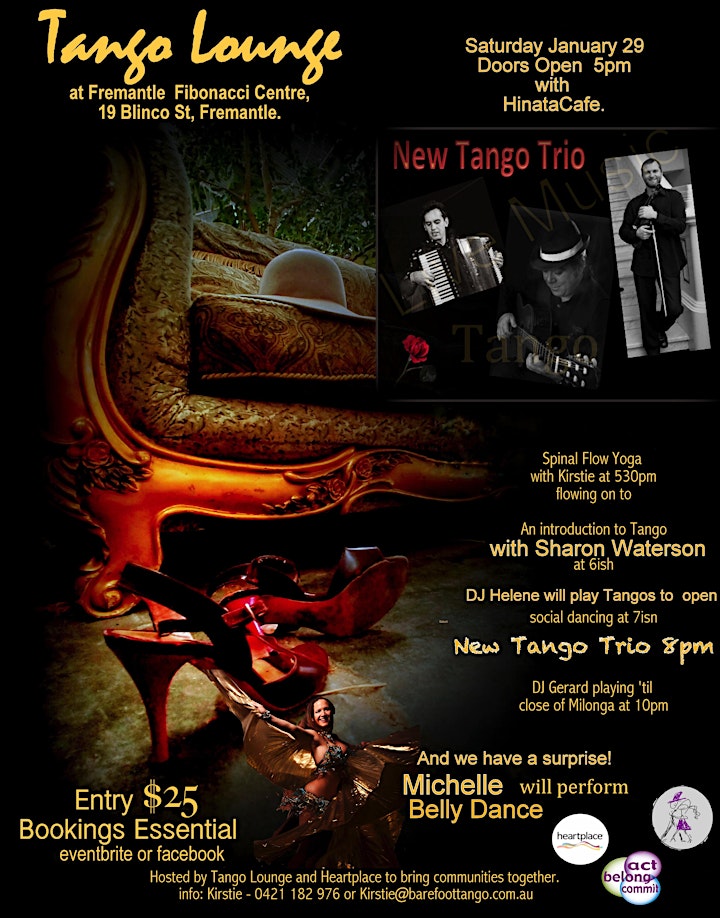 Date and time
Location
Fremantle Fibonacci Centre
19 Blinco Street
Fremantle, WA 6160
Australia
Refund policy
Refunds up to 1 day before event
Eventbrite's fee is nonrefundable.