Celebrate Live Tango music, Italian food, Spinal Flow Yoga, a Tango lesson, Chacarera, a Belly dance performance and a rustic cosy venue.
About this event
Prepare to tantalize all the senses. Italian food, Argentinian Music, beautiful dancers to watch, dancing to do, a warm fire place, (or not if it's a warm night) a rustic, cosy bohemian venue and wonderful guests!.
5 pm doors open
530 pm spinal flow
6 pm introduction to tango
7 pm social dancing opens.
8 pm Live Tango 22
DJ Gerard playing 'til closing of Milonga at 10pm
Doors open at 5pm and Cafe Free-Ariello by Bri will be firing up their ovens. You can arrive and order a meal for later , or get in and have an early meal before the rest of the show. These guys will close their orders by 8pm.
At 530pm, Kirstie from Home of yoga / Heart Place will guide you through a warm up to the spine and circulation, with a 5 dimensional Spinal flow Yoga for 30 minutes . You will not get hot or sweaty, you could do this in a dress, that is; no special clothes are required, and you will not put your hands or bottom on the floor. It is easy but it will warm you up. It is best without shoes on. We have yoga mats. You could bring a spare pair of socks if you want so as to keep your toes clean.
At 6pm, you will be guided through an introductory Tango lesson. This will be great for complete newies to Tango to get the feel for moving to Tango music, walking the walk, and simply working out how to do this with a partner. Walking with benefits we have decided to call it. It wll be a nice class for seasoned Tango dancers as well. You do not need to have a partner to do the Tango class. It will be usefull to have a spare pair of socks now. We might walk around a bit in them.
From 7pm DJ Adri from Perth Tango Club will  play us some Tangos until 8pm
Tango 22 will take the stage and grace and delight the sences with the sounds and feel of live Tango music at around 8pm.
We will also have the delightful sounds of Argentinian folk music, Chacarera during which we will do a simple lesson to enjoy this fun and flirtatious dance.
And to round up and finish the evening with some spark we have DJ Gerard Aitkin playing some traditional tangos and some alternative tunes to tango on.
And suprises to come include the beautiful and talented Michelle Ridsdale! Michelle is an award winning bellydancer. She loves all styles of dancing and regularly teachs bellydance, bollywood and Persian dance. She performs Bellydance and Bollywood frequently around Perth especially at hen's nights and private parties. She hopes you'll enjoy the performance and get up and give it a try towards the end.
Our mission is to bring communities together such as Yoga people, Art people, Tango people, people who like to move to or listen to live Tango music and people who like to try some thing different. Just people people. Come. Watch! Feel , dance , hear and smell Tango music. It's fun!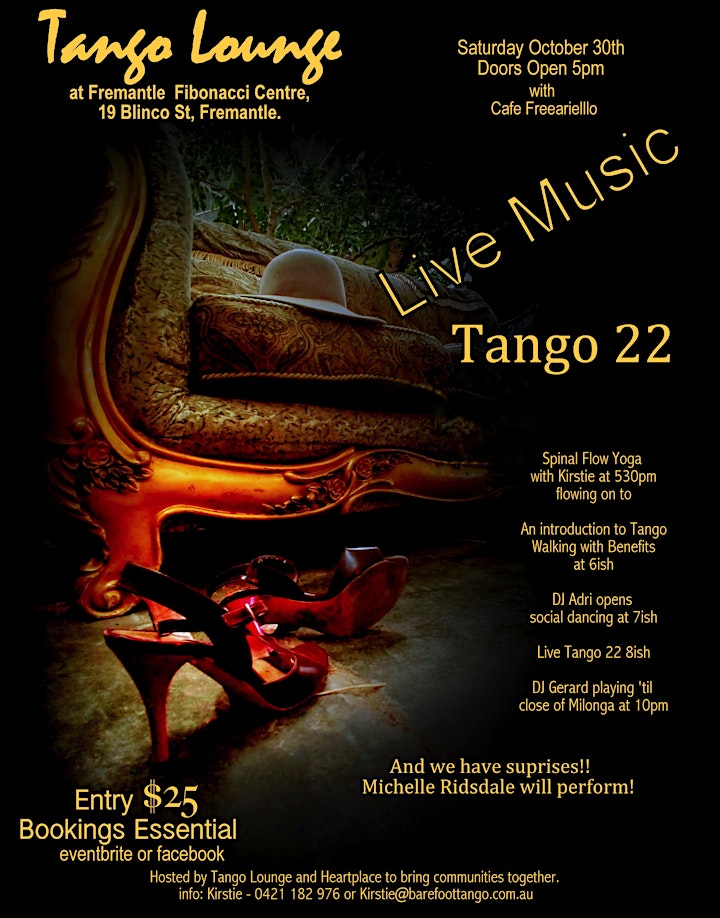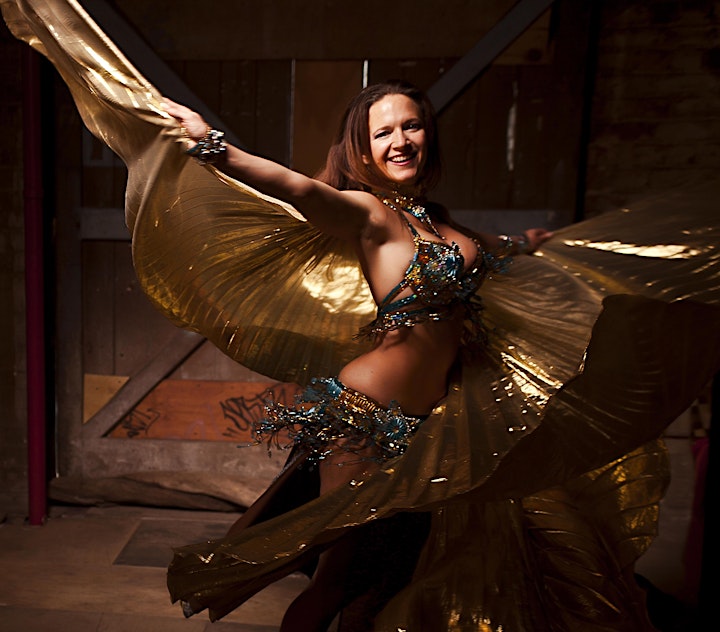 Organiser of Tango Lounge
Tango Lounge aims to celebrate Tango music, Italian food, Spinal flow yoga and a gorgeous rustic and warm venue!
Tantalize the senses with sounds, smells, tastes, warmth from the open fire place and movements with spinal flowing yoga, and Tango dancing and connection with yourself and a dance partner on the dance floor. Watch dancers , be a dancer, listen to and /or move your body to the sounds of Live Tango musicians, , the tastes of italy in pizza vegano and cafe free ariello, the rhythm of dance and a little bit of spinal flow yoga