Sales Have Ended
Registrations are closed
No need to print tickets. But please let me know if you need to cancel your reservation by contacting me on lexi.lestrange@gmail.com
Sales Have Ended
Registrations are closed
No need to print tickets. But please let me know if you need to cancel your reservation by contacting me on lexi.lestrange@gmail.com
Description
A very special D4D event this month where we welcome Aboriginal leader Rodney Carter who will explore what a treaty with Indigenous Australians means, and why it is important from a Traditional Owner's perspective.
Rodney is a Dja Dja Wurrung / Yorta Yorta man and CEO of Dja Dja Wurrung Clans Aboriginal Corporation. In 2013 Dja Dja Wurrung entered a Recognition and Settlement Agreement with the State of Victoria which recognises the Dja Dja Wurrung (or 'Jaara') people as the Traditional Owners of Country from north of the Great Dividing Range near Daylesford, to Castlemaine, Bendigo, Avoca, Boort and more. The agreement settles native title claims dating back to 1998, acknowledges past wrongs and seeks a new partnership between Dja Dja Wurrung and the State.
However it was only a first step.
In February 2016, Aboriginal people in Victoria called on the Victorian Government to negotiate a treaty. Since then, work towards self-determination and treaty has been led in partnership between the Victorian Government and the Aboriginal community which aims to empower Aboriginal communities to achieve long-term generational change and improved outcomes.
The first step on the pathway to treaty is for Aboriginal Victorians to decide who should represent the community and who can, and should, negotiate a treaty on their behalf.
At the same time, this year's Uluru 'statement from the heart' seeks constitutional reforms to empower Aboriginal and Torres Strait Islander people to take a rightful place in their own country. It calls for, among other things, the establishment of a First Nations Voice enshrined in the Constitution.
It is an fascinating time for our country. A time of potential, a time of change.
Come along and hear Rodney's perspective on what it's all about. And maybe you will be inspired to think about what role you can play. After all, it is about all of us.
Food & drink: People are welcome to arrive any time from 7pm, grab a drink, and have a yarn before we start. Dinner will be available to order at the venue (pub or restaurant TBC) prior to event start.
Start time: Start time for conversation is 7.30pm.
Location: Castlemaine, TBC.
Late bookings. If you are booking after November 26th, please contact Bryn on 0419 541 932 with number of tickets requested and he will contact you if there are spots available.
Cancellations: If you grab a ticket and have a change of plans, please cancel your ticket via Eventbrite. Alternatively, contact lexi.lestrange@gmail.com prior to November 26th to cancel. Changes after 26th contact Bryn via the phone number above.
Suggested reading: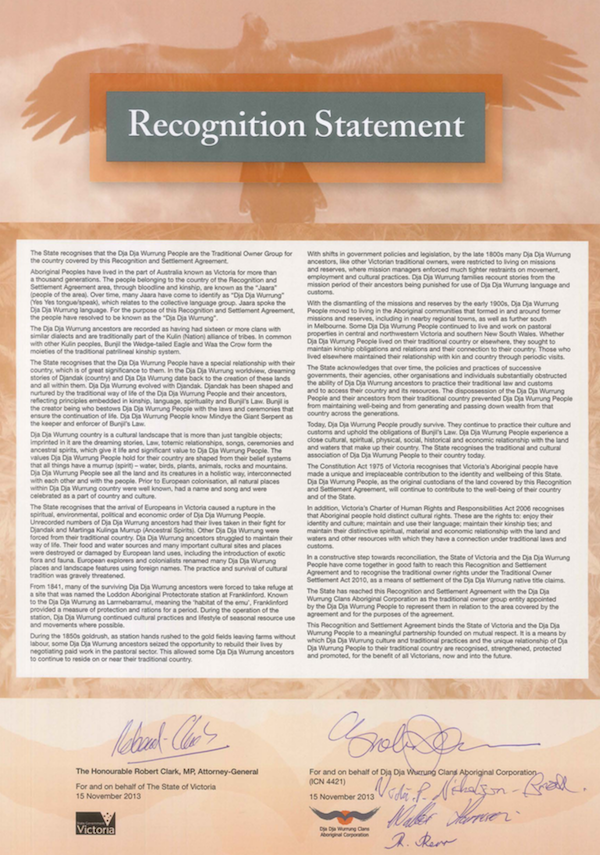 Image Credit: RECOGNITION: The Dja Dja Wurrung people celebrated their landmark native title settlement with an ceremony in Rosalind Park. Trent Nelson. Picture: JODIE DONNELLAN. Source: Bendigo Advetisor.
Organiser of "Talking Treaty" with Rodney Carter
Democracy for Dinner - Sharing the burden of democracy
Democracy for Dinner (D4D) is platform for reinvigorating individual and collective interest and trust in our democracy as a mechanism for change in the places where we live.
Our events cover social, economic and environmental policy issues, as well as alternative models for democracy including mechanisms for representation, voting, and borader concepts of community governance and decision making. We encourage balanced views and a non-partisan approach to ensure events are inclusive and informative.
Speakers explore a topical policy issue or democracy innovation relevant to the local community where the conversations are based, and apply both a local and national lens. The speakers learn through teaching, and share the burden of being informed, engaged citizens with fellow attendees.
Events are held over dinner in a relaxed, conversational environment, and offer a way to engage with locals in your area. 
On occasion we will run larger public events to stimulate community conversation and action.
Sign up to our newsletter here: http://eepurl.com/b8jIDX. 
If you would like to run events in your own town, please contact Lexi Randall-L'Estrange via info@democracy4dinner.org.