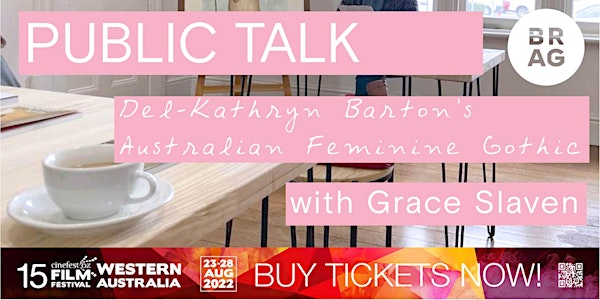 Talk | Grace Slaven on Del Kathryn Barton's Australian Feminine Gothic
Location
Bunbury Regional Art Gallery
64 Wittenoom Street
Bunbury, WA 6230
Australia
Join emerging scholar, Grace Slaven as she discusses the academic significance of Del Kathryn Barton's paintings in BRAG's D3 Coffee Lounge.
About this event
Following the launch of Del Kathryn Barton's feature film directorial debut, Blaze, this educational talk will examine readings on Australian Feminine Gothic landscapes, the presence of ornamentation, and subsequent evocation of horror vacui (fear of empty space) within Barton's painting practice.
When: 11am-12pm, Saturday 27th August
Where: D3 Coffee Lounge, Bunbury Regional Art Gallery
Please arrive at 10:45am for an 11am start.
Coffee is provided.
This is a free public event, although registration is essential.
Join us for the premiere screening of Blaze at Bunbury Grand Cinemas on Friday 26th August. Tickets can be purchased here.
Following the screening, Grace will MC the In-Conversation Supper at Market Eating House with Blaze film director, Del-Kathryn Barton. Tickets for can be purchased here.
About the speaker
Grace Slaven is an artist, teacher, and emerging academic based in Fremantle, Western Australia. She is interested in the historic link between femininity and nature and draws inspiration from anything feminine with an edge.
Slaven's artwork has been featured in numerous group exhibitions around Perth including two RAW Perth exhibitions, and solo exhibitions La Natura (2015), and Flesh and Forest (2021). Currently, her writing is being published in the upcoming third issue of the Scottish based publication, The Debutante. Slaven's research project focusses on unearthing female narratives that transcend history from the beautiful and sublime, to the monstrous.
About Blaze
An intense drama of a girl struggling to make sense of a shocking crime she witnessed, Blaze is brought to life by Director and renowned, 2 time Archibald Prize winning artist Del Kathryn Barton, and is an ode to female courage and a celebration of the power of the imagination. A unique hybrid of VFX, live action, puppetry and animation this is a film not to be missed.
This event is delivered in partnership with Cinefest OZ.