Description
Join us at the next 2017 Combined INTENSIVE CARE NETWORK WA and ANZICS Dinner Meeting

WEDNESDAY 27 SEPTEMBER 2017 at 7pm

Featuring:
Peter Boan - Dr Peter Boan is an Infectious Diseases physician and Clinical microbiologist, with a special interest in immunocompromised patients, transplant patients and complex Infectious Diseases medicine. Dr Boan presents on a guide to Infectious Diseases in the immunocompromised patient in the ICU.
Steve Webb - Dr Steve Webb is a senior intensivist at Royal Perth Hospital, a Clinical Professor in the School of Medicine and Pharmacology and the School of Population Health at the University of Western Australia and a Clinical Professor in the Department of Epidemiology and Preventive Medicine, School of Public Health and Preventive Medicine, Monash University. Dr Webb is a trialist with over $60 million of research funding and will talk about his current research involving platform trials and the REMAP-CAP project.
Dinner and Drinks sponsored by Draeger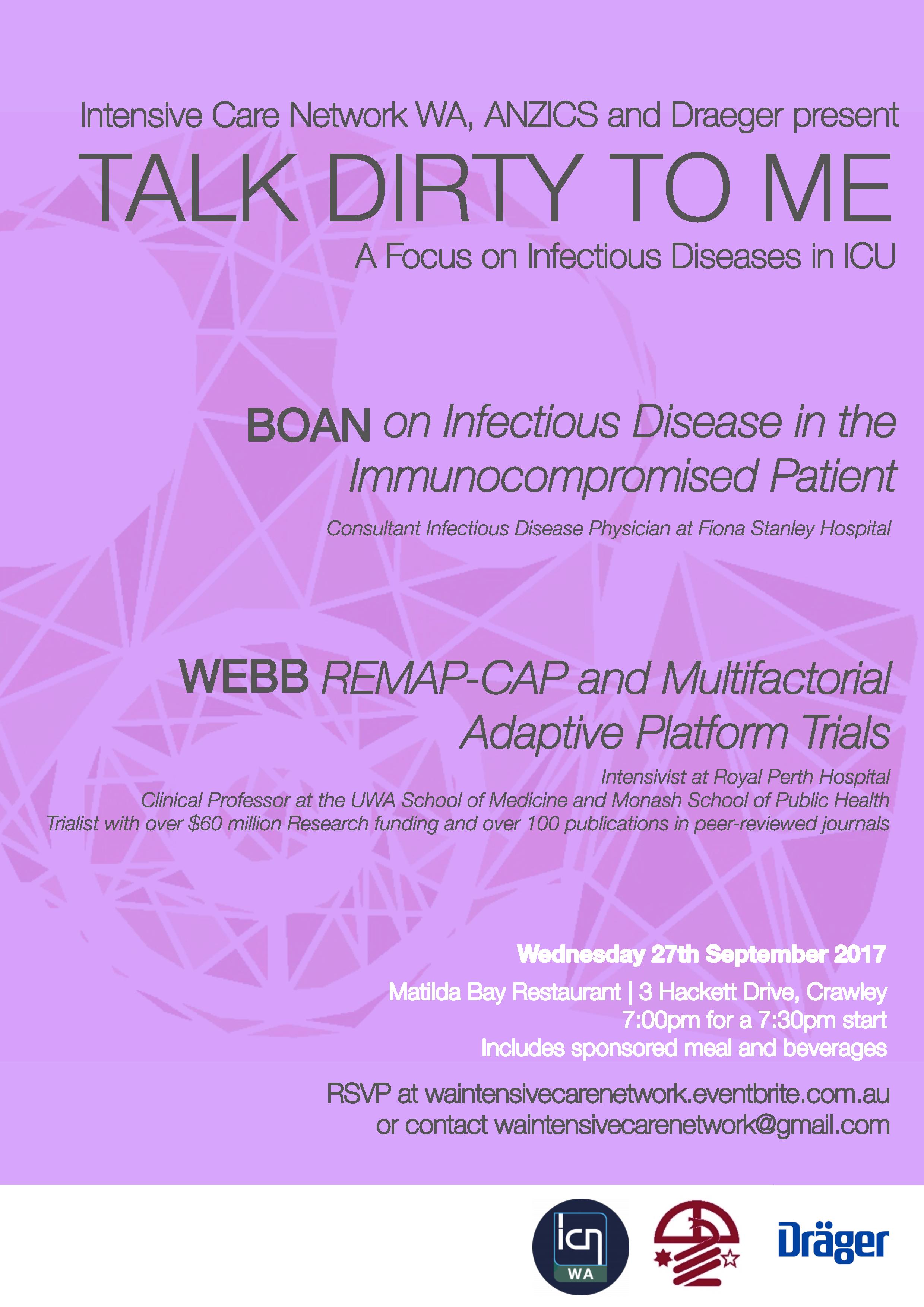 Frequently Asked Questions
Who can attend?
This event is open to all Intensive Care Consultants, Registrars and Intensive Care Staff by RSVP only.
We are unable to cater for Partners at this event.
Seats are limited so please RSVP early to avoid disappointment
Do i need to bring my ticket on the night?
No. Just arrive and we will tick your name off the door list


Tell me about the venue
You don't get much better views of Perth than from Matilda Bay Restuarant, and the food is pretty special too. We are incredibly grateful to our sponsors for allowing us to offer you dinner at one of Perth's premier restaurants, to provide the perfect backdrop for our fantastic speakers.
How much will it cost to attend?
There is no cost and the evening includes dinner and drinks kindly sponsored by Pfizer
What if I cannot attend anymore?
Please let us know if you have RSVP'd attending but are unable to attend so we can adjust our catering provisions on the night.
What are the parking options getting to the event?
Matilda Bay Restaurant has ample parking both in front of the Restaurant and roadside along Hackett Drive
What is ICN WA?
ICN WA is an addition to the Intensive Care educational scene and is partnered with the intensivecarenetwork.com. Through a series of evening dinners, we will be showcasing the best and fairest educational talent Perth has to offer.

The aim is to bring our WA Intensive Care community closer together, as well as to add to the treasure chest of online Free Open Access Medicine resources that the ICN has already established.

ICN WA extremely grateful to our sponsor, Draeger, without whose support this project could not have got off the ground.
How can I contact the organiser with any questions?
Please direct any questions to waintensivecarenetwork@gmail.com