Taking a Stand - Action Research Project

Wednesday, 21 June 2017 from 9:00 am to 4:00 pm (AEST)
Event Details
TAKING A STAND - ACTION RESEARCH PROJECT
Connecting Social Jusice, Inclusion, Equity and Advocacy within Practice
Develop your capacity to advocate for inclusion and equity.

Critically reflect over time to create change within your service and community

Develop your understanding of the process of action research to create valuable learning programs that benefit your service, children, families and the community.
WHAT IS ACTION RESEARCH?
Action Research is an inclusive and accessible form of research where people explore an agreed topic and work towards achieving growth and change in practice. Action research involves cycles of questioning, gathering information, reflecting and deciding on a course of action. As people work through these phrases, they are guided by a facilitator and coach. Many services and centres have embarked on this journey with amazing and significant changes to their practice as a result.
Throughout the project not only do people work together to achieve growth and change but they develop the skills within themselves and their organisation to replicate the model that creates long lasting change and builds capacity within teams, across teams and the organisation service.
Research highlights a number of key features in regard to the most effective professional development approaches.  The action research approach ticks all the boxes for enacting effective and sustainable practice change.  These include:
Extension of the professional development program over a period of time.

The involvement of staff in assessing their own learning.

The creating of opportunities for staff to have a trusted 'other' to discuss their learning.

Embedding reflective practice throughout the learning.
(Raban, Waniganayke, Nola, Ure, Brown and Deans cited in Practice Potentials 2008, p128)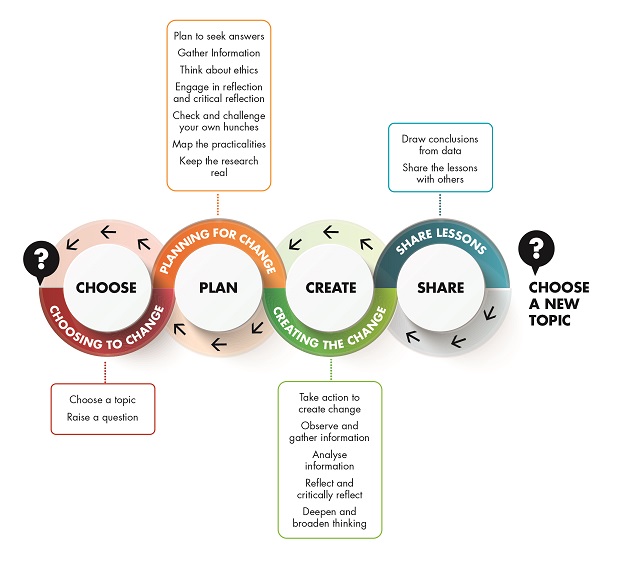 WHAT'S INVOLVED 
Action research is supported by a facilitator and coach. There are 6 learning days and 6 online group coaching sessions. We also host a showcasing celebration activity to share our learning and celebrate your successes. 
YOUR COMMITMENT

Services who wish to access the action research project must be committed to supporting and enacting real practice change. Organisations must commit to engaging two staff, who consistently attend all sessions. One of these staff, must be at leadership level as this helps support the embedding of real practice change. Organisations should demonstrate their commitment by ensuring the whole service supports the two participants' attendance and engages with them in the learning experience.
Action research is not about professional development for the two people participating in the learning days. Action research is about whole of organisation change led by the two people participating in the learning days.
YOUR INVESTMENT
Action research is cost effective, long term investment in an organisation's staff, business and the community. Evaluation shows high rates of success, sustainable practice change and organisational growth. You can easily see the cost effectiveness and value of this project by comparing the cost of the equivalent in one off professional development sessions or in-services.
Your investment includes participation in a six-month project that involves 
6 Face to Face learning days (All sessions: 9.00 AM - 4.00 PM)
Wednesday 21 June 2017

Wednesday 23 August 2017

Wednesday 13 September 2017

Wendesday 18 October 2017

Wednesday 15 November 2017

Wednesday 6 December 2017
5 Online Coaching Sessions (All sessions: 1.00 PM - 3.00 PM)
Wednesday 12 July 2017

Wednesday 30 August 2017

Wednesday 4 October 2017

Wednesday 1 November 2017

Wednesday 29 November 2017
 Celebration & Showcasing event
And, phone & email access to the project coach for two staff & support for them to lead and enact whole of organisation change.
Organisation participation fee: $3600. Use your Long Day Care Professional Develpment funds for this very worthwhile learning opportunity. Or give us a call to explore other possibilities.
EXPRESS YOUR INTEREST IN PARTICIPATING
To register your interest, complete the registration process through Eventbrite. You will be required to pay a $200 deposit (excludes GST) per organisation.
CLOSING DATE FOR EXPRESSION OF INTERESTS - Friday 31 March 2017
We can accept only 15 organisations into the action research project. Acceptance will be on a first in basis. You do not have to indicate at this stage the name of the two participants who will lead your project.
If on 31st March we do not have 15 expressions of interest the action research project will not proceed and all deposits will be refunded.
If of 31st March we do have 15 expressions of interest, we will proceed and invoice the service for the remainder of the fee. If the service, then decides to withdraw their expression of interest no refund of the deposit will be provided.
FACILITATOR BIOGRAPHY - Stephen Gallen 
Stephen has over 26 years' experience in the ECEC sector as a teacher and educator, consultant, presenter and leader.  He has taught and worked across SAC, home based care, kindergarten and primary school, but his primary focus has been in long day care, including over twelve years as a contact educator.  He has consulted and presented for Workforce Council, Gowrie Qld, TAFE, QUT, C&K and many other organisations.  Some of his main interests include pedagogy and documentation, empowering educators and children, and social justice and inclusion. 
Stephen also specialises in Educational program and practice, Documenting children's learning, Critical reflection, Diversity, Inclusion, Social justice, Children's agency and rights, Relationships with children, Designing learning environments, Empowering and motivating teams and individuals, Action research.

COACH BIOGRAPHY - Stacey de Calmer
Stacey is a Workforce Consultant at the Workfore Council where she has held various roles since 2007. Stacey has been involved in a variety of projects and programs focussing predominantly on the early childhood sector. 

Stacey was part of the team that develeoped the Workforce Council's latest resource 'Reflection in Action', and is most interested in using group processes that promote participation and the expansion of world views.
Stacey's work over the last few years has predominantly focussed on supporting services within the early childhood sector to improve their quality through the delivery of mentoring programs and the delivery of workshops andgroup processes.
TO DOWNLOAD THE FLYER, CLICK HERE
Save This Event
When & Where

Health & Community Services Workforce Council
100 Edward Street
#16
Brisbane City, QLD 4000
Australia

Wednesday, 21 June 2017 from 9:00 am to 4:00 pm (AEST)
Add to my calendar
Organiser
Health and Community Services Workforce Council Inc.
Since we were founded in 1992, the Workforce Council has supported the health and community services industry to meet their current and future workforce needs, and has developed into one of Queensland's leading industry workforce bodies.


We enjoy a reputation as an inclusive and active peak body that delivers insightful, informed and intelligent support in workforce insights, strategy and capability. 


Our team cares about the industry and has helped thousands of people to make positive improvements in their day-to-day work practices across a range of disciplines and skill-sets.


Over more than two decades, the Workforce Council has developed unique and effective expertise which is underpinned by a truly collaborative approach and deep connections with industry, community and government.


We enhance the important work being done by health and community services workers throughout Queensland who provide essential services that make our communities healthier, more liveable and cohesive.


Our vibrant industry faces increasing pressure to meet the needs of communities, families and individuals right across Queensland. The Workforce Council provides practical support and sense of connection, helping you and our industry as a whole to work well together.
Taking a Stand - Action Research Project