Event Information
Refund policy
Refunds up to 7 days before event
Eventbrite's fee is nonrefundable.
The Take15 Program. Transform your day in 15 minutes. #timemanagement #productivity #happinesshack #disruptor
About this event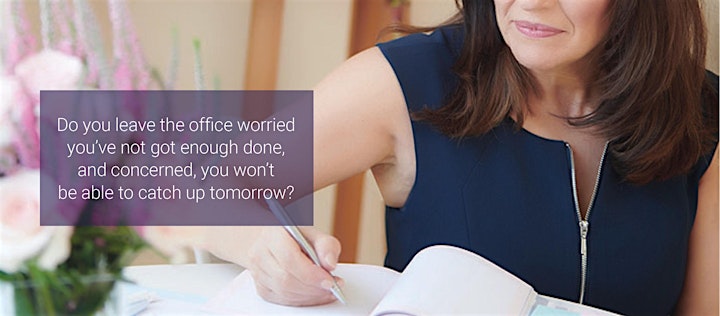 The Take15 Program : A simple, powerful productivity system for business owners
4 WEEK ONLINE WORKSHOP (see dates below)
With so many things competing for your attention, it can be hard to manage your workload, keep track of finances and juggle the endless requests for your time without feeling scattered, overwhelmed and out of control.
But imagine if there was a simple, easy way to do more with less time, stop procrastination, be in control of what's happening and manage your workload.
Imagine if all it took was 15 minutes and nothing more...
INTRODUCING THE TAKE 15 PROGRAM
A personal time management system that consists of 5 simple steps you do every morning before you start your working day. This system is based on the latest brain science and takes no more than 15 minutes a day.
THIS ISN'T ABOUT PRODUCTIVITY TIPS, THIS IS A SYSTEM THAT WORKS.
In 5 simple steps - you'll learn how to:
• Minimise distractions and strengthen personal accountability
• Take control of your day and easily manage your workload 
• Easily prioritise tasks and effectively meet your deadlines 
• Create a structure which supports you to stay focused all day
• Understand your brain so you can be more productive
• Work smarter, not harder
How the Take15 Program works
They say it takes 30 days to change a habit. The Take 15 Program involves four meetings, to ensure successful implementation.
Included in the program are two 30minute one on one sessions, where I will personally assist you, to customise the program to your specific needs. 
Week 1 : Tuesday 16th November 9.30am - 1.30pm
A 4 hour group workshop, to introduce the Take15 program and the 5 key steps to effective productivity. Walk away with your personal Take15 daily planner and everything you need to implement the Take15 system into your day.
Week 2 : Tuesday 23rd November
30 min one on one meeting to personalise program to your specific needs. Individual meeting times to be confirmed
Week 3 : Tuesday 30th November 9.30am - 11.30pm
A 2 hour group workshop. Learn how to:
- Use the daily planner to manage larger projects easily
- Make time for tasks you know you should be doing but never get to
Week 4: Tuesday 7th December
30 min one on one meeting to personalise program to your specific needs. Individual meeting times to be confirmed.
Here's what recent participants had to say:
"Helen's Take15 program has revolutionised not only how I manage my day, but also how I manage myself. 
I have stopped being so hard on myself and trying to fit more into a day than is humanly possible. My stress levels have decreased dramatically; as a result, I am getting more done each day! 
To-do-lists just don't work. I had used them for years thinking I was effective but never seemed to get to the end of them. Now I have a framework to apply to all that I do, it does get done, and I feel good about my efforts at the same time. 
Anyone who thinks their life is busy or who is wearing more than one hat needs this system."
Paula Hanson
"I consider myself an organised and structured person, however, at the start of this year, I started feeling more and more overwhelmed as a never-ending to do list began to build up, leaving me feeling disheartened and questioning my ability to be a successful business owner. 
The Take15 Program has helped switch my focus to how far I have come, rather than how much I still have to achieve.
I am now going home, feeling more accomplished, happy to turn my laptop off at 6 pm. I leave work at work, and I have my weekends back." 
Dr Kate Adler, The Chiro Tree 
"I thought I was fairly organised, I had 'to do' lists, reminders in my calendar and red flags on my emails, but I often left work feeling like I had not finished for the day. 
Take15 has changed the way I leave work. I start my day knowing what I want and can achieve for the day, and go home feeling that I do not have to turn my laptop on like I used to. 
I am more efficient and I am accomplishing more. I have a much better system, I have more time for myself, and my work day is more organised. 
I was sceptical, to begin with, but it is THE best professional development I have done in a long, long time. Thank you, Helen." 
Paula Westhead Executive Officer
"Thank you to Helen Ebdon for her Take15 program.
Before I did the program, I was feeling stressed and I wasn't getting through my never-ending to-do list. I now happily take 15 minutes to set myself up for the day, and it is seriously life-changing.
I feel so much more productive and efficient, and I look forward to continuing to use the program for years to come. If you are struggling with competing demands in life and in business, I highly recommend Helen's Take15 program as I know it will work. 
Thank you Helen."
Sam MacFarlane
For more information contact Helen Ebdon on 0407 306 301 or email: helen@helenebdon.com.au
Date and time
Location
Refund policy
Refunds up to 7 days before event
Eventbrite's fee is nonrefundable.