Take Your Lead – Free Dog training sessions (Class A)

Sunday, 22 September 2019 from 9:00 am to 10:30 am (AEST)
Event Details
Nervous about enrolling in a course thinking that you have the 'naughtiest' dog that will "never learn"? Does your dog: pull on a lead, chases birds, barks, runs away, won't listen?
Don't worry you're not alone. Dog Trainer Julie Callow from Domestic Dog Training has over 20 years' experience in handling and training dogs and knows how to make classes fun and enjoyable, optimising learning for both you and your dog.
Julie's classes promote the need for a balance between recreation and conservation. Learn how to better understand the impacts of dogs on beaches and address individual behaviour problems in your furry friend.
Each session runs for 90 minutes. A maximum of 15 dogs and people per session. Sessions are for all breeds of dog from five months old and upwards that haven't been trained before.
First session is basic obedience.
Second session is a trail walk – this will occur two weeks after the first session. The second session gives you a chance to practice the new skills learned in the first session!
*** If you are booked in for the first session, you must be available to attend the second session on Sunday 6 October from 9am to 10.30am. *** 
** Please note - daylight saving time in NSW begins at 2.00am on Sunday 6 October.**  
Session 1 - Basic training
How to have control of your dog so it's responsive to voice commands and hand signals.
How to get your dog to focus and listen to you.
Learning the "sit" and "heel" commands.
Learning the difference between heeling and social walking (incorporating the "stay close" command) and the importance of practicing both.
First steps of a recall, i.e. teaching your dog to come back to you when called.
Learning the "leave it" command.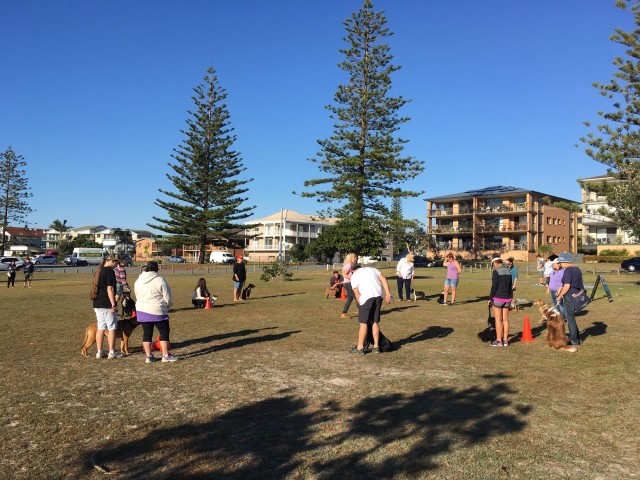 Session 2 - Trail walk and social beach walk
This session is held two weeks later after practising the skills learned is session one.
Dogs and handlers will put the techniques learned in session one to the test under the guidance of an instructor.
The trail walk will ensure that training techniques learned in class can be used in everyday situations for example, interacting with bike riders, prams, other dogs, joggers, birds, and more.
There will be plenty of distractions to test handler's skills. 
Learn about the Tweed's birdlife, conservation areas and risks to dogs on the beach, for example, dry land drowning, salt water poisoning, dehydration, fish hooks, etc.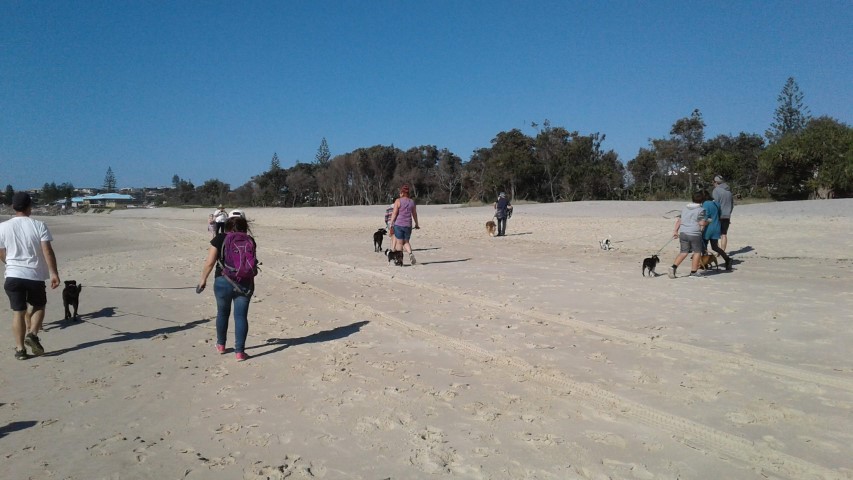 Conditions apply:
Bookings essential - Participants must bring eventbrite ticket with them. Ticket is for TWO sessions on different dates. 

Must book by midday on Friday 13 September.

The dog trainer will consider the suitability and safety of the dogs and handlers first before accepting an enrolment.
Successful participants will be notified by the dog trainer with the location for the sessions.
Free dog training sessions are open to Tweed Shire residents only.
Participants must be over 16 years old.
A waiting list will be created for each class, but this may not guarantee you a place on the day.
Phone number and email address required to be provided when booking so you can be contacted regarding the classes.
** Please note ** - the exact location of the sessions will be advised when the dog trainer calls you to confirm your booking.
Have fun training together! Book your two sessions now. Bookings essential and limited places available.
This course is being run in the interest of public safety on beaches and so Tweed dog owners better understand the impacts their dogs pose to wildlife on beaches, and learn skills to prevent their dogs from harming threatened species in coastal areas.
When & Where

Kingscliff

Kingscliff, NSW 2487
Australia

Sunday, 22 September 2019 from 9:00 am to 10:30 am (AEST)
Add to my calendar