Take it Off & Shed your Fear

Wednesday, 18 March 2015 from 6:30 pm to 8:30 pm (AEDT)
Event Details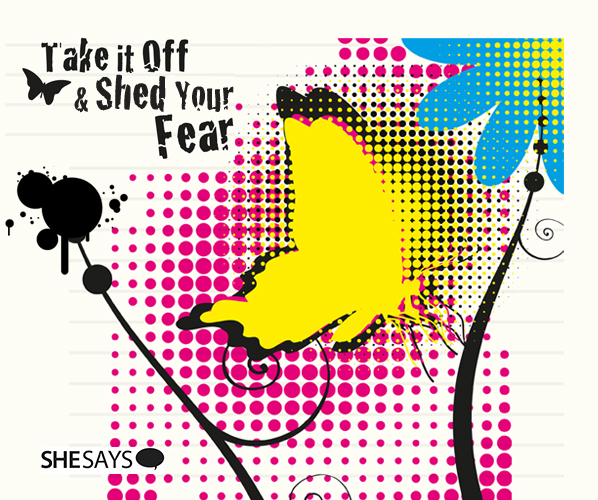 Fear can hold you back from being true to yourself and reaching your goals. But how do you shed that fear and overcome the challenges associated with it?
We want to start the year off by helping you identify your goals and the fears that may be holding you back from achieving them. Hear from some inspiring women on how they shed their fear and excelled in achieving their goals. 
Plus get hands-on with activities to help inspire and motivate your journey. 
Speakers
Ali Fleming, Editor, The Bonafide Bedfellows

Alice Kidman, Founder, Owl Creative 

Cassandra Kelsall, Interaction Design Manager, Sapient Nitro 

Shelley Owen, Director of Inspiring Solutions & Executive Coach who specialises in confidence and dealing with fear

Yolanda Beattie, Executive Manager Public Affairs, Workplace Gender Equality Agency 
This event is now

sold out

if you'd like to come along, please pop yourself on our waiting list by  clicking on the link above.
We'd love to say a big thank you to... 
Sapient's commitment to support every woman's ability to succeed and advance her career has led to the birth of Sapient WLN – Sapient Women's Leadership Network.  The Sydney Chapter of the Sapient WLN is pleased to host this great SheSays event and invite you all to Take it Off and Shed your fear in our Sydney office on 
March 18
.
I'm inspired by colour and pattern. Being able to 'make things pretty' for a living is pretty cool. Ever since highschool I knew I wanted to be a graphic designer. This decision was partly due to my wonderful art and design teachers and here I am today over 20 years later getting paid to do essentially what I love!
I'd like to do more collaborating and work with nonprofit organisations more using my skills for good. You can contact me:  rachelleahwilliams@me.com
Make sure you keep in touch with what we're up to by siging up to our Facebook page and Twitter account. 
Drop us a line if you'd like to receive our monthly newsletter: shesays.sydney@gmail.com
When & Where

SapientNitro
Level 6, 338 Pitt Street
Sydney, NSW 2000
Australia

Wednesday, 18 March 2015 from 6:30 pm to 8:30 pm (AEDT)
Add to my calendar