"Taiwan post-election: a new business beginning"
About this event
President Tsai Ing-wen was inaugurated for a second term on 20th May 2020. The election result was largely expected, and viewed by many both within and outside Taiwan as a rejection of an increasingly assertive China and perceived failure of "One Country, Two Systems" in Hong Kong (as evidenced by the ongoing protests and China's more recent passing of its wide-reaching national security law in Hong Kong). Although Taiwan's economy has gained a short term boost from the US-China trade war, President Tsai's first-term "New Southbound" policy has not been overly successful in lessening Taiwan's economic reliance on China, and Taiwan continues to be excluded from regional trade blocks such as the Comprehensive and Progressive Agreement for Trans-Pacific Partnership (CPTPP) and Regional Comprehensive Economic Partnership (RCEP). Some also argue that simple geography has also made it difficult for Taiwan to truly diversity and dilute business with the mainland, with a high number of Taiwanese continuing to pursue business and careers in China.
Despite these challenges, Australia has a substantial relationship with Taiwan, including trade and investment, education, tourism and people-to-people ties. Given the increased urgency by Australia and other countries to diversify their economic partnerships in light of COVID-19, why should Australian companies look at Taiwan?
Joint the ATBC and CIECA in a panel discussion from academia, business and government representatives on how these issues might impact doing business with Taiwan.
Cost: Complimentary, Registration is essential (Registration will be closed on Monday 27th July).
Format: Webinar via WebEx and will take place under the Chatham House Rule. A link will be emailed to you prior to the event.
Please note that all our events are under the Chatham House Rule. However, we're also keen to hear the views of our webinar participants, so we'll be incorporating an interactive Q&A following the panel discussion.
Further Information: chingmei@atbc.asn.au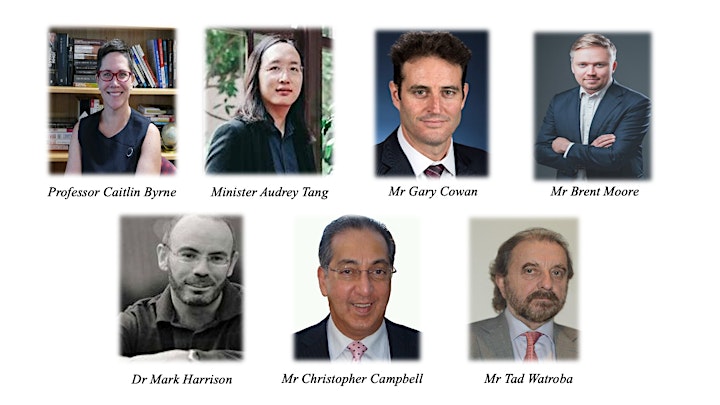 Speakers:
Ms Caitlin Byrne is a Professor of International Relations and Director of the Griffith Asia Institute (GAI). Caitlin brings a unique mix of academic expertise in International Relations and Diplomacy Studies with hands-on policy development experience. Prior to joining academia she had established a professional career working in legal, social and international policy and management roles in government, private and community sector, including in rural and regional communities, and representing Australia overseas. Today, Caitlin's research is focused on Australian foreign policy and diplomacy with a special interest in the role and relevance of leadership, soft power and public diplomacy. She has a keen interest in the intersection between theory and practice. She consults regularly to government on diplomatic strategy, policy and practice.
-
Minister Tang, the Digital Minster in Taiwan's Executive Yuan, is a former internet prodigy who was hired by a major IT company at age 14 and started her own business before she turned 20. She joined the cabinet in 2016. Ms Audrey Tang (Tang Feng), made the 2019 list of 100 global thinkers published by Foreign Policy magazine. She has leapt into prominence in Japan for creating an app that combats coronavirus by showing face mask inventory levels at a glance. In 2016, she became Taiwan's youngest ever government minister at the age of 35.
-
Mr Gary Cowan is a senior career officer with the Department of Foreign Affairs and Trade. Mr Cowan commenced as Australia Representative Designate to Taipei in January 2018. Overseas Mr Cowan's most recent posting was as Deputy Head of Post, Shanghai (2003-2007). Mr Cowan's most recent placement in Canberra was as Assistant Secretary, Sustainability and Climate Change Branch. He holds a Master of Public Administration from the Australia New Zealand School of Government/Monash University, a Bachelor of Laws and a Bachelor of Arts from the University of Sydney.
-
Mr Brent Moore commenced as Deputy Representative and Senior Trade and Investment Commissioner Taiwan in January 2020, leading a team of 12 and serving as part of the Austrade's Greater China leadership group.
Brent has 17 years of public and private sector experience in international trade policy and promotion. Brent was Trade and Investment Commissioner in Shanghai from February 2014 to December 2019, where he was responsible for e-commerce, food & beverage, and agriculture; and led Australia's participation in the China International Import Expo in 2018 and 2019. Brent is the lead author of popular Austrade publication e-Commerce in China: a Guide for Australian Business and is a regular speaker on doing business in Asia.
Brent served as Executive Officer for East Asian Growth Markets in Austrade's Sydney headquarters. He was formerly a trade policy officer in Canberra and Beijing for the Department of Agriculture, covering multilateral and trade negotiation, including the China-Australia Free Trade Agreement and the WTO Sanitary and Phytosanitary Committee. In the private sector, Brent has lead trade sustainability consulting projects in Libya and Peru for the European Commission.
Brent has lived in Asia for more than ten years. He has degrees in Commerce and Arts (Chinese) from Deakin University and studied on exchange at Nanjing Normal University and the Ocean University of Qingdao. Brent is from Bright in North-East Victoria.
-
Dr Mark Harrison is a Senior Lecturer in Chinese Studies at the University of Tasmania in the Politics and International Relations Program in the School of Social Sciences. He is also a Founding Fellow of the Australian Centre on China in the World at the Australian National University. He teaches units on China and politics and international relations as well as units on China, and supervises honours and PhD projects on politics and culture in mainland China and Taiwan. His academic work examines culture and politics in the Chinese-speaking world with a particular interest in Taiwan. His recent work includes a Special Report on Taiwan for the Australian Strategic Policy Institute and he maintains an active media profile with the national and international media. He has a BA (Hons.) in Chinese from the University of Adelaide and completed his PhD at Monash University looking at Taiwan and its identity. From 2002 to 2008 he worked as Research Fellow and Lecturer at the Centre for the Study of Democracy at the University of Westminster in London, UK.
-
Mr Christopher Campbell, B.Soc.Sci (Hons) University of Singapore, FFin, FAICD, FCIS, FSCA - Group Managing Director and Chief Executive Officer of Academies Australasia Group Limited, a company that has been operating for more than 112 years and which has been listed on the Australian Securities Exchange since 1977.
-
Mr Tad Watroba, Chairman of Riversdale Resources Limited. Mr Watroba has more than forty years' total experience in the mining industry, including more than 20 years' managing the mining interests of the Hancock group. In that capacity he has been personally involved in the Roy Hill project's evaluation studies, permitting, construction and operations. Mr Watroba has also worked across a range of other commodities, including manganese, gold, brown and black coal, oil shale, copper, zinc and lead, and in both underground and open cut operations. Mr Watroba is an Executive Director of Hancock Prospecting Pty Ltd.
Organiser of Taiwan post-election: a new business beginning