TACSI Blue Sky Session: Nicholas Gruen

Wednesday, 4 December 2013 from 3:00 pm to 4:30 pm (ACDT)
Event Details
TACSI Blue Sky Session: Nicholas Gruen
Social innovation and refurbishing public goods in our community 
People tend to think of 'public goods' as things like suburban roads that must be built by governments because if governments don't provide them, then no-one will. But this is an impoverished definition of the public good. In fact, private and public goods operate in an ecology, each reinforcing the other, and they do so in every social organisation we have. They do so within the family, within the local football club, within firms, within our local communities, and at the national and international level.  
This presentation will explore these ideas and then focus on the public goods of community - those things within groups of people and local communities that enable people to co-operate to help themselves and each other. Many of these public goods need refurbishing for a world that has been transformed and traumatised by the onslaughts of modernity. The presentation then explores the role of social innovation in general and The Australian Centre for Social Innovation's work in particular in refurbishing the public goods of community.
Nicholas's presentation will be followed by Q&A and some afternoon drinks. 
About Nicholas Gruen
Dr Nicholas Gruen is CEO of Lateral Economics and Peach Financial. Nicholas has for many years been a strong public advocate for economic reform, innovation and open government, and is the Chairman of TACSI.
Blue Sky Sessions
TACSI's Blue Sky Sessions are an opportunity to connect with like-minded people and be inspired by the possibilities of social innovation and change. They're free and all are welcome - please join us!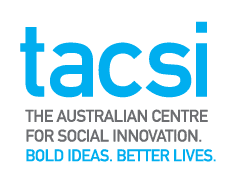 When & Where

TACSI
279 Flinders St
Adelaide, SA 5000
Australia

Wednesday, 4 December 2013 from 3:00 pm to 4:30 pm (ACDT)
Add to my calendar
Organiser
The Australian Centre for Social Innovation (TACSI) exists to help tackle Australia's toughest social challenges. We believe all Australians deserve to live great lives - not to just get by.
We create bold solutions to real problems - working on the ground with people to co-design new solutions, and working with organisations to develop their innovation capability and improve their strategy. We're also building a national community of high-impact social innovators across Australia, and we'd love you to be a part of it.
TACSI Blue Sky Session: Nicholas Gruen