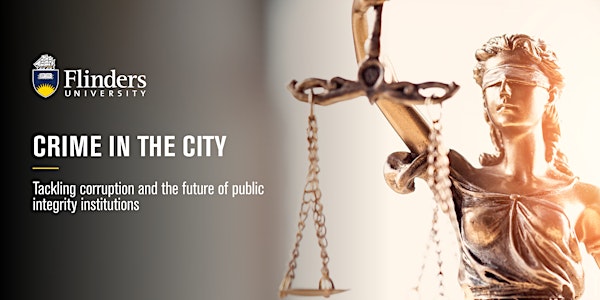 Tackling Corruption & Future of Public Integrity Institutions
Location
Flinders University at Victoria Square
Room 2.2, Level 2
182 Victoria Square
Adelaide, SA 5000
Australia
Join this Crime in the City event, co-hosted by the Centre for Crime Policy & Research and Transparency International Australia
About this event
Tackling Corruption and the Future of Public Integrity Institutions
This free event will be chaired by Erma Ranieri (Commissioner for Public Sector Employment, South Australia) and presents a panel of experts to discuss the changing role of integrity institutions. Speakers include:
Professor Andrew Goldsmith (Director, Centre for Crime Policy and Research)
The Hon. Bruce Lander QC (South Australia's former Independent Commissioner Against Corruption)
Professor AJ Brown (Griffith University and Transparency International Australia)
Wayne Lines (South Australian Ombudsman)
The panel will examine the changing face of integrity bodies in Australia and what the future holds for public accountability, followed by a Q & A session.
Event Format I Join us in-person or online
Venue | Flinders University at Victoria Square
Registration is essential, due to COVID-19 restrictions.
Presented by Flinders University's Centre for Crime Policy and Research