T3 2017 JNI and Torrens Residential RSVP (Pyrmont)

Saturday, 14 October 2017 at 9:00 am
Event Details
T3 2017 - JNI/TUA Residential information.

You have received this email as you have enrolled into a subject that has a residential component for T3 2017.

The Residential is considered an assessment task. If you do not attend without providing a suitable reason, it may lead to failure for non-attendance of this unit. 

The Residential forms an important part of your accreditation, so it is important that you attend promptly and contribute fully throughout the seminar.

Please find below and attached table of the dates for the residentials. Please note residentials for the core subjects are held at the campus that is closest to your residential address.

You can also find this information on the Pyrmont & Online Hub
Please make sure you RSVP by ordering the ticket type pertaining to the subject you are enrolled into.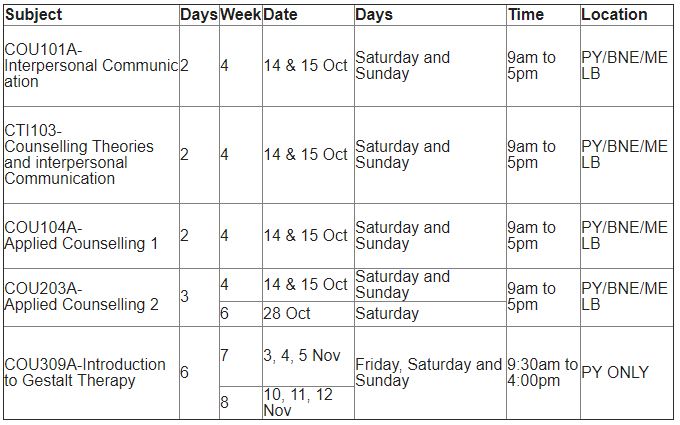 If you cannot make the scheduled dates, you have the option of dropping the subject and taking it when it is offered again in another.

To drop the subject please log onto your student portal, click to 'Subject Selection' and choose to 'Drop Subject'.

If you are a Domestic student paying through Fee HELP or upfront, you will not be financially liable provided you withdraw from the subject prior to census date – 06/10/2017.

If you are an International Student, you have until the end of week 2 to change to another subject without financial penalty (please refer to "Student Fees Policy"  for more information)
 
If you any questions or concerns, please contact your lecturer.

You can find your lecturer details through your Learning Portal (Blackboard)

Warm regards, 

Student Services.


When & Where

Pyrmont Campus
Level 5, 235 Pyrmont street
Pyrmont, NSW 2009
Australia

Saturday, 14 October 2017 at 9:00 am
Add to my calendar