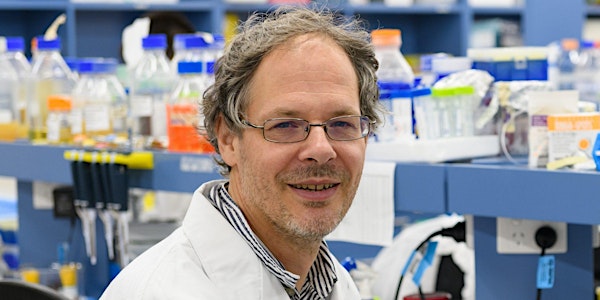 Synthetic Biology: Inspired by Nature, Designed by Science
Synthetic Biology: Inspired by Nature, Designed by Science
About this event
2021 NSW SCIENCE & RESEARCH BREAKFAST SEMINAR SERIES
Distinguished Professor Ian Paulsen from Macquarie University presents:
SYNTHETIC BIOLOGY: INSPIRED BY NATURE, DESIGNED BY SCIENCE
Synthetic biology is a rapidly advancing field that treats genes and DNA as 'Lego pieces' that can be used to construct novel biological systems.
Developing novel synthetic microbes for the sustainable production of biochemicals, biofuels and bioplastics is critical for the emergence of a new global bioeconomy.
Distinguished Professor Ian Paulsen is the Director of the $50 million ARC Centre of Excellence in Synthetic Biology, a consortium across nine Australian universities and 20 industry partners, which seeks to build synthetic microbes that can convert agricultural biomass or waste streams into high-value chemicals.
Ian's synthetic biology research program includes fundamental science, such as building the world's first synthetic yeast as part of the Yeast 2.0 consortium. He is also leading applied industrial projects, including producing flavour and aroma molecules, and recycling plastics by engineering microbial strains to grow on waste.
Join Ian as he explains the enormous economic and environmental potential of his research when he presents 'Synthetic Biology: Inspired by Nature, Designed by Science'.
ABOUT THE SPEAKER
Distinguished Professor Ian Paulsen
One of Australia's leading microbiologists, Distinguished Professor Ian Paulsen has published more than 300 journal papers spanning a diverse range of fields including synthetic biology, microbial genomics and metagenomics, environmental microbiology, systems biology and bioinformatics.
For over three decades, Ian has been passionately interested in multidrug efflux pump proteins, which transport drugs and toxic compounds out of cells. He has played a significant role in the discovery of several families of these pumps, which have been a major cause of the emergence of drug-resistant superbugs, but on the other hand can improve the industrial production of biochemicals.
In 2014, Ian was awarded an Australian Laureate Fellowship, the premier fellowship awarded by the ARC. His work has had tremendous scientific impact as indicated by his status as an ISI Highly Cited Researcher.
Ian is the founder and Director of the Synthetic Biology Laboratory at Macquarie University, where he is leading the Australian node of the Yeast 2.0 Project, which aims to build the world's first synthetic eukaryote.
Ian is also the Director of the ARC Centre of Excellence in Synthetic Biology.
ABOUT THE EVENT
NSW SCIENCE & RESEARCH BREAKFAST SEMINAR SERIES
Where: Fishburners, Level 2, Sydney Startup Hub, 11 York St, Sydney 2000. Entry is immediately to the right of Wynyard Station. Take the elevators to Level 2, where a staff member will direct you.
When: Wednesday 8 December 2021. Breakfast, tea and coffee will be served from 7:15am.
The seminar will commence at 8:00am and conclude by 9:00am. Tea and coffee will also be available afterwards until 9:30am.
IMPORTANT COVID-19 INFORMATION
Under current NSW Government COVID-19 restrictions, only guests who are fully vaccinated may attend this seminar. Please bring proof of your vaccination status with you.
Face masks must be worn during the seminar, with the exception of when guests are eating or drinking.
All guests must check in using the Service.NSW app or provide contact details at the registration desk.
RSVP: Friday 3 December 2021
Further information: bruce.ritchie@chiefscientist.nsw.gov.au or call 02 9228 5762
The 2021 NSW Science & Research Breakfast Seminar Series will also be presented by live stream.
To view: go to chiefscientist.nsw.gov.au/breakfast and click on the live-stream link for Ian's seminar. This link will be made live shortly before the seminar commences. An edited version of the seminar will subsequently be available on demand at this link.
No registration is necessary for the live stream.
Organiser of Synthetic Biology: Inspired by Nature, Designed by Science