Symposium 2019: Community Nursing Now 'Visible and Valuable'
Description
The annual Metro South Health Community Nurses Network Symposium enables connection, collaboration and information sharing between Nurse Clinicians delivering care that reaches into community settings across Metro South Health.
Health professionals from across Metro South Health are invited to attend this annual symposium. NB: This symposium is open to Metro South Health employees only.
Morning Program 08.00 – 12.00am
Welcome - Narelle Janke Director of Nursing Community Metro South Health@Home/Health Equity & Access Unit
Opening address - Veronica Casey Executive Director of Nursing Metro South Health
Nurses as visible, valuable and vital: Changing the 'nice but nowhere to be seen script' - Professor Phillip Darbyshire RNMH, RSCN, DipN (Lond.), RNT, MN, PhD
Community Maternity Hubs, Logan Hospital - Julia Burns CM, Michelle O'Connor MUM. Logan Bayside Health Network Nursing and Midwifery Services
Two minute speed lead Poster presentations
Management of urinary incontinence (UI) for Aboriginal and Torres Strait Islander women attending an Indigenous primary healthcare clinic. -

Audrey Burgin, Sarah Hartin

Create Partnership: CARE-PACT Nurse Navigator -

Michelle Jiang/Juliana Friedrich

Navigating the Known Unknown: Nurse Navigation from a Health Equity and Access Unit Perspective -

Rhonda Beggs, Dianne Craig, Kazandra Perkins, Winnie Niumata

Community mental health nurses making the evidence visible and available for perinatal women and families -

Erica Holder, Simone Harvey

Carepact Focus Group -

Meegan Beecroft, Annaleese Ockhuysen, Sharon Vallender-Mobbs

Limited functional capacity and physical activity associated with patients withdrawals from cardiac rehabilitation -

Yvonne Martin

You nailed it!! A value add framework for undergraduate student nurse assessment

-

Metro South Refugee Health Service

Responding to the Syrian and Iraqi Crisis – A Local Refugee Health Partnership to Build an Integrated Care Response -

Leeanne Schmidt

Clinical Nurse Case Management: expert Knowledge in achieving Optimal Wound Health -

Carla Champion
Dementia Clinical Leadership Seminar 2019 - Sharlene Pyke CN & Amanda Bolton CNC. Dementia Outreach Service
Introduction to the GEDI CHIP role in PA ED - Tricia West CN & Lascinda Fittler NUM Community Hospital Interface Program PAH
A word from our consumers… Anne and Kevin - Jill Moloney CNC & Di Enright CNC Metro South Health@Home
Executive Address - Helen Boocock Executive Director Metro South Community and Oral Health
Afternoon Program 12.50 - 4.00pm
Executive address - Shaun Drummond CEO Metro south Health
How to avoid emergency department presentations and prevent patients from spending unnecessary hours in ED - Charlotte Coombes Nurse Navigator. Bayside Integrated GP Greater Access Program
Combining telehealth capabilities to improve the safety, quality and sustainability of Hospital In The Home (HITH) service delivery - Vickie de Jong CN. Acute Care@Home Redland
MND Nurse Led Gastrostomy Change - Lois Quick CNC Metro South Chronic Disease
Community Nurse Hall of Fame
We ARE the culture here: Creating the fantastic cultures, organisations and workplaces that we all want to be part of. Professor Phillip Darbyshire RNMH, RSCN, DipN (Lond.), RNT, MN, PhD
Closing Address
The Vivian Bullwinkel Project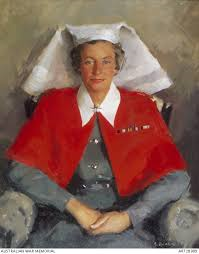 A Great Australian; A Great Leader; A Great Woman and a Proud Nurse
Lieutenant Colonel Vivian Bullwinkel AO, MBE, ARRC, ED, FNM was the sole survivor of the 1942 Banka Island massacre. After being shot, Vivian feigned death and survived, only to be taken prisoner for the remainder of World War II.
The Australian War Memorial has agreed to locating a sculpture in the grounds of the Australian War Memorial and the Australian College of Nursing has committed to contributing to a fund to make this vision a reality.
The MSH CNN will be fundraising to contribute to this important project of recognition of at the symposium and asking for a gold coin donation from attendees on the day.
Organiser of Symposium 2019: Community Nursing Now 'Visible and Valuable'