Sydney University Public Art Walking Tour

Weekly Event - Every Monday Tuesday Wednesday Thursday Friday & Sunday: 10:00 am to 11:00 am (AEST)
Event Details
A one hour walk around the fascinating Sydney University Public Art Collection
Tours full refundable within 24 hours.
Discount for groups of 6 or more.
Meet at University Ave main gates at 10am, first tour and 11.30am second tour (see map).
Guide can be reached on M: 0419 981 664 for inquiries. 
Tour Details:
The Sydney University Art collection includes over 7,000 works of art including paintings, drawings, sculpture, photography, video, prints, glass and ceramics. Like most other galleries and museums around the world, only the public can see a fraction at any one time.
A one-hour walking tour offers access to aspects of the collection visible on and around campus. The tour conducted by a gallery educator takes in the contemporary and modernist public art as well as some of the most significant architectural works.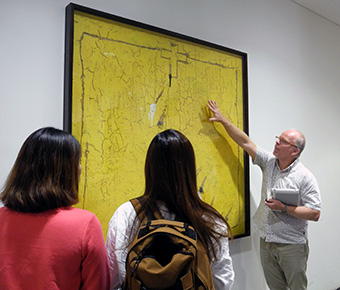 Gallery educator Alan Spackman with Dawn Sunrise 1989 by Elwyn Lynn. Mixed media painting 152.0 x 152.0 University Art Collection UA1119.8
 Some key highlights of the tour include:
Ken Woolly and Peter Webber's mosaic columns of photo-microscopy of chemical structures at the entrance to the 1958 Chemistry Building -- the University's first Modernist building.

A visit to the sculptures of Tom Bass and Shona Nunan and a significant late-career relief by Lyndon Dadswell.

Emeritus Professor of Contemporary Art, Richard Dunn's The Land (High Hills and the Gorge) 1988-2004, an acrylic painting began at the time of the 1988 Australian Bi-Centennial and resolved in 2004. Dunn proposes a philosophical and abstracted 'landscape'– on the Australian post-colonial condition and the nation's complex relationship with Indigenous culture.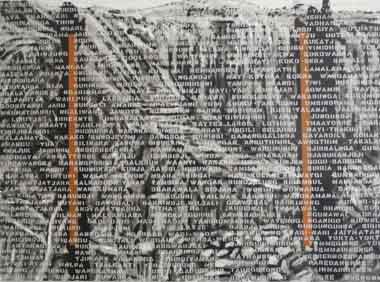 Richard Dunn, The Land (High Hills and the Gorge) 1988-2004, Acrylic and moulding compound on cotton duck, 170 x 230cm University Art Collection UA2013.3
Germ Warfare 1994, an acrylic painting by the late Harry 'HJ' Wedge, an Indigenous man of the Wirajuri nation. HJ's paintings often combine black humour with stories of life on the Cowra Mission, where he grew up, but here he depicts the bringing of small pox and other life threatening diseases to Australia at the time of colonisation. In a style reminiscent of comic book imagery, he outlines his figures with wavy lines to give a hallucinatory and disorienting sense of some grim scenes of Indigenous-European contact.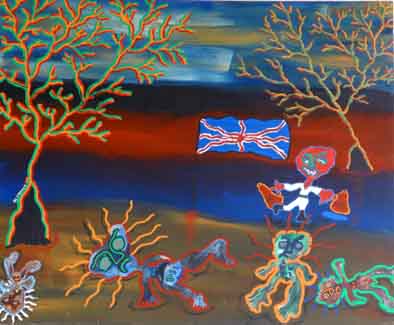 Harry 'HJ' Wedge, Germ Warfare 1994 Synthetic polymer paint on canvas 154 x 180 x 4cm University of Sydney Union Collection USU1996.8
Where

Meet at: University of Sydney
University Avenue and Parramatta Rd
Camperdown, NSW
Australia

Weekly Event - Every Monday Tuesday Wednesday Thursday Friday & Sunday: 10:00 am to 11:00 am (AEST)
Add to my calendar
Organiser
Opera composed by the Australian librettist/composer/performer Freddie Hill, based on the Victorian Children's Classic of the same name by Charles Kingsley.
Sydney University Public Art Walking Tour