Sydney / NSW Thyroid Cancer Interest Group November 2019
Description
Sydney Vital and Eisai would like to invite you to attend Sydney/ NSW Thyroid Cancer Interest Group: A Case Discussion Meeting on Thursday 7th November, at The Urban Hotel, Sydney, we hope you will be able to join us to share your knowledge and experience at this event.
*Could guests who wish to present a case study please notify Prof Diana Learoyd by 31st October via email: diana.learoyd@sydney.edu.au
The event will be available on a webcast at https://golive.events/eisaioncology/.
---
Why Attend the Thyroid Cancer Interest Group?
Thyroid cancer is the commonest malignancy of the endocrine glands.
This event will highlight new approaches to managing thyroid cancer, adopting a highly personalized approach tailored to a patient's specific risk.
---
Who Can Attend?
Endocrinologists, Endocrine Surgeons, Radiation Oncologist, Registrars, Fellows, Nuclear Medicine Physicians, Medical Oncologists and other health care professionals with a specific interest in Thyroid Cancer and its treatment.
---
Programme (TBC)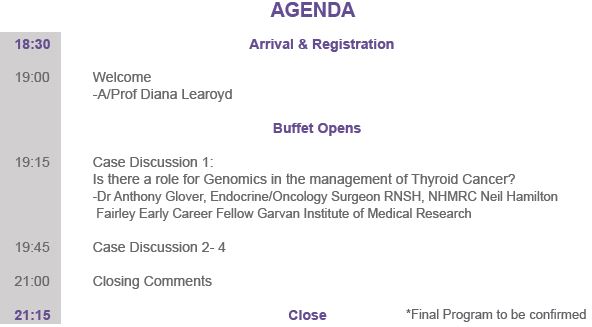 ---
Catering Menu
Selection of canapes throughout the evening. Dietary requirements will be catered for upon request.
*$10 parking available