It may be approaching winter, but the great B2B Sales Roadshow is heading your way! Network, share and learn with your sales industry peers.
About this event
COVID UPDATE (30-Jun-2021)
Due to the current situation in NSW and potential updates in other states, the dates and locations of events are subject to change (with as much notice as we can give!).
We have released a free "Save My Place" ticket option for all events - if you register for this ticket type will be notified when a date and venue are confirmed, allowing you first chance to purchase a ticket at that time.
We're looking forward to seeing you before too long!
---
We are very excited to be returning to in person events, with our much loved combination of practical sales advice, networking and of course free pizza and drinks.
Who should come to a B2B Sales Society meetup?
- You're a B2B sales professional and you want to hear what's working (and what isn't) from other people doing the job
- You're a B2B sales leader and you'd like to keep your ear to the ground in your local area
- You're a B2B marketer that actually cares about your sales colleagues and would like to learn more about what they do
- You're any of the above and want to meet some people in your industry / talk about the trade for a couple of hours
---
Topics on the agenda include:
> Lead generation techniques from LinkedIn - successful social selling
> How to be personal and scalable - personal brand building
> How to get head hunted - the right way - and land your perfect role in 2021
> The big three mistakes Sales Leaders make - and how to stop them
---
Nobody is pitching anything, it's a chance to hang out with fellow sales people, share stories, grab a drink and take away whatever nuggets of wisdom take your fancy.
Sponsors & partners
This event series is brought to you in partnership with our friends at Xactly - thanks for making it happen - and of course our regular partners Mark McInnes and The Social Revolution.


Brands we've seen at the events
We've had some big names at the B2B Sales Society events over the years - check out who's attended, spoken or sponsored.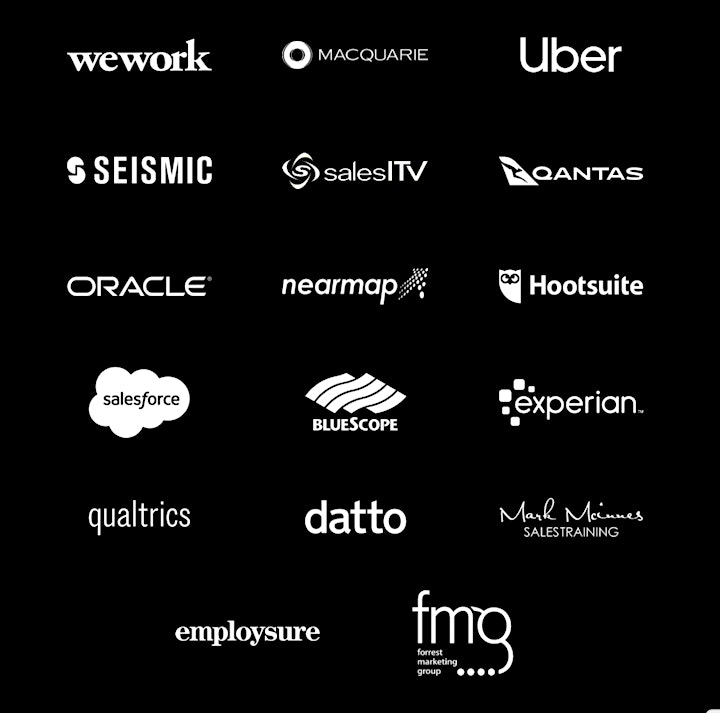 Organizer of Sydney Meetup - East Coast Roadshow