Location
Venture Cafe Sydney
58 Waterloo Road
Macquarie Park, NSW 2113
Australia
Sales Have Ended
Registrations are closed
Thanks for registering! No need to print, simply give your name at the door.
Energy Leaders VIP Event Information
About this event
[SOLD OUT] Energy Leaders Forum Official 2020 Launch
@ Venture Cafe Sydney (VCS) First Anniversary Event: State of Innovation
Theme: 2020 Vision x Energy Roadmap of Challenges and Opportunities
Date/Time: 6-8PM Thursday 20 February 2020
Location: Venture Cafe Sydney - 58 Waterloo Rd, Macquarie Park NSW 2113
Car parking at Macquarie Centre or walk from Macquarie Park Train Station. Venture Cafe State of Innovation Event starts at 3pm
FREE EVENT WITH LIMITED TICKETS SO CLICK THE REGISTER BUTTON NOW TO RESERVE YOUR PLACE!
If you can't join us for this event, click here to join the Energy Leaders community for event notifications and other occasional updates: www.energyleaders.com.au

Sydney Energy Leaders Forum (ELF) FEB 2020

Energy Leaders Panel
Mary Stewart [LinkedIn Profile] - CEO & Executive Director, Energetics; Observer, UNFCCC; Vice President, Energy Efficiency Council (EEC)
Lisa Wade [LinkedIn Profile] - Director, National Australia Bank (NAB); Managing Director, Change Investment Management; Director & Co-Founder, Impact 2080
Simon Dawes [LinkedIn Profile] - Director Climate Change & Sustainability Services, EY; Non-Executive Director, Carers NSW
Kylie McMahon [LinkedIn Profile] - Manager Environment, City of Ryde
Greg Johnson [LinkedIn Profile] - National Sustainability Manager, Commercial Property at Stockland
Darren Bagnall [LinkedIn Profile] - Dean Engineering, Macquarie University
Panel Discussion & Roundtable Brainstorm Topic
We'll hear from an amazing panel of Energy Leaders and work together in a roundtable brainstorm to develop a Roadmap of Energy Challenges and Opportunities to focus on at each Energy Leaders Forum in 2020. The Roadmap will build on our brainstorming session at the pilot ELF in Nov 2019.
Major themes of interest identified by the community include solar and wind, batteries and other energy storage, EVs, hydrogen, wave energy and other new technologies, energy efficiency, energy market disruptors, digital innovation, community engagement, and the Energy Leaders Awards.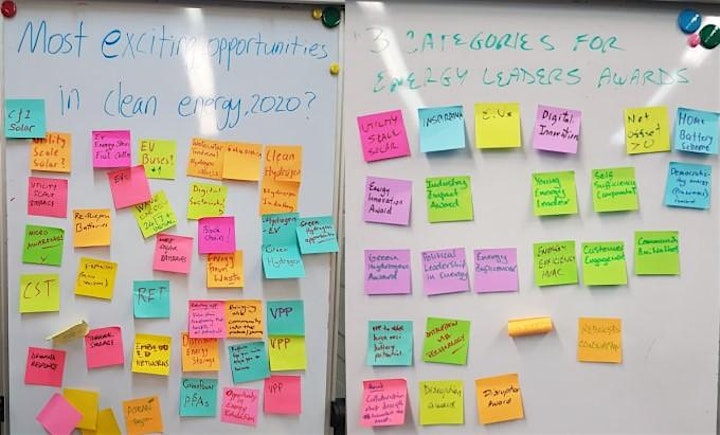 About The Panel
Mary Stewart [LinkedIn Profile]
CEO & Executive Director of Energetics, Australia's leading specialist consultancy in energy and carbon management, Mary works with large international companies mainly in the resources sector, assisting them in the development of sustainability, carbon and energy efficiency strategies and programs. Other roles include Vice President of the Energy Efficiency Council Australia, Observer to the Implementation Task Force of the Technology Executive Committee under the United Nations Framework Convention on Climate Change (UNFCCC) and Mentor at EnergyLab Australia.
Lisa Wade [LinkedIn Profile]
Lisa is currently a Director at National Australia Bank in Product and channel development. She has over 25 years of experience in the finance industry including co-founding Australia's first Clean Energy Equity Fund in 2007 and Change Investment Management in 2009. She has established a reputation for driving superior investment returns from the economic opportunity of the transition to a low carbon economy, and is Co-founder of Impact 2080 an Impact Investment advisory business specialising in scaling and bringing impact investment solutions to market. Lisa is also an ambassador for Earth Hour and Al Gore's Climate Reality Leaders initiative.
Simon Dawes [LinkedIn Profile]
As Director Climate Change & Sustainability Services at EY, Simon is a GHG and assurance professional with broad experience in international carbon projects, general management and environmental management for a broad range of industry and service sectors. He has experience in climate change related projects and activities including the verification of greenhouse abatement projects, emission inventories and greenhouse lifecycle inventories. These activities at a project and corporate level have significant interaction with the broader strategic opportunities for organisations exposed to climate change regulation. He is also Non-Executive Director at Carers NSW.
Kylie McMahon [LinkedIn Profile]
Kylie is Manager - Environment at City of Ryde, responsible for the Environment and Sustainability Team at the City of Ryde Council delivering projects and programs in the areas of resource efficiency and renewable energy, resilience, climate change, sustainable transport, sustainability, water & natural area management. Key recent projects delivered included a 300kW aquatic centre solar installation and sustainable transport projects targeting car share, bike share and travel planning.
Greg Johnson [LinkedIn Profile]
Greg Johnson is National Sustainability Manager, Commercial Property at Stockland. Stockland has been identified as a global leader for its actions and strategies in response to climate change and has been awarded a position on the Climate A List by CDP and recognised as the Regional Sector Leader for Diversified Property Companies on the Global Real Estate Sustainability Benchmark (GRESB).
Darren Bagnall [LinkedIn Profile]
Professor Bagnall is Dean of the School of Engineering at Macquarie University. His primary research interests are in the development of opto-electronic semiconductor devices and systems, and the integration and uptake of renewable energy systems. He has worked in fields from light-emitting devices to the development of high-efficiency photovoltaics and solar panels and systems. His most significant research contributions include the demonstration of the first room-temperature ZnO laser, the first demonstrations of optical activity of metallic and dielectric planar chiral metamaterials, and a range of nanostructured, biomimetic and plasmonic light-trapping schemes applied to photovoltaic devices.
Energy Leaders Forum Management Committee
Luke Poliszcuk [LinkedIn Profile] - Director & Founder, Energy Leaders
Luke has 20 years experience in clean energy and strategic corporate sustainability with a focus on commercial solar and renewables, retail electricity and energy efficiency products and services. He has worked with a variety of clients from government and Fortune 500 corporations - including NSW Government, AMP Capital, Bupa, Goodman, ALDI, Toyota, Frasers Property, Mitsubishi, Panasonic and Toshiba - as well as startups and NGOs, across a range of industries such as Environmental Management, Construction, Manufacturing, Renewables, CSR, Investor Relations and Finance.
JP Vernon [LinkedIn Profile] - Solar Power Purchase Agreement (PPA) & Energy Pricing & Analytics
Highly experienced solar power purchase agreement (PPA) pricing and energy analyst who has worked with leading national and international organisations like Singapore-based large-scale renewables investment group Sembcorp and Vellocet Clean Energy to deploy innovative renewable energy generation and storage solutions across Australia.
Liz Fletcher [LinkedIn Profile] - Energy Marketing & Engagement; Co-founder, The Etc
Co-Founder of the etc and a key driver of growth strategy at Flow Power and TransGrid for many years, Liz takes great ideas and builds brands, teams and businesses from them. She is an ardent believer in the role of strategy and marketing in bringing forward the new energy era. To grow, businesses need to humanise their ideas so real people want to and can buy into them. More than just a thought bubble, she's doing something about it. In 2019, she co-founded the etc, a platform to grow the marketing cohort in the energy industry.
Stuart Gordon [LinkedIn Profile] - Clean Energy & Commercial Solar Sales & Marketing
Stuart has over two decades of experience in marketing and sales, combined with a decade of practical consulting and analysis in residential and commercial renewable energy servicing property owners, facilities managers, CFOs, business owners, sustainability managers, builders, energy brokers, project managers and more.
Energy Leaders Pledge
Energy Leaders pledge our commitment to the UN Sustainable Development Goals (SDGs), focused on smart, clean, efficient energy solutions that benefit society as a whole.