About this Event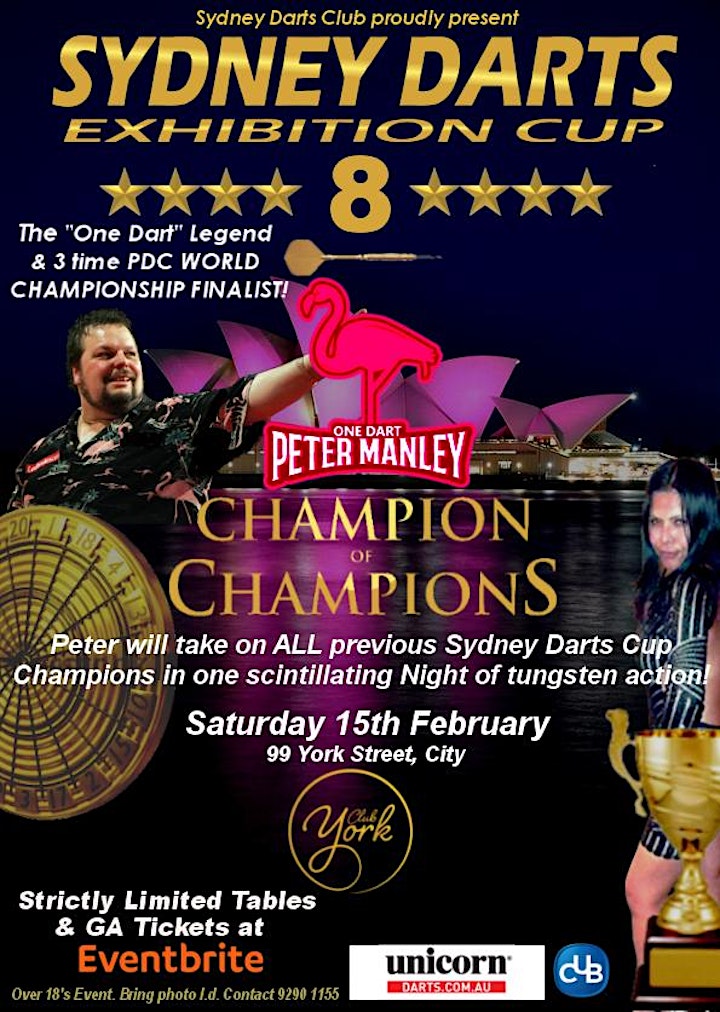 There are NO tickets left - Sorry! But good news, Peter is also playing a second Sydney show this Friday 14th at Matraville RSL!! Game on... tickets available from Cvent>
http://www.cvent.com/events/peter-one-dart-manley-at-club-matto/event-summary-b4a16588cdf047b3abc26602f619c0c3.aspx
Club York is a 4min. walk from Town Hall & Wynyard stations & drinks are at RSL club prices.
In partnership with Club York, SYDNEY DARTS are delighted to present the 8th Sydney Darts Exhibition Cup...the Champion of Champions Edition!
Building on the momentum of our previous international pro-am contests, this premium Exhibition Darts match will be played out live on stage in the Grand Ballroom at Club York in the heart of the city, with the winning local players from ALL previous Sydney Darts Cups and our other tournaments battling alongside our international star guest player - none other than 3x PDC World Championship Finalist & 'One Dart' legend Peter Manley!
Peter is known the world over for his exuberant and thrilling darts exhibitions and we are stoked to have him Down Under for his first ever trip in what promises to be the best night out of the summer!
This event will feature all the spectacular associated with the modern game - darts anthems, walk-on girls, professional MC and caller, Big-screen close-up action...and some special surprises to boot!
The finale will be seeing who will will be crowned the Sydney Darts Champion-of-Champions 2020 !
Have a look at one of Peter's famous finals vs The Power:-
https://www.youtube.com/watch?v=2_PEQGwny3Y
And what a walk-on! :-
https://www.youtube.com/watch?v=cm0rkaxFxEs
SYDNEY'S BEST - THE CONTENDERS :-
Brian Roach - Sydney Darts Cup 3 vs Jamie Caven (UK)
David Marland - Sydney Darts Cup 5 vs Diogo Portela (BRA)
Paul Cotton - Sydney Darts Cup 1 vs Jamie Caven (UK)
John Bunyard - SDC2 r/u to David Concannon(IRE) vs Jelle Klaasen (HOL)
Scott Johnson - Central Coast Challenge vs Diogo Portela (BRA)
Mark Wortley - South King St. Championship vs n/a
Mike Bonser - Northern Premier League vs Corey Cadby (AUS)
Luke Hudson - Sydney Darts Cup 7 vs Kevin Painter (UK)
Mark Colbongan - Sydney Darts Cup 4 vs Dimitri van Den Bergh (BEL)
Simon Farrell - Sydney Darts Cup 6 vs Dimitri van Den Bergh (BEL)
Dave Dwyer - Beaches Challenge vs Kyle Anderson (AUS)
With Special Thanks to Unicorn Darts and Carlton United Breweries.
Over 18's Only. Bring Photo ID. Club York, tel: (02) 9290 1155