Description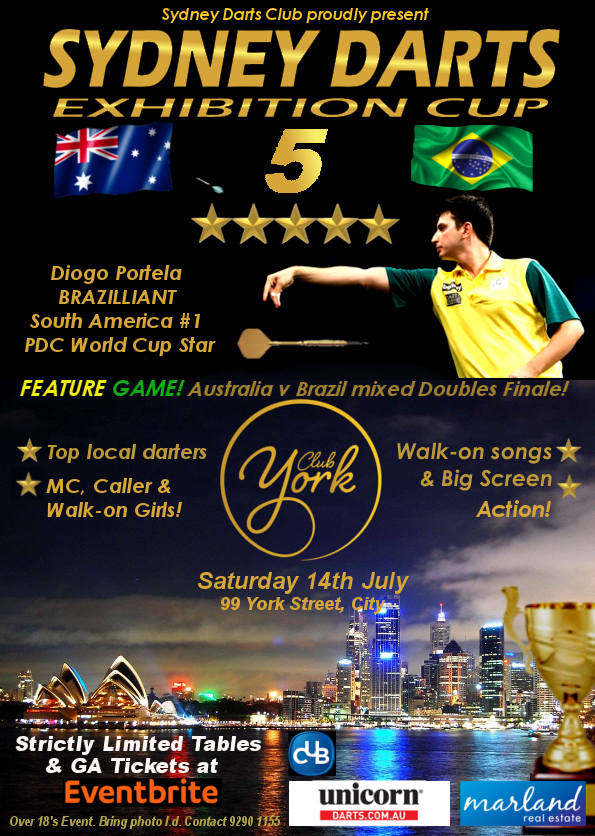 STAND UP IF YOU LOVE THE DARTS!
In partnership with Club York, we are delighted to present the fifth installment of the Sydney Darts Cup!
Following on from our thrilling event number four with Dimitri van Den Bergh, this premium Exhibition Darts match will be played out live on stage, with the top local players from the Sydney and beyond battling alongside our international star guest player.
This event promises to have a 'carnivale' atmosphere about it, with none other than PDC star and South America's #1 dart player Diogo "BRAZILLIANT" Portela taking the stage by storm for the first time in Australia!
Diogo is one of World Darts' hot prospects and is already a PDC Challenge Tour Winner and PDC World Cup of Darts hot shot. He is South America's first-ever dartplayer to make the big move to London to further his career, and will certainly be a very interesting challenge for the Sydney's darting talent.
Portela has been chomping at the bit to play Down Under after his Brazilian mixed double's partner moved out here 2 years ago, and we are stoked to have him in Oz for what promises to be the best night out in town!
This event will feature all the spectacular associated with the modern game - darts anthems, walk-on girls, professional MC and Caller, Big-screen close-up action...and some special surprises to boot!
Check out whats in store here if you have never attended the darts before...
Diogo v Peter Wright, 2018 World Championships: https://www.youtube.com/watch?v=hI4s_r8dNuY
2017 PDC World Cup of Darts, Brazil v Switzerland: https://www.youtube.com/watch?v=FaUTEcONI-g

With special thanks to event sponsors Marland Real Estate and Unicorn Darts: www.darts.com.au