SWID - Maximising Diversity, Engagement and Inclusion Conference
Description

We are living through a period of seismic change in disability-related policy and practice. We have learned a lot throughout this process, but much is still unknown. Do you have an interest in hearing from social workers, researchers and other professionals how we can work at the interface of disability, health, research and policy?
The 2016 SWID Conference brings together social work practitioners, researchers, students and all those who are passionate about pursuing social equity and positive change to share ideas, experiences and new perspectives, so that we are all better equipped to work in partnership with people with disabilities, their families and communities.
Key Speaker is Associate Professor Lorna Hallahan. Lorna is one of four chief investigators in the official 3-year Evaluation of the Trial of the National Disability Insurance Scheme, run through the National Institute of Labour Studies at Flinders University. In addition to being Keynote Speaker, Lorna will also run a workshop titled 'What is important for sex? Thinking about difference without deviance'.
The photographic exhibition 'Outing Disability' commissioned by Family Planning NSW, developed by internationally acclaimed photographer Belinda Mason will be showcased as part of the 2016 SWID Conference and will be available for all delegates to peruse before, during and after the SWID conference.
FOR ALL THOSE SOCIAL WORKERS WHO ARE AASW MEMBERS - THIS EVENT IS AASW CPD ENDORSED, MEANING IF YOU ATTEND BOTH DAYS, YOU WOULD BE ABLE TO ADD 14HRS TO YOUR CPD RECORD!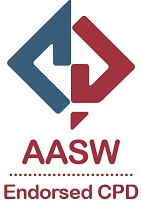 After attending the SWID conference, you will be able to:
identify the benefits and challenges of working within trans-disciplinary teams to reduce inequities for people with disability.

recognise social, economic and health disparities of people with disability as a global public issue.

map inequities and social determinants of health of people with disability.

strengthen networking skills and develop strategic partnerships between disability, research and health service providers

explore innovative ways of moving forward in a time of critical transformation in the disability sector.
PROGRAM IS NOW AVAILABLE, PLEASE EMAIL swindisability@gmail.com IF YOU WOULD LIKE SWID TO EMAIL IT TO YOU.