Description
This Wild West adventure throws some of the more interesting and eccentric townsfolk into a single saloon while an alchemist mixes up some interesting substances upstairs which have some rather unintended consequences on the guests below. What could possibly go wrong?

Note that this is a version of the Wild West (not a historical game) and that the entire population are pointy-eared fae who are ever so quirky.
AGE LIMIT: PG 13.
SETTING: Arcadia. A world of unstable magic affects local technology, where reality warps and bubbles on occasion, and where the general populace of fae are good-natured, friendly and expect the unexpected.
COSTUMING: While you aren't required to come in a western outfit while wearing ear tips, you are more than welcome to do so and many others will. We will have ear tips for sale on the day for $2 a pair.

AFTERNOON TEA: There will be a light afternoon tea available for both characters and players.
GAME STYLE: An adventure game where strange things keep happening to a group of people who all have their own social secrets (mostly none too nasty, mostly). Occasionally strange effects will affect the whole group, or parts of them, requiring quick improvisation as your character becomes really honest ... or playful ... or grumpy ... or drunk. There's also a few mysteries that need solving using the clues and information at hand.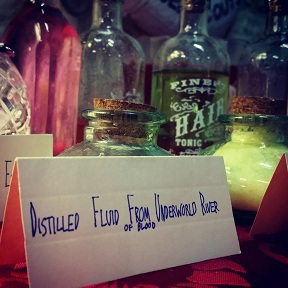 CHARACTER CREATION: All characters are written by the organisers. You can choose any character from the cast list that will be shown on the order form. Examples include:
Anxious alchemy ingredient delivery person (city slicker).
World weary mayor who just wants to nap.
Bored tea shop owner come to grumble and discourage people from drinking here.
Somber old gunslinger still shell shocked from the Catci Murder incident years back.
You will receive information on the character, several secrets and goals, and a culture packet to help define what this mysterious world is like. You will also receive the information you require to either process lottery winners or to try to succeed in being processed.
What is a LARP: LARP is an acronym for a Live Action Role Playing game. You are not yourself at a LARP. You are portraying someone else. You go by a new name, present a new personality and have all new motivations while moving through a setting that has been designed by someone else. Perhaps you are a brave warrior in a fantasy town under siege, a medieval villager trying to cope with the plague or perhaps you are a grieving widow trying to identify your husband's murderer. You can learn more here: https://arc-adelaide.com.au/what-is-larp/.