Suturing Research into Surgery - Lessons from Dana-Farber's Surgical Resear...
Description
VCCC MONDAY LUNCH LIVE EVENT
What does translational research mean to a surgical oncologist? How can surgeons collaborate across disciplines and break out of comfort zones?
In this Monday Lunch Live, Associate Professor Chandrajit P. Raut shares his experiences in stitching together tumour banks, databases, finances, mentorship, multiple disciplines and more to form the Dana-Farber Cancer Center's Translational Surgical Research Program.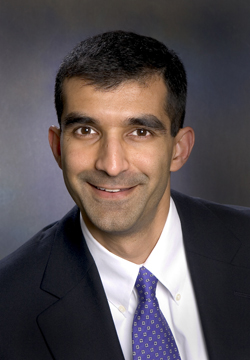 Chandrajit P. Raut is an Associate Professor of Surgery at Harvard Medical School, Associate Surgeon in the Division of Surgical Oncology at Brigham and Women's Hospital, and Surgery Director of the Center for Sarcoma and Bone Oncology at Dana-Farber Cancer Institute. A graduate of Stanford University (BA/BS), University of Oxford (MSc), and Harvard Medical School (MD), he completed his general surgery residency at Massachusetts General Hospital and surgical oncology fellowship at M.D. Anderson Cancer Center.
Prof Raut specializes almost exclusively in the multidisciplinary care of patients with soft tissue sarcoma. His research focuses on clinical trials and novel therapeutics to lower locoregional recurrence rates following sarcoma resection.
Light lunch served from 12.30pm
Presentation: 1pm- 2pm
Can't join us in person? Join us online via our Webinar - register here
Date and Time
Location
Victorian Comprehensive Cancer Centre
Lecture Theatre B, Level 7
305 Grattan St
Melbourne, VIC 3000
Australia