Sales Have Ended
Registrations are closed
Registrations for this webinar are now closed. A recording of this webinar will be uploaded onto the JBI YouTube Channel for future access - https://bit.ly/36AC0eM If you would like to know more please email us at jbieducation@adelaide.edu.au To subscribe to JBI BUZZ newsletter please go to our website http://joannabriggs.org/
Sales Have Ended
Registrations are closed
Registrations for this webinar are now closed. A recording of this webinar will be uploaded onto the JBI YouTube Channel for future access - https://bit.ly/36AC0eM If you would like to know more please email us at jbieducation@adelaide.edu.au To subscribe to JBI BUZZ newsletter please go to our website http://joannabriggs.org/
Webinar - Sustaining Knowledge Translation Interventions
About this event
Sustaining Knowledge Translation Interventions webinar
Knowledge translation plays a critical role in evidence-based healthcare and improving health outcomes. Dr Straus will discuss how to approach sustainability of Knowledge Translation interventions and research in the context of COVID-19.
ADELAIDE TIME: Tuesday 1 June 2021, 7:30am - 8:30am (ACST)
TORONTO TIME: Tuesday 31 May 2021, 6:00pm - 7:00pm (EDT)
Click here to calculate your location Time Zone.
This webinar will be recorded. Subscribe to JBI's YouTube channel to be alerted when the recorded webinar is available.
About JBI
JBI is an international research organisation based in the Faculty of Health and Medical Sciences at the University of Adelaide, South Australia. JBI develops and delivers unique evidence-based information, software, education and training designed to improve healthcare practice and health outcomes.
For over 20 years JBI has supported health professionals to improve health outcomes globally and create ripples of change by providing the best available evidence to inform clinical decision making.
Find out more about JBI at jbi.global
About Dr Sharon Straus
Dr Sharon Straus is a geriatrician and clinical epidemiologist who trained at the University of Toronto and the University of Oxford. She is the Director of the Knowledge Translation Program and Physician-in-Chief, St. Michael's Hospital and Professor in Department of Medicine, University of Toronto. She holds a Tier 1 Canada Research Chair in Knowledge Translation and Quality of Care and has authored more than 400 peer-reviewed publications and 3 textbooks in evidence-based medicine, knowledge translation and mentorship. Since 2015, she has consistently been in the top 1% of highly cited clinical researchers as per Web of Science and has an H-index of 86. She holds more than $57 million in peer-reviewed research grants as a principal investigator. She has received national awards for mentorship, research and education.
We look forward to you joining us.
Any questions? Contact jbieducation@adelaide.edu.au
Keep up to date with advancements in evidence-based healthcare. Subscribe to JBI's monthly eToc, JBI Buzz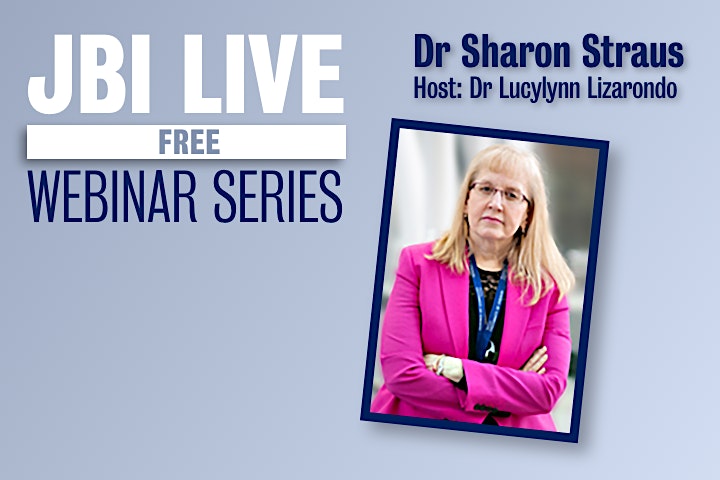 Organiser of Sustaining Knowledge Translation Interventions
JBI works to promote and support evidence-based healthcare, with the aim of improving outcomes through the use of evidence in practice.
At JBI we have resources, guidance and educational courses available for all those interested in evidence-based healthcare (evidence transfer, synthesis or implementation) whether in clinical, research or academic settings.