Relax, embrace and experience the positive effect of sustainable living for a healthy body and happy soul.
About this event
This two day, two night retreat will take you on a journey of self discovery, exploring the unifying science of all health conditions, food as medicine, tonic herbalism and tips for a long and healthy life. Sustainable living isn't just minimising plastic waste and reducing our carbon footprint. Our body is a temple that also needs to showcase and practice sustainable healthy habits.
Facilitated by the very talented Heath Daly, Heath is the owner of The Raw Kitchen and a Naturopath with over 20 years experience in holistic medicine. He was a senior lecturer at The Australian College of Natural Medicine and has been public lecturing on health and wellness for the last 12 years. Heath is a progressive health educator on a mission to help people connect back to nature and heal.
Wake each morning to a yoga class in the onsite yoga room with Adrian from Le Yoga Daylesford. Adrian's main focus in his yoga teaching is breathwork and the fluidity of the asanas, encouraging his guests to gain an awareness of their joints' movements as well muscle strength and flexibility. His classes are energetic and joyous, as he encourages his students to flow to the music.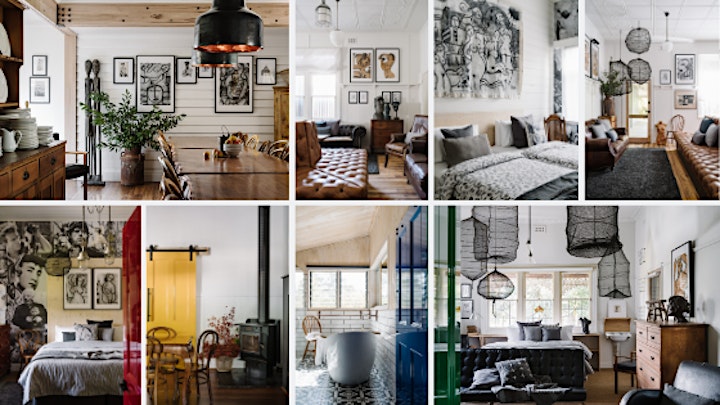 Accommodation
Relax and embrace the two nights in one of Hepburn's historical properties The Oxford, an experience in itself. The interior of the home is defined by its distinctive decorations and artistic flair. Each room with it's own ensuite, two plush King Single beds or a King bed depending on your preferred arrangements. The building itself is nestled in amongst a private garden, fully matured and designed to evoke the natural beauty of regional Victoria, featuring many native species.
The two nights accommodation is included in your ticket price.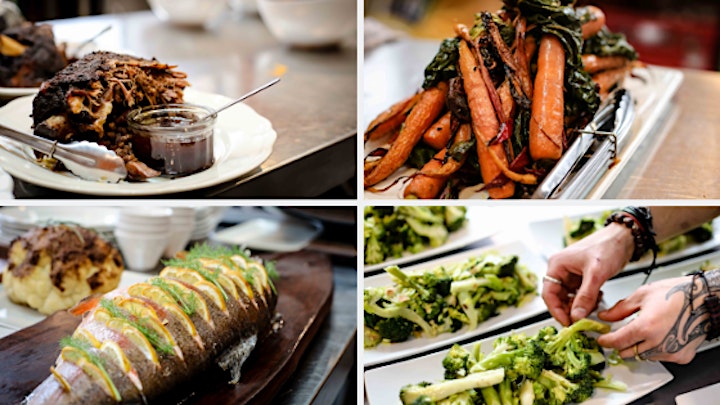 Food for the soul
Fill your bellies with the very best and freshest organically grown foods from the many great farms which surround Daylesford. Prepared by chefs that are passionate about delicious and sustainable food, you will be delighted with the offering. We appreciate there are many different dietary requirements and we can indeed cater for these.
All meals, snacks and refreshments are included in your ticket price.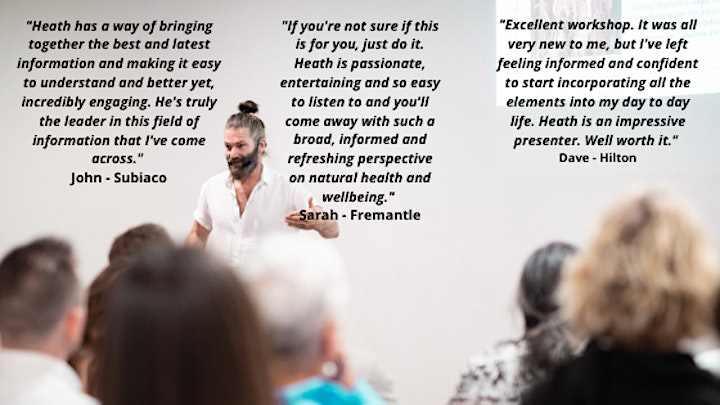 Predicted schedule
Friday 29 May
3PM-430PM: Guest Arrival, Meet & Greet with Heath
430PM-7PM: POLYVAGAL THEORY - The unifying science of all health conditions.
By far the most important talk is that of Polyvagal Theory, here we learn about Dr Stephen Porges work on the Autonomic nervous system and how it directs healing and recovery from trauma. For health and social engagement to be active we need to learn how to identify the 3 different states of the Autonomic nervous system and learn how to navigate our way out of fight and flight to rest, digest and social connection. It is an inspirational and informative talk that helps us understand the role the nervous system plays in orientating our whole body, hormones and all, into a state ready to survive a threat or into a state inspired to connect with people and enjoy that confident feeling that flows through your body when you know you are safe and free to express yourself.
This theory highlights the common thread running through all disease states and shows us that, at the fundamental level, we all need to learn how to identify where our nervous system is at and how to ease it into a healing state.
This is an empowering talk and shows us what activities and lifestyle hacks tonify the vagus nerve allowing the body to rest and repair.
7PM: Dinner
Saturday 30 May
7AM-830AM: Yoga with Adrian in The Oxford's Yoga room
830AM-10AM: Breakfast
10AM-1PM: FOOD AS MEDICINE
In this talk Heath explains how the food we choose to eat effects the expression of our genes. How we can use food to lower inflammation, lose weight, gain weight, get more energy, look better and feel better.
Topics covered;
What food treats depression better then most medications.
What food kills virus and bacteria better then certain medications on the market.
What foods to avoid.
Why when you eat is more important then what you eat.
How to trick the body into thinking its fasting (with all the health benefits) whilst still eating food.
What diet is best for longevity.
Should you eat meat, should you be vegan, should you even care...
Heath has studied nutritional medicine for 20 years and has a lot of clinical experience in using food as medicine, knowing what works and what doesn't.
1PM-230PM: Lunch
230PM-7PM: TONIC HERBALISM FOR EVERYONE
For thousands of years herbs and medicinal mushrooms have been used with great effect on health and longevity. Heath has studied western herbalism as well as Taoist tonic herbalism and is passionate about the implementation of 'tonic herbalism' into the daily diet. Tonic herbs can be safely used everyday and are well worth knowing about. Their healing properties are now well established and with a little know how can be easily incorporated into drinks and meals with great effect.
The longer you take tonic herbs the greater the effect.
In this lecture Heath explains the benefits of medicinal mushrooms and tonic herbs with recipe ideas and tips on how to integrate herbs into your life. Herbs that regrow brain tissue, cartilage, collagen and increase cellular immunity, herbs that give you energy but also help with sleep and more...
7PM: Dinner
Sunday 31 May
7AM-830AM: Yoga with Adrian in The Oxford's Yoga room
830AM-10AM: Breakfast
10AM-1130PM: TOP 10 TIPS FOR A LONG AND HEALTHY LIFE
In this talk Heath outlines his top10 lifestyle tips for a long and healthy life covering diet, exercise, sleep, the need to control artificial light at night, what medicinal herbs and supplements are a must in todays world, the best tips for dealing with stress and more.
Here Heath talks about what the foundation of a healthy lifestyle looks like, what the basic elements are and what things we need to think about adding to our lifestyle if we haven't already to ensure we are truly living a holistic lifestyle.
12PM: Retreat end