Event Information
Refund Policy
Refunds up to 7 days before event
Eventbrite's fee is nonrefundable.
A Seedlab Tasmania Masterclass: Sustainable Packaging for Food & Drink Products in Global Markets.
About this Event
Get Packaged Right:
Sustainable Packaging for Food & Drink Products in Global Markets.
A four hour Masterclass led by Global experts in sustainability and social change, and providers of state-of-the-art sustainable food and beverage packaging. To illustrate examples of more sustainable packaging options and provide some assessment of their utility, cost and availability.
Who: Brought to you by Seedlab Tasmania.
When: Thursday April 15th, 2021. 9:30am - 1:30pm Via Zoom.
Who for: Food, beverage and agribusinesses who are looking for more sustainable packaging options for local, national and export markets.
Presenters:
Keynote Speaker: Rebecca Prince-Ruiz, WA Australian of the Year 2020 and Founder of Plastic Free July, a global movement that helps millions of people be part of the solution to plastic pollution.
Ten years ago, Rebecca became concerned by the amount of plastics going into landfill and encouraged her family to go plastic-free for the month of July. Her idea is now a global initiative, with an estimated 326 million people participating worldwide. Rebecca has worked with communities, governments and business leaders on reducing single use plastics and is on the board of the WA government's Container Deposit Scheme. Rebecca is now the Executive Director of the Plastic Free Foundation, the not for profit with the vision of a world without plastic waste that delivers the annual challenge. Rebecca is a regular media commentator has appeared on the ABC show 'War on Waste' to increase awareness of the plastics issue and the solutions available. She has published a book on the Plastic Free movement, and created a vast social media following – inspiring countless others to do more for the planet. Plastic Free July challenge which since grown to a global movement that has helped an estimated 326 million participants in 177 countries reduce single-use plastic. With 30 years' experience in the world of environmental and waste management, community engagement, and sustainability behaviour change she has a unique perspective on the role of individuals in environmental issues. Rebecca has participated in plastic pollution research expeditions in Australia, the Pacific, Atlantic and Indian Oceans, and explored innovative solutions to plastic waste worldwide during a Churchill Fellowship. Rebecca believes it's critical to stop the problem at the source and believes we all need to take responsibility to change our throw away culture. www.plasticfreejuly.org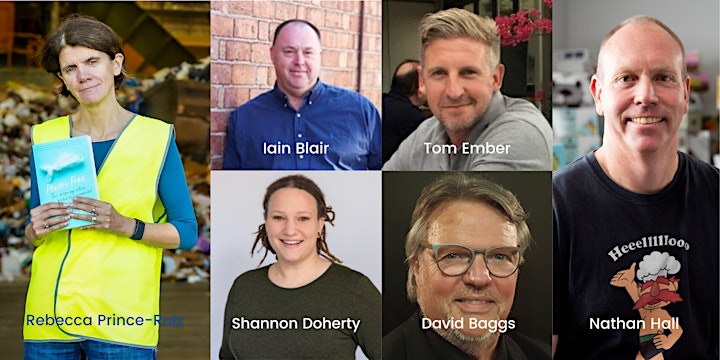 More Presenters:
David Baggs , CEO and Program Director of Global GreenTag International Pty Ltd.Voted one of Australia's Top 50 Green Leaders and Top 100 Sustainability Leaders Globally, David is a world-renowned sustainability and materials expert, Life Fellow of the Australian Institute of Architects, award winning green building architect, author, Lead Auditor, GBCA Materials Expert Panel member and Past President of Australian LCA Society.
Voted one of the Top 100 Most Trusted Brands in Australia over 3 years running, Global GreenTag International simplifies the selection of environmentally sustainable, healthy and ethical products for industries like Personal Care, Cleaning, Architecture, Design and Construction using Global GreenTag CertTM one of the most scientifically advanced, product certification and declaration systems in the world. Global GreenTag CertTM assesses then ranks products through leading LCA based product ecolabelling and rating schemes; it also provides third party, assessed product declaration programs, including an Environmental Product Declaration (EPD), a Product Health Declaration (PHD) and a Modern Slavery Declaration (MSD) program, the first product level declaration of its kind in the world, designed to help manufacturers and procurement teams eliminate incidences of modern slavery in global supply chains. www.globalgreentag.com
Tom Ember, Business Development Manager at Yuto. Sustainable Packaging Solutions. Tom is an experienced Business Development Manager with a demonstrated history of working in the packaging and containers industry. Tom started his career as a apprentice printer in 1993 at a Melbourne based boutique printer and after 17 years of running presses, decided to move into sales and business development. He has since delivered packaging solutions for some of the worlds leading brands. Toms goals are to introduce eco-friendly, biodegradable and sustainable packaging products to Australia.
Nathan Hall, Director Fresh Produce and Alliance, Disruptive Packaging. Nathan has over 25 years' experience driving supply chain excellence in a diverse range of food companies. Some projects include redesigning the Qantas Catering meal supply chain, multiple global ERP implementations, implemented S&OP processes improving supply chain efficiency, challenging the Lite n' Easy packaging offering from developing a single egg package to the efficiency of dry ice and polystyrene esky utilisation, rebuilding the fresh produce supply chain for the largest salad producers in Australia and turned around a baked goods company to a profitable position. Nathan roles include GM of supply chain, GM of Operations, CEO. Nathan's strength is developing a culture based on trust and respect leading to motivated people looking for development to drive effective teamwork to achieve results. Nathan has joined the Disruptive Packaging Family to the lead the way with Uniqcor products that provide a cost competitive and functional solution to replace Polystyrene, Wax Cardboard and under challenging supply chains even replacing cardboard. www.disruptivepackaging.com.au
Iain Blair, Co-founder & Innovation Director at Birdstone Collective : Towards 2025 - Unpacking Sustainable Design. Exploring the role of packaging, who we are selling to and designing for. What are the key packaging strategies and attributes to deliver successful brands to the consumer in a sustainable world? Practical ideas on how to navigate the complex challenges of sustainability in packaging and this new design dimension.
Iain grew up with packaging in his blood, working in the family business established in London in the mid 1800s. He went on to spend over 35 years developing and commercialising packaging solutions for some of the world's largest packaging companies including Bowater, Rexam & Amcor. For 7 years he headed Amcor's Innovation & Design Group, building a reputation for successfully delivering effective innovation to many iconic brands across Australasia & Europe. In 2015, with Grant Davies, he established Birdstone Collective. Birdstone is a unique packaging design agency that blends Branding, Graphic Design, Structural Design and Material Science under one roof. Iain brings significant technical knowledge and process knowhow to Birdstone, along with many years delivering sustainable packaging solutions. www.birdstone.com.au
Shannon Doherty, Head of Special Projects, Planet Protector Packaging. Shannon manages the grant writing and research portfolio of PPP as well as innovation, optimisation, and implementation projects across the business. Shannon also oversees client presentations and customer solutions for high-volume accounts and international organisations. Shannon's strong research and development skills were built through her undergraduate (SUNY Potsdam) and Masters by Research at the University of Sydney studying Anthropology. She is originally from New York and enjoys going to the gym, patting stranger's puppies and international food events. www.planetprotectorpackaging.com
Check out all the rest of our 2021 Masterclasses and Workshops at https://seedlabtasmania.eventbrite.com.au/
Seedlab Tasmania: The Seedlab Tasmania Project is supported by the Australian Government through the Entrepreneurs' Programme . In addition to sponsorship from other institutes/companies.
Date and Time
Location
Refund Policy
Refunds up to 7 days before event
Eventbrite's fee is nonrefundable.